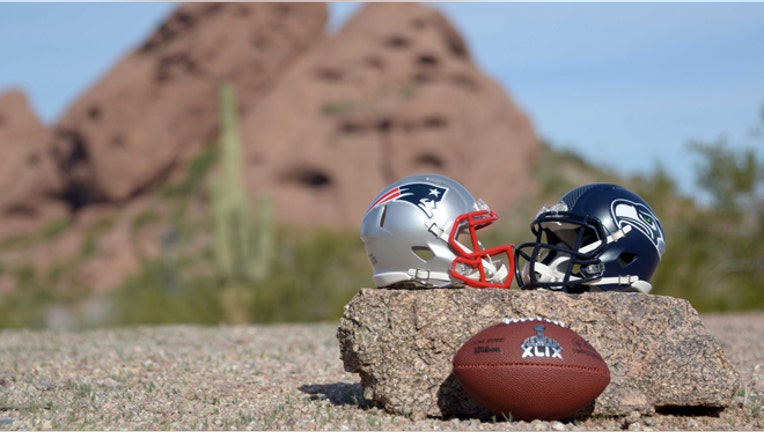 Super Bowl XLIX will be held on February 1, 2015, at the University of Phoenix Stadium in Glendale, Arizona, but there was no Super Bowl I or Super Bowl II. Check out these fun facts about the biggest football game of the year.
History – The first two Super Bowls were not called the Super Bowl – they were known as the NFL/AFL World Championship Game. Super Bowl III was the first to be called a Super Bowl and given the Roman numeral designation. Bottom line: Don't buy the "Authentic Super Bowl I Ticket" on eBay with "Super Bowl I" printed on it.
Food and Drink – How can we have a Super Bowl without junk food? According to various sources, approximately 1.25 billion chicken wings were eaten on the last Super Bowl Sunday, along with 3.8 million pounds of popcorn, 11.2 million pounds of potato chips, 8.2 million pounds of tortilla chips and (according to Haas Avocados) a stunning 79 million pounds of avocados.
Of course, all that food was washed down with approximately 325 million gallons of beer and over $2 million in soda.
Ticket Prices –Ticket prices went way up in February of 2014 thanks to the first-ever open stadium winter location at MetLife Stadium near New York City. The upper tier of tickets jumped from $1,250 per seat in 2013 to $2,600 in 2014. On the bright side, the cheapest tickets fell from $650 to $500 per seat. Can't say Denver Broncos fans got their money's worth. The face value for the cheapest tickets this year: $800.  
Super Bowl Participants – There are only four teams that have never played in a Super Bowl. Two are relatively new teams – the Houston Texans and the Jacksonville Jaguars – but two are among the oldest franchises in existence. The Detroit Lions and the Cleveland Browns have never played in a Super Bowl, although both were champions prior to Super Bowls. The New England Patriots will play in their eighth Super Bowl this weekend, tying the Pittsburgh Steelers and Dallas Cowboys for the most appearances.
TV Commercial Costs – During the first Super Bowl/Championship Game in 1967, a 30-second television commercial cost around $40,000. During the 2015 Super Bowl, prices hit $4.5 million for 30-second spots, and $9 million for a one-minute commercial.
TV Viewers – Super Bowl XLVIII (aka Super Bowl 48) was watched by 111.5 million U.S. households, making it the most-watched telecast of all time. All but one of the top ten are Super Bowls, with the M*A*S*H* series finale currently in sixth place at 106 million. However, the last five Super Bowls have topped 106 million, so in five years the entire top ten could very well be Super Bowl broadcasts.
The Missing "L" – For one year only, the NFL will abandon the Roman numeral designation. In 2016, the Super Bowl will be known as Super Bowl 50 instead of Super Bowl L. Apparently the league could not find an appealing design incorporating L (but have figured it out for Super Bowl LI). Let's see what types of puns arrive on Super Bowl 54 (LIV)…or worse, Super Bowl 59 (LIX).
Super Bowl Rings – That flashy Super Bowl bling sets the NFL back approximately $5,000 per ring, with further adjustments based on the current prices of diamonds and gold.
While these numbers are fun to consider, you are probably interested in only two Super Bowl numbers – the score of each team at the end. We hope that score comes out in your favor. If not, there's always next year… unless you're a Jaguars fan.
More From MoneyTips.com
Super Bowl Betting 101The $300,000 Football TicketSaving Money on Football TicketsThe Economics of Casinos