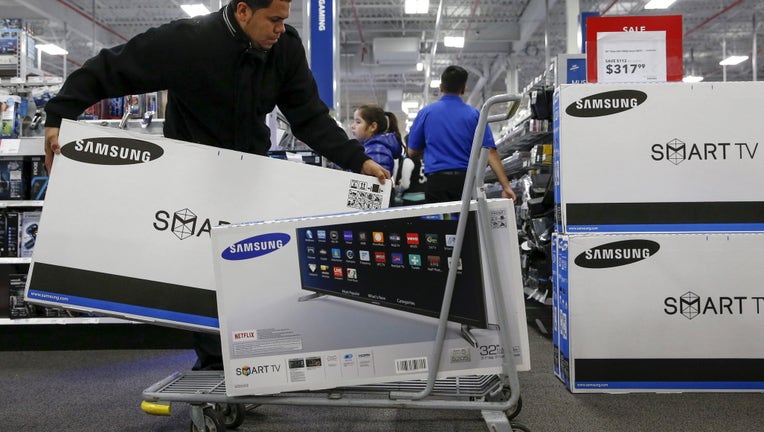 As the Carolina Panthers and the Denver Broncos gear up for the 50th Super Bowl at Levi's Stadium in Santa Clara, Calif., electronics retailers across the country are preparing for the best week of the year for television sales.
Contrary to what most shoppers think, the week before the Super Bowl is the best time to purchase a television, not Black Friday or Cyber Monday.
"We see a lift in the week of the Super Bowl where people buy the latest electronics. It's about a 5% to 7% lift in this sector," Sarah Quinlan, Senior Vice President of Market Insights for Mastercard (NYSE:MA) tells FOXBusiness.com.
Data from Mastercard provided to FOXBusiness.com found that in 2015, the day before Super Bowl XLIX was the sixth biggest day for total electronics store sales.
The week leading up to the Super Bowl has become one of the biggest weeks for electronics sales, especially TVs, post-recession. Retailers offer deep discounts all tailored for the big game.
"One of the challenges in electronics is that it's a commodity product, so pricing becomes a great weapon in differentiation," says Quinlan.
Data provided from the NPD Group found that in the week before the 2015 Super Bowl, TV sales accounted for over a fifth of consumer electronics sales. According to NPD analyst Ben Arnold, there's only a spike in TV sales, not other electronics, during the pre-Super Bowl time.
The NPD Group also found that Millennials will drive the growth behind TV sales, with 10% saying they will buy a new TV ahead of the Super Bowl.
While TV sales during Super Bowl week will see growth nationally, the regions representing the winning teams see even higher sales growth. In 2015, when the Seattle Seahawks faced off against the New England Patriots, TV sales in Boston (the Patriots' hometown) were up 20% year over year, while sales in Seattle were up 13% year over year.
In addition, the NPD group said in a press release that they expect to see a larger than expected increase in sales in Charlotte, as the Panthers have not been to the Super Bowl since 2003.