Business Lessons From a Magical Taco Meeting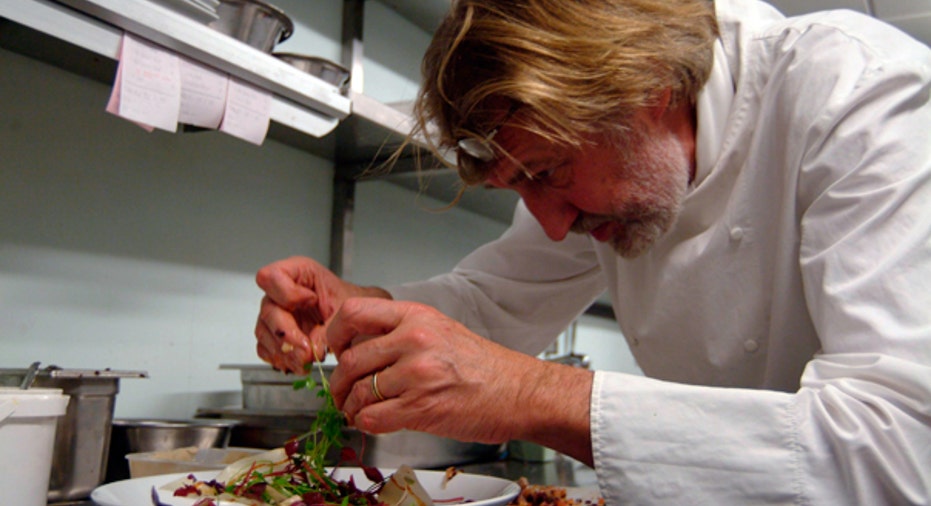 If you were to think of business folks sitting around talking strategy, you might imagine them surrounded by tools like BCG Growth Matrices, P&L sheets, or at least a fancy consultancy's deck outlining the next 5 years of opportunities and threats.
Now imagine those same folks, but rather than the boardroom, they're situated around an undersized table in a local taco eatery. Instead of iPads and Powerpoint decks, they've got hot sauce and sketchbooks. Notes are taken on the back of stained napkins, and instead of iPhones people have (heaven forbid!) a beer in their hand. The environment is a bit looser. People are not second-guessing their ideas, and are not scared to ask questions. It's fun, but more importantly, it's safe.
This was the inspiration for a recent pop-up called Design Taco, hosted by our company The Design Gym. Design Taco was an innovation lab and creative hub disguised as a Lower East Side taco joint and during the week hosted classes, private workshops, and panel events. The purpose was to create a place that organizations and individuals alike could go to learn, experiment, and be inspired. We heard from representatives from Etsy, Victoria's Secret, Next Big Sound, Pearson and the NYC Dept. of Education.
The nightly panels were a highlight, and aimed to bring together companies that would typically have no business being on stage together. Topics included "Customizing Your Customer's Experience" and "Driving a Mission Driven Organization", and hosted organizations as diverse as OXO, DonorsChoose, Chipotle, West Elm, and midtown NYC's Betony restaurant.
The overlap and sharing was magical.
Leading your organization to big innovation doesn't need to mean expensive budgets, posh consultancies, or uncomfortable acquisitions. We believe that the best inspiration comes from things outside of your everyday, and to find those things you need to break your normal pattern. Here are some of the top learnings from the week:
Don't just make change, take the time to understand what you're changing: A resounding theme all week was the need for regular connection with, and deep empathy for, your customers. These aren't just the people buying your products or services; these stakeholders exist across your entire value chain. Jay Levy, founder of Uproot Wine, talked about the importance of doing friends-and-family research and spending countless hours in wine stores talking to clerks and vintners in order to dictate the direction of their new wine brand. Alex Lee, president of OXO consumer products, said that the best direction for your company is to meet the needs that your customers don't realize they yet have. Get out of the office, and get closer to your customers.
Create a culture of curiosity and autonomy: Culture change is always easier said than done, but we heard some tactics to help steer your ship in the right direction. Jon Troutman, director of Design at home security start-up Canary, discussed the importance of creating friendships in their rapidly growing team. From day 1, they encourage people to be very opinionated, but to be just as willing to change their ideas as they collaborate. Shannon Ferguson, head of People at Kickstarter, talked about the company's use of blameless post-mortems, a debrief format that puts focus on process and system breakdowns as opposed to individuals. This will ensure people are constantly learning, rather than fearing internal repercussions of making a mistake.
Nail your first 2 minutes: During the 'Customizing Your Customer Experience' panel, we heard about the importance of having baseline mission, values, and ethos to drive every single interaction and decision in an organization. Eamon Rockey, general manager at NYC restaurant Betony, captivated the crowd as he outlined the rehearsal time his staff spends nailing the first two minutes of every guest interaction. For them, that first 2 minutes dictates whether the next 2-3 hours will be positive or negative. Erik Fabian, director of Brand at Moleskine notebooks, spoke openly about the false binary between digital and analog interactions. By having a consistent message behind their brand, they're able to seamlessly offer both in person community events and thoughtful digital collaborations alike.
Call out the BS: There is no steadfast recipe to introducing big innovation, but one thing that can be agreed upon is the need to question what already exists. According to Jay Levy, co-founder of Uproot Wine, when it comes to taking on an industry, you need to call out the things that just don't make sense and do the exact opposite. Multiple panelists said they look far outside their industry for that inspiration. We heard from Jomaree Pinkard of Hella Bitters and Daniel Dengrove of Brewla Bars that they often spend hours in grocery stores looking far beyond their own food categories for trends and inspiration. Block the time off to feed your head in this way.
Find partners to tell a story bigger than yourself: During the 'Collaborators Not Competitors' panel, we heard from Ben Hudson of Brooklyn Brewery and Mo Mullen of West Elm that for them, the value of partnerships extends way beyond making money. West Elm uses local partnerships to tell a story much bigger than it's own, and Brooklyn Brewery has used strategic partnerships since it was founded to exchange audiences with like-minded partners. However, both highlighted the importance of finding partners who share a common mission and values for this to be successful. Alex Lee, president of OXO, echoed this sentiment that even if a new product or partnership doesn't work out businesswise, it's imperative that you don't damage the brand. Aligning on values and goals is critical up front.
Andy Hagerman is a co-founder of The Design Gym, a community of creative thinkers and problem solvers from across diverse industries and roles. They host dynamic workshops for both the public and privately for organizations, and structure longer form projects with their community to help organizations learn more about their customers. Learn more at www.thedesigngym.com or @thedesigngym.