Business Leaders: PepsiCo's Indra Nooyi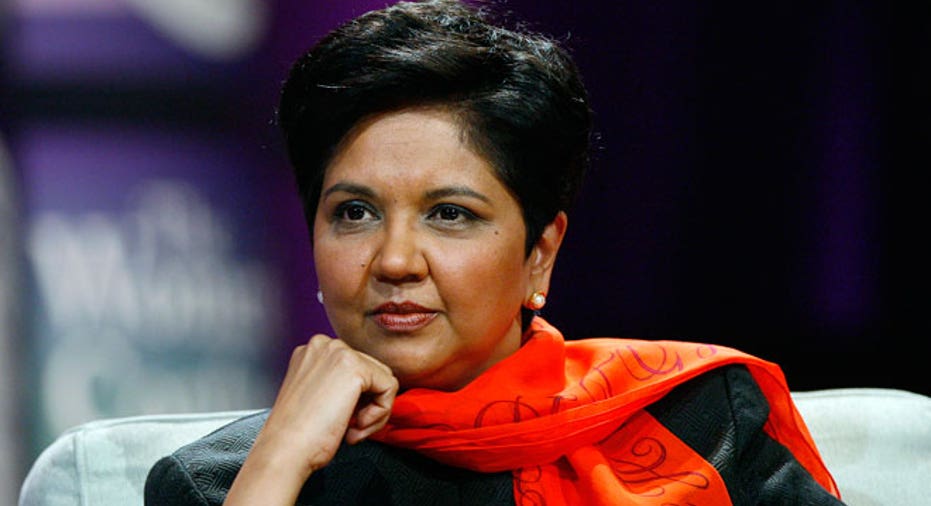 Name: Indra Krishnamurthy NooyiDate of Birth: Oct. 28, 1955Company: PepsiCoPosition: Chairman and CEOPrevious role: PepsiCo's president and CFOEducation: BS '88 from Madras Christian College in 1974, MBA from the Indian Institute of Management in Calcutta in 1976, MPPM from Yale University in 1980.Quote: "Challenges are global ... They require people from every country, every background, every area of expertise, pulling together."
When Indra Nooyi first arrived in the U.S. to attend graduate school at Yale University, she opted to work the graveyard shift as a receptionist in her dorm because it paid 50 cents more per hour. Today, Nooyi is chairman and CEO of PepsiCo, the second largest food & beverage business in the world. She is the fifth CEO in PepsiCo's 44-year history.
Nooyi earned the coveted spot at PepsiCo through years of international business experience. She started her career in India as a product manager for Johnson & Johnson and textile firm Mettur Beardsell, then spent six years at The Boston Consulting Group as an international corporate strategy director. Nooyi also worked for Motorola's automotive and industrial electronic group, and later became senior vice president of strategy and strategic marketing for Asea Brown Boveri, a Swiss power and automation technologies company.
Nooyi started at PepsiCo as senior vice president of corporate strategy and development, then became president and chief financial officer, and was appointed to the company's board of directors. She became CEO in 2007 and during her tenure, she has taken steps toward making PepsiCo more health-conscious by adding healthier brands and products through acquisitions -- a strategy that some initially doubted.
She pushed for PepsiCo to purchase Quaker Oats and Tropicana in an attempt to increase the company's variety of health food options. She also led PepsiCo's divestiture of its restaurants into Tricon, now known as Yum! Brands.
"People questioned this strategy, but over the years, the strategy was proved right," she said in a 2011 interview with The Wall Street Journal.
In June 2011, she spoke at the Consumer Goods Forum Global Summit. "Each and every one of us has unknowingly played a part in the obesity problem," said Nooyi, who is the driving force behind Performance with Purpose -- PepsiCo's multi-year strategy to invest in a healthier future for people and the planet.
According to the Form 14A proxy statement filed with the Securities and Exchange Commission, Nooyi earned total compensation of $17.1 million in 2011, a 6 percent increase from 2010. The increase is largely driven by changes in her retirement benefits and in her annual base salary.
Outside of work, the Obama administration appointed her to the U.S.-India CEO Forum. She is also a board member of various organizations, including the U.S.-China Business Council, the Peterson Institute for International Economics, Tsinghua University, The Consumer Goods Forum, Catalyst, and the Lincoln Center for the Performing Arts.
Nooyi also reportedly loves music and played guitar in a rock band when she was young.