Burger King's N. American Comp Sales Best in Two Years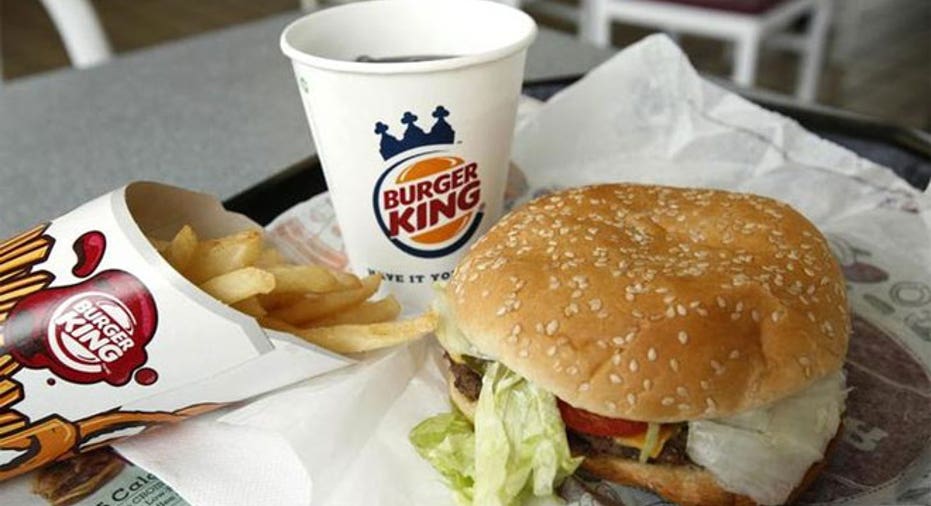 Burger King Worldwide Inc posted its strongest growth in quarterly same-restaurant sales in North America in two years, at a time larger rival McDonald's Corp is struggling in the highly competitive market.
Burger King's same-restaurant sales in the United States and Canada rose 3.6 percent in the third quarter, driven by the reintroduction of Chicken Fries and strong sales of the BBQ Bacon Whopper burger.
The company, which is acquiring Canadian coffee chain Tim Hortons Inc, has been focusing on reinventing and expanding its offerings. Burger King introduced new versions of its Whopper hamburgers and launched the King Deals value menu this year.
The company, whose rivals include Wendy's Co, is also benefiting from a franchise model for almost all its restaurants as it does not pay for such costs as leases and maintenance.
Analysts on average had expected the company's North America same-restaurant sales to rise 2.5 percent in the quarter, according to research firm Consensus Metrix.
Burger King's global same-restaurant sales rose 2.4 percent.
McDonald's U.S. same-restaurant sales fell by a steeper-than-expected 3.3 percent in the third quarter.
The company has reported nearly two years of turbulent sales at established U.S. restaurants, hurt by sluggish economic growth, increased competition and internal missteps that have complicated its menus and slowed service.
Wendy's is expected to report its results later this week, while Tim Hortons is scheduled to report on Wednesday.
Burger King said in August that it would buy Tim Hortons for $11.53 billion to create the world's third-largest fast-food restaurant group.
Through the so-called tax inversion deal, Burger King will domicile in Canada, its largest market, and avoid double taxation on profits earned abroad.
Burger King reported a loss of $23.5 million, or 7 cents per share, for the quarter ended Sept. 30 compared with a profit of $68.2 million, or 19 cents per share, a year earlier, mainly due to expenses related to the Tim Hortons deal.
Excluding items, Burger King earned 27 cents per share.
Revenue rose 1.4 percent to $278.9 million.
Analysts on average had expected a profit of 27 cents per share and revenue of $282.3 million, according to Thomson Reuters I/B/E/S.
Burger King shares closed at $32.30 on Monday on the New York Stock Exchange.
Up to Monday's close, the stock had risen about 41 percent this year, while McDonald's shares had fallen 3.5 percent and Wendy's shares had declined 7.7 percent. (Reporting by Nayan Das in Bangalore; Editing by Kirti Pandey)