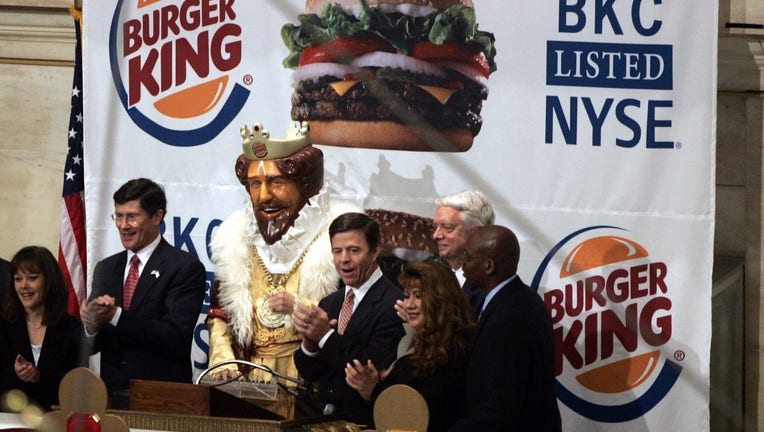 Fast food giant Burger King may be in the business of whoppers but they're also becoming a fixture in high price photo bombing?
Yes, the second largest burger chain in the world is shelling out top dollars to have its mascot the "King" appear at top sporting events.
The company reportedly spent $200,000 to have its "King" front and center at the Belmont Stakes behind Bob Baffert, the trainer of Triple Crown winner, American Pharoah.
Burger King's Chief Marketing Officer, Eric Hirschhorn gave FoxBusiness.com this statement.
"As a good friend of Bob Baffert Racing Stables, The King wanted to be there to celebrate this monumental moment in sports, and congratulate American Pharaoh on his crowning achievement."
Hirschhorn declined to comment any further.
Baffert's wife, Jill did tell Time that the proceeds will be going to charities for post-career jockeys and racehorses.
But this isn't the first time the "King" was caught photo bombing.
Last month, he was spotted as part of Floyd Mayweather's entourage and even escorted him into the boxing ring. Burger King allegedly dropped $1 million to gain access.
And this is what Chad J. Kawalec, Founder of the Brand Identity Center, who also worked on advertising for Burger King a few years ago had to say:
"A brand like BK must remain top of mind and relevant. Natively inserting itself in unexpected, large scale events helps reinforce BK as a brand that is in the thick of the action. Contemporary and ready to go. The value stems not only from the activity itself (those who see it natively), but also from the description of the activity in the press. The value of exposure like this is 100 fold versus cost. Very smart in my opinion.  Sales will be the ultimate measure."
Kawalec says now everyone will be looking for the King--even if he's not there.
So, the big question is—where will the "King" pop up next?