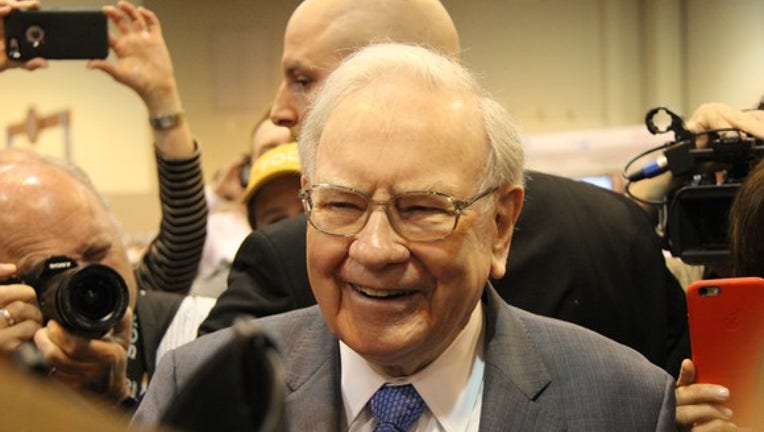 Warren Buffett on Saturday mounted a forceful and upbeat defense of the prospects for American business, as his Berkshire Hathaway Inc reported a higher quarterly profit though operating income fell.
In his annual letter to Berkshire shareholders, Buffett said investors "will almost certainly do well" by staying with the long term with a "collection of large, conservatively financed American businesses."
Buffett puts Berkshire in that category, using the letter to tout the successes of many of his Omaha, Nebraska-based conglomerate's more than 90 operating units.
These included businesses such as the BNSF railroad and Geico auto insurance that posted weaker results last quarter.
"American business -- and consequently a basket of stocks -- is virtually certain to be worth far more in the years ahead," Buffett wrote. "Ever-present naysayers may prosper by marketing their gloomy forecasts. But heaven help them if they act on the nonsense they peddle."
For the fourth quarter, Berkshire's net income rose to $6.29 billion, or $3,823 per Class A share, from $5.48 billion, or $3,333 per share, a year earlier, helped by a $1.1 billion increase in gains from investments and derivatives.
Operating profit fell 6 percent to $4.38 billion, or $2,665 per share, from $4.67 billion, or $2,843 per share.
Analysts on average had forecast operating profit of $2,716.60 per share, according to Thomson Reuters I/B/E/S.
Book value per Class A share, reflecting assets minus liabilities and which Buffett calls a good measure of Berkshire's intrinsic worth, rose 11 percent to $172,108.
For all of 2016, profit was virtually unchanged, dropping to $24.07 billion from $24.08 billion.
Operating profit rose just 1 percent to $17.58 billion, despite January's $32.1 billion purchase of aircraft parts maker Precision Castparts Corp, Berkshire's largest acquisition.
Buffett has run Berkshire since 1965. The company also owns dozens of stocks including Apple Inc, Coca-Cola Co , Wells Fargo & Co and the four biggest U.S. airlines, and more than one-fourth of Kraft Heinz Co.
PRAISE FOR AJIT JAIN
Profit from insurance operations rose 7 percent to $1.44 billion, as underwriting gains at the Berkshire Hathaway Reinsurance Group more than offset an underwriting loss at auto insurer Geico, where claims for losses have been rising.
The reinsurance business is run by Ajit Jain, widely considered a potential successor for Buffett, 86, as Berkshire's chief executive. Buffett said Jain has created "tens of billions of dollars of value" since joining Berkshire in 1986.
"If there were ever to be another Ajit and you could swap me for him, don't hesitate," Buffett wrote. "Make the trade!"
The insurance units ended 2016 with $91.6 billion of float, the amount of premiums held before claims are paid, and which Buffett uses to fund acquisitions and other investments.
That sum has since risen to more than $100 billion, likely reflecting a giant transaction last month with the insurer American International Group Inc.
Profit at BNSF, Berkshire's largest purchase before Precision Castparts, fell 8 percent to $993 million.
Though the railroad has been hurt by falling coal and industrial volumes, Buffett said society "will forever need huge investments" in transportation, and BNSF is well-served by a strong balance sheet, recent capital upgrades, and a growing emphasis on clean technology.
"Charlie and I love our railroad, which was one of our best purchases," Buffett said, referring to longtime Berkshire Vice Chairman Charlie Munger.
Berkshire Hathaway Energy, another major business, posted a 2 percent increase in profit, to $432 million.
In Friday trading, Berkshire's Class A shares closed at $255,040, and its Class B shares closed at $170.22. Both were record closing highs.
The shares outperformed the Standard & Poor's 500 stock index including dividends by 11.4 percentage points in 2016, after lagging by 13.9 percentage points in 2015. (Reporting by Jonathan Stempel in New York; Editing by David Gregorio)