Buffett to FOX Business: 'Watch Out, It's Coming'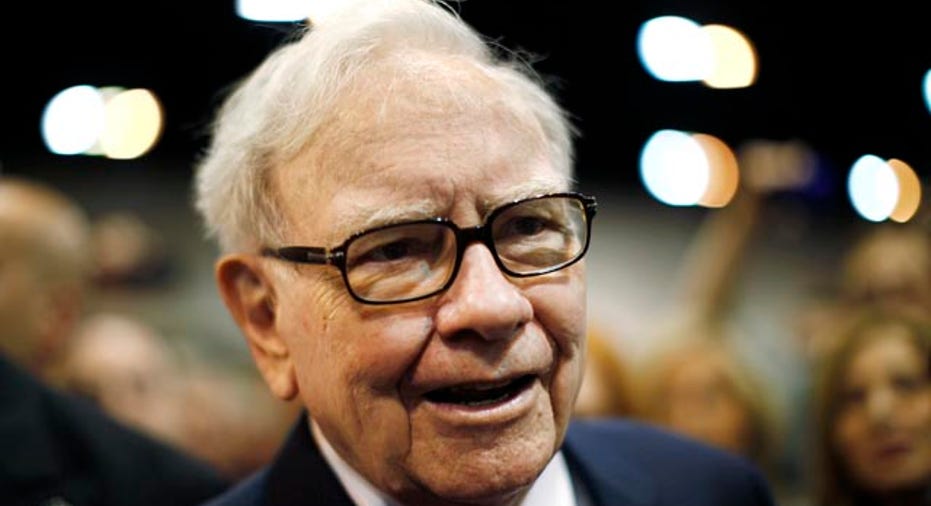 In a one-on-one interview directly after Berkshire Hathaway Chairman and CEO Warren Buffett addressed thousands of shareholders at his annual meeting, the Oracle of Omaha, as he's called by his stockholders, told FOX Business that when the Federal Reserve stops or scales back its stimulative program of buying billions in Treasurys, "I don't know what the reaction will be but you can bet every single trader will react."
Buffett went on to say that despite that uncertainty, he would bet that stocks in years to come will go "much higher" than they are right now. On Friday, the Dow Jones Industrials hit 15,000 intraday, and closed up 142 points at 14,973.
The 82-year-old Buffett predicted that when the Fed eventually moves, that move would be "the shot heard 'round the world" but told FOX Business the U.S. dollar would remain the world's reserve currency. Even so, he told FBN, "I'm not making currency bets right now."
The five-and-a-half hour meeting, held at the CenturyLink Arena in downtown Omaha, most likely "drew a record crowd," Buffett said during the interview. In past years, some 35,000 shareholders have descended upon Buffett's hometown for the meeting, often called "Woodstock for Capitalists."  Shareholders get a discount at all Berkshire-owned businesses over the weekend.
He told FBN both Geico Insurance and the Nebraska Furniture Mart sales were higher at this stage of the shareholder weekend than they were last year.
Is Buffett's Son Qualified to Take a Major Role?
Shareholders lined up at microphones to ask questions throughout the day at the jam-packed arena. Buffett, who sat on a stage with his Vice Chairman Charlie Munger, answered questions ranging from whether he'd continue to buy more newspapers to whether Berkshire is so big it's now "too big to fail."
There were few fireworks despite the fact that for the first time ever in the history of the meeting, Buffett had invited a short-seller, Doug Kass of Seabreeze Partners, to  participate in active questioning. Buffett and Munger lightly scoffed at most of Kass' questions but got serious when Kass asked whether Buffett's son Howard is truly "qualified to become Berkshire's non-executive Chairman," a role he's expected to take when Buffett can no longer serve in the Chairman capacity.
"He's taking on the role of non-executive Chairman in case a mistake is made in the CEO choice. It's not his job to run the business," Buffett explained. "It's to have enormous concern for the way the business is run. He's a protector of the (Berkshire) culture and he has an enormous sense of responsibility about Berkshire and has no interest in running the business itself. I have seen many times over my 60-plus years (in business) when a mediocre CEO -- likeable but not the person to run a company -- is chosen. If that needs to change, that's hard for a Chairman. I know of nobody that will feel that responsibility more than my son Howard."
Buffett and Munger talked extensively about why they continue to use the BRK cash pile to add to the 70-plus collection of businesses they now own -- from See's Candies to Ginsu Knives to Mid-American Energy to Fruit-of-the-Loom -- instead of paying a dividend.
Buffett explained he loves to buy quality businesses and these days most of his acquisitions will be in the $75 million dollar range, although he likes buying huge companies at the right price. "We'll just keep playing the game and if we hear about something tomorrow that we can buy for $20 billion, you just never know when opportunity comes along."
Swiping at the Banks
Munger and Buffett expressed distaste for certain aspects of banking today. "The financial statements of big banks are way harder to understand today than in the past," said Munger dryly. "They're not my grandfather's banks."
Buffett did say he considered the banking system to be "stronger than at any time in 25  years. Capital is dramatically higher, a lot of significant troubled loans are gone. I think compared to European banks, they're stronger. I do not worry about the banking system being the cause of the next bubble. It will be something else."
What will that "something else" be?
"We will have bubbles when capital goes to excess, but usually you won't get it the same way you got it before. I feel good about our investments in Wells Fargo, US Bancorp and MM&T... they're very strong banks with sound practices. They won't earn as high a return as they did nearly 7 years ago but they'll have a decent return."
Munger was not nearly as magnanimous. "I'm a little less optimistic about banking long-term," said the 89 year-old Munger. "The more bankers want to be like investment bankers, the worse I like it."
None of the shareholders pressed Buffett on the fact that BRK stock has  underperformed the market over the past few years. They seemed to be content with the latest earnings report that came out Friday. Operating income saw a 41% jump, and BRK's derivatives position doubled. Participants seemed to soak up the plain-spoken, march-to-the-beat-of-a-different-drum personalities of the long-time best friends on stage.
When asked how important macro-economic predictions and guru reports from the likes of PIMCO's closely-followed bond king Bill Gross are, Buffett said without hesitation, "Charlie and I don't pay attention to macro forecasts. I can't think of a time when we made a decision on a stock or company where we (had) a macro discussion. "Incidentally," he said, "we think if we don't know, then no one else knows. So we talk about the businesses." Without pausing he added, " I like Bill Gross but it doesn't make any difference to me what he thinks about the future."
Heads in the jam-packed audience nodded in agreement.
Stay tuned to FOX Business at 9:30 a.m. ET Monday for a live interview with Warren Buffett, Charlie Munger, Bill Gates and a special Mystery Guest, ONLY on Fox Business.