Buffalo Bills' Home Field Has A New Name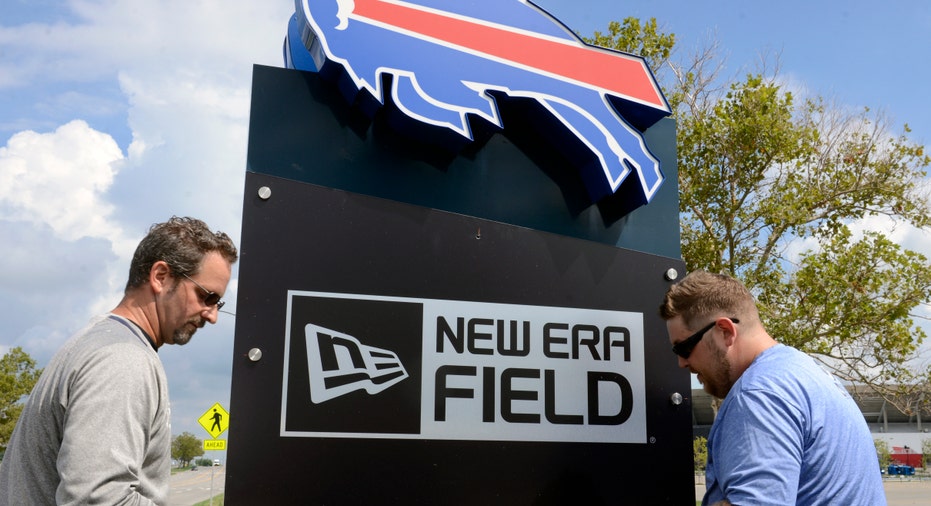 The Buffalo Bills changed their home stadium's name from Ralph Wilson Stadium to New Era Field after reaching a naming rights deal with the headwear manufacturing company, officials from both organizations formally announced Thursday.
The agreement, which is effective immediately, runs through the year 2022, when the Bills' current stadium lease expires. The Buffalo-based New Era Cap Company has the right of first negotiation if the Bills sign a new lease or build a new stadium.
"It was important to the Bills organization that a stadium naming rights agreement made sense. In joining New Era today for this landmark announcement, we have a partner that makes sense on so many levels," Buffalo Bills Owner and CEO Terry Pegula said. "New Era is a company recognized for its integrity and quality on a global platform, while at the same time, representing the very fabric of Western New York. In partnering with our organization and the opportunities associated with the NFL brand, we feel that this agreement showcases two of the more recognized local brands not only for the benefit of our two franchises, but one that reflects well on our entire community."
The deal's financial terms were not publicly disclosed, but various reports have placed its value at anywhere from $35 million to $40 million over the initial seven-year period. A New Era representative declined FOXBusiness.com's request for comment on the veracity of the rumored $40 million price tag.
That number, if accurate, would place the value of the Bills' new naming rights deal relatively on par with that of most other NFL teams. Of the 24 NFL franchises that sold stadium naming rights, most receive less than $10 million annually.
MetLife (NYSE:MET) pays $19 million a year for the rights to the New York Jets and Giants' shared stadium, as does AT&T (NYSE:T) for the rights to the Dallas Cowboys' stadium. Earlier this month, Hard Rock International agreed to pay $250 million over 18 years for naming rights to the Miami Dolphins' newly renovated arena, according to Forbes.
Aside from its new status as the Bills' naming rights partner, New Era is the official on-field hat sponsor of both the Bills and the NFL as a whole. The company has more than 500 licensing agreements across the sports and entertainment landscape.
"To have the New Era name associated with the Buffalo Bills organization is an honor. Our brands not only share a hometown, but we share a long history in the world of sports," New Era President & CEO Chris Koch said in a press release. "The energy and spirit the Pegulas have infused into the community is incredible. We're thrilled to kick off another chapter in Bills history."
The Bills' home field was known as Ralph Wilson Stadium from 1999 to 2015, in tribute to the franchise's founder and original owner.