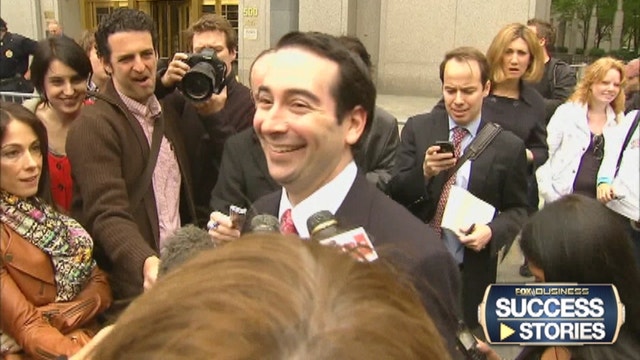 Exclusive: Living life in the bright spotlight of the public eye could be daunting for just about anyone.
But for Reed Brodsky, who always seems to be on his A-game, the bright lights are what make him tick.
Brodsky is the one of the newest partners at Gibson Dunn & Crutcher – one of America's top law firms – and a former assistant U.S. attorney. Perhaps his biggest accomplishment to date is his work as co-lead counsel in the famed insider trading case, the biggest in U.S. history: The United States v. Raj Rajaratnam.
But don't tell that to him.
"I hope my defining moment is yet to come. I've always believed, whenever I was in the office, and still to this day, you cannot rest on your laurels and think back on your accomplishments and be satisfied," Brodsky said.
Daring to be Different
Despite his successful career cracking down on major insider-trading cases on behalf of the U.S. government, Brodsky didn't always think a lifetime practicing law was in the cards for him.
He grew up in a medical family – and all three of his siblings went on to pursue careers as doctors.
"When I was growing up, my mother heavily influenced us to try and be doctors," he said. "And all three of my siblings listened. I didn't. I basically ended up the black sheep of the family because I was the only one who wasn't as interested in medicine."
Despite that, he went to college with the intention of enrolling in medical school after he completed his undergraduate studies. In fact, he finished all the credits required to apply, including organic chemistry, and a slew of science and mathematics courses, but something stopped him from going further.
During his junior year at Duke University, Brodsky interned at St. Luke's Hospital on Manhattan's Upper West side. He points to that experience as the defining moment – the turning point when he decided a career in medicine just wasn't going to cut it.
"I remember being asked to hold down a man as they were trying to take a tube and push it down his throat, and I remember I was asked to hold him down as he was throwing up. And I thought, 'This might not be for me,'" he recalled. "Now, that was an extreme circumstance, but I remember thinking this isn't what I wanted to do."
He said once he came to that realization, it was clear to him the law was calling his name. Still, he decided to postpone law school to live abroad for a year. He settled on Costa Rica and served the public in several different roles including a job as a park ranger, English teacher, and working for the Red Cross.
"You should always dare to do something different than what everybody else is doing because you should do what's in your heart, and do what you want to do," Brodsky said. "Even though most everybody I knew was going straight to graduate school, straight to medical school, law school – taking a year off in their eyes was not advancing the ball. To me, I look back and it was a great experience for me."
To that point, the study abroad experience gave him the opportunity to learn Spanish as his second language -- something he says has been invaluable -- and a better appreciation for U.S. cultures, traditions and way of life.
After his brief interlude in Costa Rica, Brodsky came home to the States to pursue his love of the law, which brought him to Vanderbilt Law School before moving on to two international law firms in Washington D.C. where he specialized in corporate investigations, white collar defense, and Securities and Exchange Commission enforcement matters.
A Defining Moment
Whether he was ready for it or not, Brodsky was thrust into the very bright, very public spotlight that came with his work on the Rajaratnam case. But he says it was the culmination of a lifetime's worth of dedication and devotion to his passion that gave him the skills to help pull off a victory for the U.S.
What made this case unique and the stakes high was its focus and dependency on the use of wiretaps as evidence in the courtroom -- a pivotal piece of the puzzle that the prosecution's case hinged on.
"It was the first case where the other side had resources that challenged us from day one, through the verdict, and after. Every day they challenged us," he said. "And they put on a ferocious defense. And the scrutiny of the public spotlight was the brightest since I'd been in the office."
When many would consider the media attention and scrutiny surrounding such a high-profile case to be a distraction, for Brodsky, it was just another day in the courtroom.
"When I was in the gallery and the people behind me, I don't see them. They drop out and the only people I really see in the courtroom [are] the jury, the judge, the witness, and my colleagues, and the opposing lawyers. And that's all I hear," he said.
He said it's a skill he's used since his first day in the courtroom, and something that just comes with a certain level of comfort and focus – it's not something that can be taught or learned. More than that, though, he said the courtroom is the most fun part about being a trial lawyer, so if he was enjoying the time he spent there, he didn't feel pressure to perform one way or another. But when the Rajaratnam case was his to win, was he ready?
"Oh yes," he said. "I realized it didn't affect how I would do my work. And the most important thing: You don't let it affect your work. You continue to do the best job you can and you don't worry about the press, the media, or the scrutiny."
Private Practice Now, Public Life Later?
After wrapping up eight years in the public sector, winning every white collar case that crossed his desk, Brodsky decided to steer his career away from the intensity of life as an assistant U.S. attorney, joining Gibson Dunn as a partner.
He said he's enjoying the transition back to private practice, but the hardest part of the move is spending less time in his favorite spot: The courtroom.
"I'm enjoying providing advice to individuals who seem to be either in trouble, or they've been caught up in a situation in which they're unfamiliar, or the government is interested in them in some way…and they need somebody who has been on that side, who understands how the government is thinking, what prosecutors are doing, and what regulators are doing. And it's not just guesswork, because I was there."
So where does someone like Brodsky -- who's had a stellar career and is considered to be an all-star prosecutor and a pit bull in the courtroom -- go from here?
Perhaps the answer is simple, even logical: A career in an even more public realm.
"I know some people put politics totally out and say they'll never go into politics. I would never say never to that," Brodsky said. "I've been fascinated with politics, reaching solutions. If the right situation came up, I think I would be interested in politics."
He added, though, that career move could come later in life.
"I feel like after the experience I had at the U.S. attorney's office, I have a lot to offer," he said. "I'm not ready yet to give up being in the courtroom. And I think if you run for office, you're completely giving up on that. There are not too many successful politicians who go back to practice law."
For now, Brodsky said he will continue to focus on private practice with a laser-like focus. But he hopes after he crosses his one-year mark with the firm, he can get back to litigating.
"I get really into (my work)," he said. "I don't know another way to do it. I'm an all-consuming person. It's my personality. It wouldn't matter what profession. My approach to everything is all in. I'm not half-hearted."