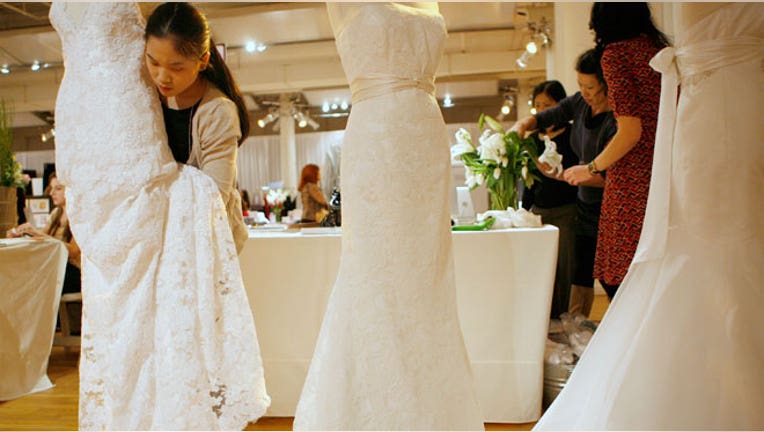 It's the most important day of your life, all eyes will be on you and that dress. And, surprisingly more and more brides are searching the web to find that perfect dress.
"Variety! Local salons might not have that unique dress you're looking for, whereas online, you can find or even custom-order whatever dress your heart desires. And for the budget conscious brides, you're more likely to find a variety of gowns within your price points," says Rosanna Casper, co-founder of bridal apparel website, iDoJour.com.
Casper says the online wedding space has not slowed down either. Popular retailers like JCrew, Net-a-porter, and BHLDN offer gown lines at a variety of price points. You can also find used and pre-owned wedding dresses at incredible deals on sites like Tradesy, NearlyNewlyWed and Pre Owned Wedding Dresses.
"You can even find handmade or custom made gowns on websites like Etsy (NASDAQ:ETSY) and CustomMade.com. It's becoming so much easier to find and order just about any dress you want," adds Casper.
But before you grab that mouse, there are potential pitfalls if you order your dress online.
"It's risky - you're at the mercy of a photo and, if you're lucky, a video and some online reviews. You can't try it on, you can't feel the fabric, see the color under different lights, or see how it moves, which, in my opinion, is so important when picking out the gown," says Casper.
But if there's an gown online that you've fallen in love with, here are a few of Casper's tips.
- Understand fabrics. Certain fabrics are stretchy, allowing you to order your dress according to your bust size. Some are unforgiving and show off every curve. Others are stiffer and make a swishing sound as you walk. It's not enough to rely on the photo!
- Read the descriptions carefully. Especially what fabrics are being used, how the dress is lined and where the gown is made. There are a lot of inexpensive gowns and knockoffs out there that will photograph beautifully, but might not be of the highest quality. Satin gowns, for example, are lightweight and have a lovely sheen, but if they are not lined or cut properly, the fabric will wrinkle easily and stick to the body.
- Inquire about the length of the gown. Most gowns will allow extra length so that they can be hemmed to your exact measurements, however you should always double check especially if you are taller than 5'9".
- Review the cancellation and return policy. Some sites will allow you to return the dress if you're not satisfied with how it fits. Other sites will charge a restocking fee, which is a common practice. And many, especially those offering made to order gowns, will not accept returns.