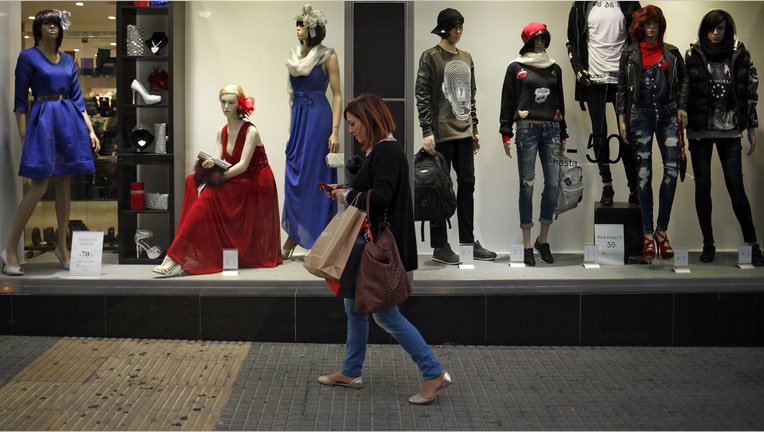 Brick-and-mortar retailers, jostling for holiday shoppers, are embracing new trends to grab a bigger piece of the e-commerce pie.
According to ShopperTrak, sales inside brick-and-mortar stores during Thanksgiving weekend dropped 11.4% to $10.4 billion, and the National Retail Federation said more people shopped online (103 million) than in stores (102 million) this year. These holiday trends highlight why retailers are investing heavily in their Web operations, hoping to reach consumers no matter where they shop.
Brick-and-mortar is still king.
Management consulting firm Kurt Salmon found that half of U.S. retailers are offering "buy online, pick up in store" options for the peak season, up from 38% a year ago. Steve Osburn, a retail and supply chain strategist at Kurt Salmon, said retailers are gaining traction by making their inventory easily accessible for consumers.
"All of the clients that I'm working with, it's either something they currently do or something they plan to do in the next 12 to 24 months," Osburn added.
Retailers like Wal-Mart Stores (NYSE:WMT), Best Buy (NYSE:BBY) and Home Depot (NYSE:HD) allow customers to reserve items that are in stock or have orders shipped to their local store. Both options give shoppers a coveted benefit: free shipping.
Brick-and-mortar shopping is still king, though. E-commerce sales comprise less than 8% of all domestic retail revenue, and despite Amazon.com's (NASDAQ:AMZN) dominance, traditional retailers including Staples (NASDAQ:SPLS) and Costco (NASDAQ:CSCO) are among the leading retailers online.
"Brick-and-mortar is still king," said Sarah Quinlan, senior vice president of market insights for MasterCard (NYSE:MA) Advisors.
Black Friday All Month
Quinlan noted that Black Friday sales aren't as critical because holiday promotions now start well before Thanksgiving, extending the busiest shopping season of the year. "The key thing to appreciate is sales came early," she said of this year's results. "It's not all about the hype of making it [to the store] on this one day. It was all about grabbing a share of the market."
In its latest SpendingPulse report, MasterCard estimated that retail sales excluding cars and gasoline grew 4.6% year-over-year for the entire month of November. Early deals led to a softer Black Friday, but e-commerce saw a 13% jump during Thanksgiving weekend.
The surge in online orders for the holidays puts significant strain on distribution networks, which is one reason why retailers have attempted to start the holiday shopping period well before Thanksgiving.
Kurt Salmon annually tests online retailers by placing orders on Black Friday and Cyber Monday. This year's delivery times aren't available yet, but Osburn believes the industry is showing signs of growing pains.
"While it's good news to the consumer that retailers are becoming more sophisticated, it's going to be a rocky peak season since many retailers are in version 1.0," Osburn explained.
Smartphone Shoppers
Companies are emphasizing unique mobile experiences, avoiding simply duplicating their website for smartphone and tablet users. Nearly eight out of every 10 retailers now have a different mobile interface, according to Kurt Salmon. The investment is paying off. Adobe (NASDAQ:ADBE) data revealed that mobile devices accounted for 33% of online sales on Black Friday.
"I think a lot of merchants have invested online but not necessarily in what the consumer wants," Quinlan said. "There's a lot of noise out there. If retailers can cultivate consumers 365 days a year, their offers can then get through the haze."
Walmart, the largest retailer in the world, said mobile users are making up more than the 70% of its traffic to Walmart.com. Plus, nearly half of all Walmart orders between Thanksgiving and Cyber Monday were placed using a mobile device, doubling last year's figures.
Target's (NYSE:TGT) website crashed on the morning of Cyber Monday due to heavy traffic that was twice the amount it saw on Thanksgiving, which was previously the strongest day ever for the Minneapolis-based retailer. Target offered 15% off all online orders.
Targeted Deals
Both online and in stores, holiday shoppers will likely see plenty of deals through the end of the year.
"The Black Friday and Cyber Monday party is not over," Osburn said. "I think there will be smaller discounts on big ticket items and more discounts across the board."
Quinlan noted that the busiest sales day of the year, the day before Christmas, is still ahead. Apparel promotions should be popular amid a late start to winter in the Northeast. Weak demand for cold-weather gear plagued Macy's (NYSE:M) latest quarterly results.
Retailers are increasingly looking to present deals tailored to individual customers online. Adobe noted that email marketing drove 25% more Black Friday revenue compared to 2014, and Osburn said consumers can expect to see more targeted promotions as retailers become more sophisticated about consumer data.