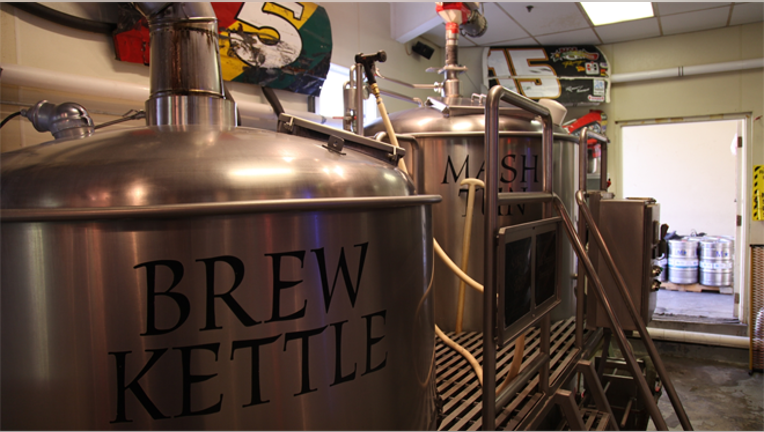 California's 450 craft brewers are thinking drought as much as draft these days.  That's because of the parched conditions in the Western U.S.
The dearth of rainfall and rationed water supplies throughout much of the state have required breweries to take creative steps to more efficiently use water, the biggest ingredient used to make beer, and one that brewmasters in other parts of the nation may take for granted.
"Without water it's pretty tough to make beer," deadpanned Peter Kruger, Master Brewer at Bear Republic Brewing, located in the heart of Northern California wine country. "Here's a pretty good analogy, you turn the lights on at home, but there's no power."
"Breweries cruise along and use a lot of water," Kruger continued, "but when you realize that good, high-quality, potable water is a restricted resource, it's a serious wakeup call."
The head brewer said Bear Republic has been reducing water usage for some 15 years after running afoul of capacity at the waste plant in its founding city of Healdsburg, California.  Kruger said back then the city wanted $200,000 to expand the limits, too rich for the nascent brewer at the time.  "We ratcheted down the ratio of water used to beer produced," he explains.
That helped prepare Bear Republic for this bear of a drought, one of the worst on record.  A new study shows 63 trillion gallons of water have been lost in the western U.S. over the past decade.
And while you can't make water, Bear Republic decided it could take action to help expedite extraction of underground sources.  It formed a partnership with the city of Cloverdale, California--where its corporate offices and larger brew house are located--to dig two new water wells, which just came on line this month.  The beermaker prepaid several years of its water access fees to the tune of $466,000, allowing the city to break ground and complete the project under budget and sooner than it otherwise would have been able.
"The city hadn't raised its water rate for seven years and didn't have sufficient funds to go off and explore on its property," explained Craig Scott, Public Works Director and City Engineer for the city of Cloverdale.  "(Bear Republic) is on the hook to pay for it anyway, but the unique thing is they paid it in advance…without their participation, we'd just be getting started right now."
And Scott adds, if the city had not been proactive, they'd be in a long line of folks trying to drill wells in the Sonoma Valley area.  Instead Cloverdale now has two new wells plus more water in reserve after fixing a leak in another well.  Those measures have boosted water supplies along with mandatory restrictions on residents' water use enacted in January.
Bear Republic is also reducing, recycling, and reclaiming its own water usage by auditing for leaks, keeping an eye on taps while cleaning, and avoiding over-rinsing tanks.
The brewer is also installing a wastewater pre-treatment plant.  Kruger said it will generate heat for water and electricity from the methane it produces.  The brewmaster explains, "The by-product of that process is the creation of fairly clean wastewater we can treat additionally and recycle 40% for the plant for wash-downs, cleaning the outside of tanks, and irrigation."
Several hundred miles south in Escondido, California, Stone Brewing is taking a different approach.  "We have water reclamation at Stone," explained Mitch Steele, Stone's Brewmaster.  "All liquid that goes down drains in the brewery—brewery liquid, not from the restaurants or restrooms—we treat with an aerobic digestion process and a series of filtrations.  The water out the back end is pure as can be and we reuse it for more cleaning."
This is not a new practice.  Steele said the nation's tenth-largest craft brewer has been working on the reclamation process for seven years.  "From a good brewing practices standpoint, it's good to watch water usage, especially when you live in a dry area like we do." 
That includes constantly evaluating personal practices and optimizing water used in cleaning and rinsing cycles.
Stone officials said they'd like to reuse reclaimed water for even more purposes.  The brewery's co-founder and CEO Greg Koch told FOX Business, "With this drought, maybe we can get the political will to change some regulations so I can drink a glass of water that's been cleaned up.  I can't legally give it to you or pour it on ground. I can only use it for cleaning and put it down the drain, comingle it with other effluent and clean it up again and outflow to the ocean."
Steele, the Stone brewmaster, added, "We test the (reclaimed) water routinely and continuously.  I wouldn't hesitate to drink it or brew with it (if regulations allowed him to)."
In the meantime, both Stone and Bear Republic have been sharing their experiences and knowledge with peers in the craft beer community.  They've hosted fellow brewers onsite to discuss water conservation and reclamation methods; plus representatives from the two breweries have led online seminars through the Brewers Association, which has its own sustainability manual.
If the rains don't come next year, beer makers may look in other areas with more plentiful water supplies to build new or secondary breweries; but industry insiders don't see California's robust craft beer market drying up. "I don't think breweries will close, they can continue to improve that water ratio, but beer is really important to people," Bear Republic's Kruger said emphatically, adding, "People will vote with their dollars…I hope people will stop washing their cars before they stop drinking beer."