Brady Leads Biggest Comeback, Patriots Win 34-28 in OT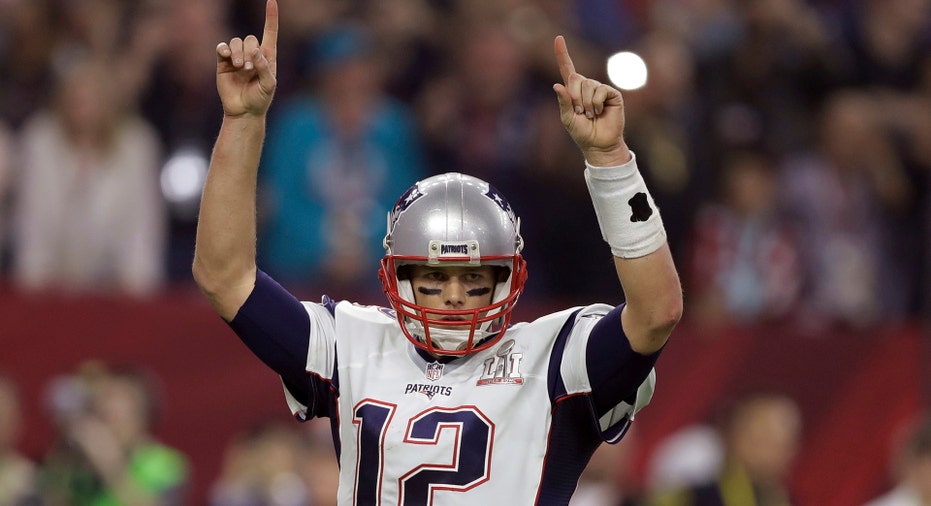 They looked old and outmanned. Their star quarterback was frazzled, their stingy defense was a sieve.
 So what? Tom Brady and the New England Patriots shrugged and did what they always seem to do: Win the Super Bowl.
 Brady led one of the greatest comebacks in sports history highlighted by a Julian Edelman catch that was almost beyond belief. The Patriots pulled themselves out of a 25-point hole against the Atlanta Falcons to a 34-28 win for New England's fifth NFL championship. It was the first Super Bowl decided in overtime.
 "There were a lot of plays that coach talks about, you never know which one is going to be the Super Bowl winner," said Brady, who earned a record fourth MVP award and a fifth Super Bowl ring, the most for a quarterback. "There were probably 30 of those plays tonight and (if) any one of those were different, the outcome could have been different."
 But down 28-3 in the third quarter, Tom?
 "It's hard to imagine us winning," the 39-year-old Brady said. "It took a lot of great plays and that's why you play to the end."
 The Patriots scored 19 points in the final quarter, including a pair of 2-point conversions, then marched relentlessly to James White's 2-yard touchdown run in overtime after winning the coin toss. White scored three touchdowns and a 2-pointer.
 "We knew we had a shot the whole game," White said.  "It was an amazing comeback by our team.  It's surreal right now. You couldn't write this script."
 Brady guided the Patriots (17-2) through a tiring Atlanta defense for fourth-quarter touchdowns on a 6-yard pass to Danny Amendola and a 1-yard run by White, which came with 57 seconds remaining in regulation. White ran for the first 2-pointer and Amendola did the deed with a reception on the second.
 Brady finished 43 for 62, the most attempts in Super Bowl history, for 466 yards, also a record, and two touchdowns.
 Before the stunning rally -- New England already held the biggest comeback in the final period when it turned around a 10-point deficit to beat Seattle two years ago -- the Falcons (13-6) appeared poised to take their first NFL championship in 51 seasons. Having never been in such a pressurized environment, their previously staunch pass rush disappeared, they stumbled on offense and Brady tore them apart.
 "There's nothing you can really say," Ryan said. "That's a tough loss, obviously very disappointing, very close to getting done what we wanted to get done."
 It wasn't difficult for Patriots owner Robert Kraft as he accepted the Lombardi Trophy from Commissioner Roger Goodell, who naturally drew a flood of boos from New England fans on hand. Yes, "Deflategate" might be far behind Kraft and Brady, but it's not forgotten.
 "Two years ago, we won our fourth Super Bowl down in Arizona and I told our fans that was the sweetest one of all," owner Robert Kraft said. "But a lot has transpired over the last two years and I don't think that needs any explanation.
 "I want to say to our fans, our brilliant coaching staff, our amazing players who were so spectacular, this is unequivocally the sweetest."
 Brady and coach Bill Belichick won their 25th postseason game, by far a record. The Falcons added to Atlanta's long history of pro sports frustration.
 Belichick became the first coach with five Super Bowl crowns.
 The Patriots won the coin toss for overtime, and by then it was no contest. Brady completed six passes against an overmatched Falcons secondary. A pass interference call took the ball to the 2, and White scooted to his right and barely over the goal line.
 His teammates streamed off the sideline to engulf White as confetti streamed down from the NRG Stadium rafters.
 The comeback included dozens of huge plays, including  Ryan's fumble on a sack, Edelman's catch off of a defender's shoe and Brady's passing.
 White had 14 receptions for 110 yards, but Brady hit seven different receivers.
 Until the Patriots took charge with their late surge, league MVP Ryan was outplaying Brady and NRG stadium rocked with Falcons' fans chants of "A-T-L!"
 In a game that started as a defensive struggle, the Falcons went sack-happy, getting two on the Patriots' second drive in what would be a scoreless opening quarter.
 It sure looked as if the Patriots would get on the board immediately in the second period as Brady and Edelman connected twice for 40 yards. But LeGarrette Blount's fumble turned the momentum to the Falcons, who then took their biggest lead in a Super Bowl -- yeah, we know, they have been here only twice -- on Freeman's 5-yard run to cap a quick 71-yard drive on which Jones came alive.
 Jones showed why he is an All-Pro receiver with a tough leaping catch over the middle for 19 yards, then got open on the sideline for 23. Freeman did the rest.
 Before New England could catch its breath, Ryan had the Falcons up 14-0. Using the no-huddle attack to perfection, he threw for 51 yards on a 52-yard drive, hitting Hooper with a pinpoint pass in the left side of the end zone.
 Then Brady was victimized by his own poor decision, a rarity on the big stage. Atlanta was called for defensive holding three times on third downs to keep the drive alive. From the Falcons 23, under pressure Brady tried to squeeze a throw to Danny Amendola. Alford stepped in and sprinted, then glided 82 yards for the second-longest pick-6 in a Super Bowl -- and Brady's first.
 Shockingly, it was 21-0.
 New England gathered its wits for a 52-yard drive to Stephen Gostkowski's 41-yard field goal. Still, it was 21-3 when Lady Gaga took the stage.
 There was smoke hanging over the field when both teams had three-and-outs to open the third quarter. The Falcons looked in control when Ryan and Co., marched 85 yards to Coleman's 6-yard TD catch on a swing pass.
 New England scored the next nine points on James White's 5-yard TD reception -- the extra point was missed by Gostkowski, who later made a 33-yard field goal.
 The Patriots kept coming, the Falcons kept flopping, and soon Brady and his buddies somehow had No. 5.
 "Just play every play," Edelman said. "We never quit."