Boston Business Grinds to a Halt as Manhunt Forces Lockdown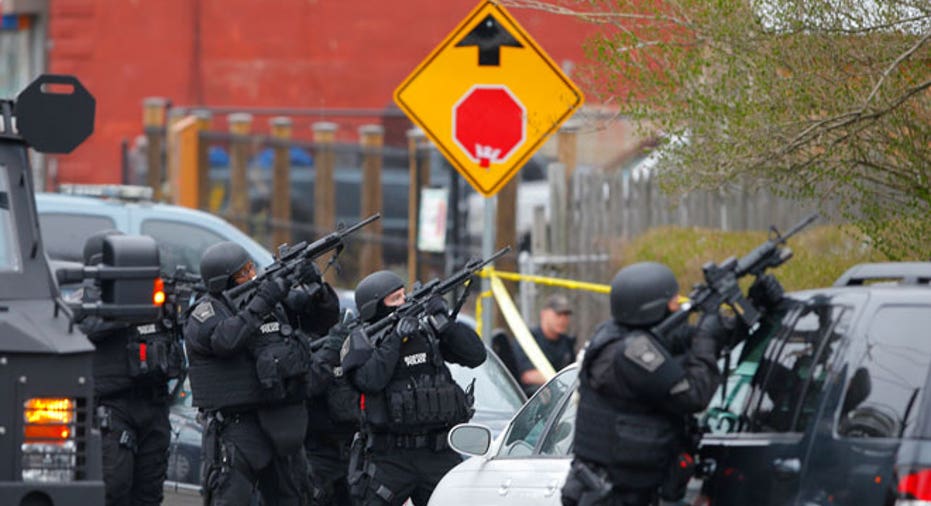 With authorities scrambling Friday to find a suspect in the Boston Marathon bombings, many Boston-area companies like EMC (NYSE:EMC) and Whole Foods Market (NASDAQ:WFM) instructed employees to stay home and have shut down their regional offices.
Boston-area commerce ground to a halt Friday morning after the city enacted a transportation shutdown as police continue a manhunt that has already resulted in the death of at least one of the suspected bombers.
"The safety of our team members is a top priority," Heather McCready, a spokeswoman at Whole Foods, said in an email.
McCready said Whole Foods has shut down locations in Brighton, Newton, Newtonville, Brookline, Jamaica Plain, two Boston stores and three Cambridge locations. Additionally, the grocery-store chain's regional office, which is located in Cambridge, is closed.
"Team members already at the stores have been asked to lock the doors and halt all receiving until further notice," McCready said.
Many local businesses remained closed and calls to local restaurants such as Sweet Caroline's on Boylston St. went unanswered.
A Microsoft (NASDAQ:MSFT) spokeswoman said the technology giant has shut its Cambridge-based research center as well as a pair of retail stores in the Prudential Center and Natick Mall in Boston
EMC, which employs 60,000 people around the world, has shut down an office in Cambridge.
"We're recommending that our employees follow the instructions of law enforcement officials," Dave Farmer, an EMC spokesman said.
EMC is headquartered about 25 miles west of Boston in Hopkinton, Mass., which is the town where the Boston Marathon starts.
Citigroup (NYSE:C) advised customers via Twitter that its branches in the Boston area have been closed temporarily.
Boston-based Fidelity Investments, which is one of the world's largest mutual fund groups, said many of its area employees are working remotely on Friday.
"For those who have gone into the office, we are informing them that they should refrain from leaving the building or their location," Vincent Loporchio, a Fidelity spokesman, said in an email.
"Fidelity has business contingency plans in place that enable us to continue to service our customers," he said.
Gillette, the Boston-based Procter & Gamble (NYSE:PG) brand, is also responding to the lockdown.
"The safety of our employees is our top priority," Kara Buckley, a spokeswoman from P&G's global shave care business, said in an email. "All employees who have not yet traveled to work have been encouraged to stay home. We are asking those who are currently on site to remain inside the building."
P&G's World Shaving Headquarters is located in South Boston and has been "operating with enhanced security in place all week," Buckley said.
LPL Financial (NASDAQ:LPLA), has also closed its Boston office in response to the lockdown.
"Our employees were notified very early this morning that the office is closed and to stay at home. We also alerted our Boston-area advisors to stay at home as well," Betsy Weinberger, an LPL spokeswoman, said in an email. "Our company emergency response team has been monitoring 24/7 the situation."
Likewise, Flybridge Capital Partners, a venture-capital firm based on Boylston Street in Boston, told employees not to come in on Friday.
"At 6 a.m., we alerted everyone to the situation and told them to stay at home today," Jeffrey Bussgang, a general partner at Flybridge, said in an email.
In the sports world, the Friday night matchup at Fenway Park between the Boston Red Sox and the Kansas City Royals has been postponed, according to the official Twitter account of the Red Sox.
Likewise, the Boston Police Department said via Twitter that the game between the Boston Bruins and the Pittsburgh Penguins at TD Garden has been postponed.