Boomers Hit the Road as 'Workampers'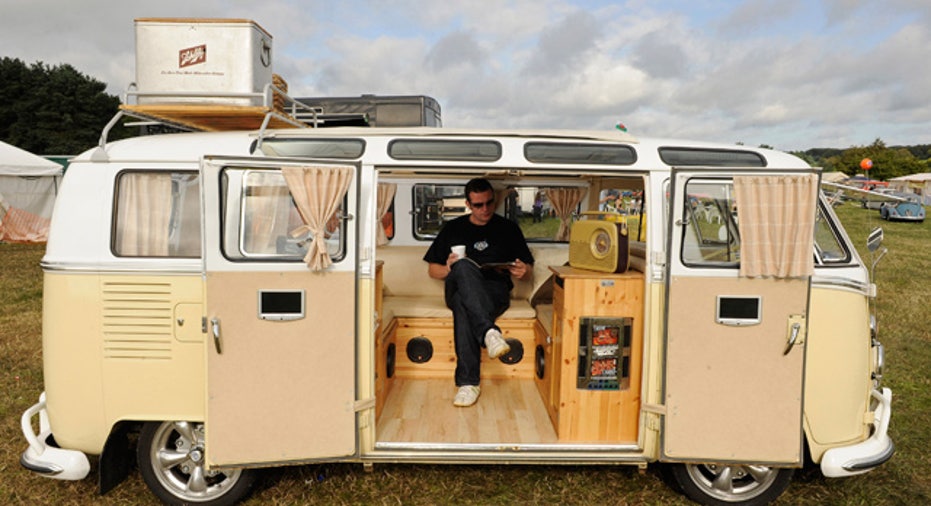 The Boomer is a column written for adults nearing retirement age and those already in their golden years. It will also promote reader interaction by posting e-mail responses and answering reader questions. E-mail your questions or topic ideas to thefoxboomer@gmail.com.
It was the TV series Route 66 that made me fall in love with the Chevy Corvette and planted the dream of one day driving across the country.
The show, which aired 1960 to 1964 chronicled two young men as they made their way across the U.S. working odd jobs to finance their journey. Now, the baby boomer generation is taking this idea to a whole new level through workamping.
While I might still be waiting for my Chevy Corvette, many boomers are embracing the idea of traveling across the country in a Recreational Vehicle and workamping.
Workamping  (also known as work camping) is a growing trend in the labor market and involves people traveling across the country (often in a RV) and exchanging  their labor for a place to stay/park plus any wages. The trend is especially growing among retirees.
Intrigued by the idea, I reached out to a major authority in the field, Steve Anderson, president/director of Possibilities Workamper News, in Heber Springs, Ark .We had the following conversation:
Boomer: What is workamping?
Anderson: Workamping is so simple that people try to make it hard. The hard definition of workampers are individuals, couples or families who have chosen a lifestyle that combines any kind of part-time or full-time work with RV camping. Theres a misconception that the work has to be on a campground, but that is not true. A broad spectrum of companies seek out these type of workers, including Amazon.com.
Workamping simply means you are living in your RV and you are working.
Boomer: Workamping is one of the fastest growing trends in the American job market, why is this happening and can every boomer afford it?
Anderson: The affordability of workamping is part of its appeal.
The reality is, many retirees cant afford to buy an RV, cover the rising cost of fuel and maintain a decent lifestyle to travel the country without a supplemental income. Workamping is becoming more popular because it allows you to still travel the country, experience the different landmarks and cultures and still make money.
I believe most people can afford this lifestyle if they are smart about it: Don't start out and buy the most expensive RV and then have a big payment. There are folks out there that buy the $250,000 motor home with a four-digit monthly payment and $400 to fill it up; it doesn't take long to see workamping wages wont cover these expenses.
I believe most people can do it and baby boomers are jumping on board with it because of they are seeking a different lifestyle.
Boomer: What do boomers need to know before heading out on the road?
Anderson: I am a big advocate of educating yourself about the lifestyle. I have seen thousands of people jumping into this with no preparation and then they flounder and are out of it very quickly. If  you are interested, the first thing you should do is find resources that will detail what to expect and how you can prepare.
We offer workamper university and a dreamers program that costs $42 that provides information and Webinars on the different types of jobs available and what to expect on the road.
The folks that do not take the time to educate themselves on the lifestyle changes have a greater risk of failure than the ones that do.
Boomer: What are the types of jobs that are available to workampers?
Anderson: Workampers can find just about any type of job that they can imagine, but work tends to scarce in the winter.
Workamper News has a relationship with the Army Corp of Engineers that involves an annual national contract to advertise job opportunities that includes working in fish hatcheries, assisting park rangers as well as other jobs.
Amusement parks also hire workampers. For example, Adventureland Amusement Park in Des Moines, Iowa, hires about 400 workampers to help run their park operations every summer.
The Methodist Children's Home in Waco, Texas, hires workampers to come in and be house moms and dads. Hotel operations and retailers in Yellowstone National Park also hire workampers to help out during the busy seasons.
Boomer: How much can baby boomers expect to earn at workamps?
Anderson; An annual wage depends upon the hours you intend to work. Most wages are between minimum wage and $12 an hour. You also have to take into consideration the value of any bartering that takes place (for a place to stay/campsite).
Larger corporations that hire workampers as seasonal help tend to pay  $10 - $11 an hour in additional to providing a full, hooked up campsite.
Boomer: Are there any tax implications on workamping?
Anderson: This goes back to educating yourself before selling your home and hopping into an RV. Saying goodbye to a home with a foundation also means losing a mailing address and there are many implications to thatwhere do you vote, renew your drivers license or handle health insurance? Some states charge you an arm and a leg just to register your RV while others are more reasonable.
There are certain states that do not have a state income tax and there are others that will tax your retirement income. There are states that if you label it as your home base, any other state you work in will require you to pay some state tax or include that it in your tax return for that state.
Boomer: What are the best things people get out of workamping?
Anderson: Ask any workamper and they will tell you the best part of the lifestyle is the people you meet and the relationships you form. By shedding the standard brick house in a subdivision and the 9-5 work day, you are creating more opportunities and memories than you can ever imagine. You are literally getting to go and live in places that people only dream about. I often ask people that want to travel in an RV,Do you want to see America or do you want to experience America? There is a big difference.
E-mail your questions to thefoxboomer@gmail.com.