Bombardier 3rd-qtr profit tops estimates as plane deliveries jump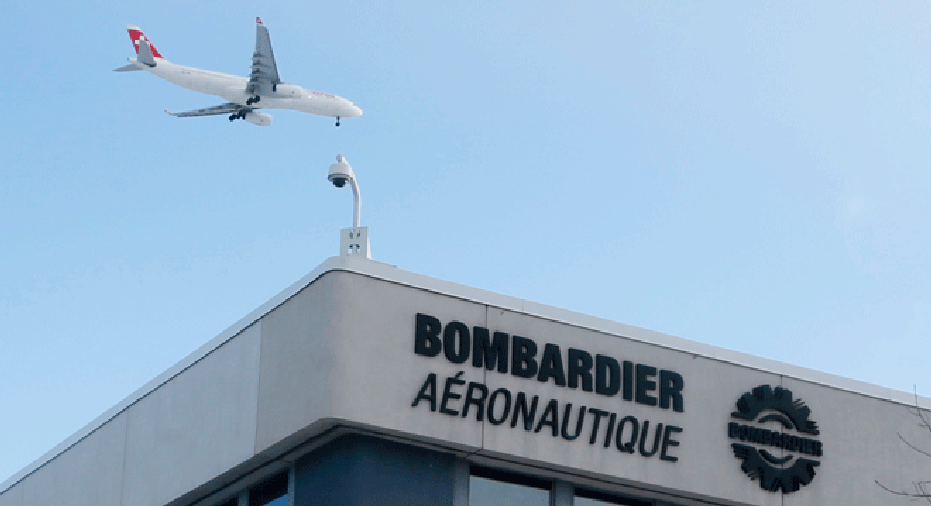 Bombardier Inc, a Canadian plane and train maker, on Thursday reported better-than-expected third-quarter earnings as aircraft deliveries shot up nearly 60 percent.
The company said it delivered 71 aircraft in the quarter, compared with 45 planes a year earlier. Aerospace earnings before interest and taxes rose to $137 million from $86 million, excluding special items.
Test flights continued for Bombardier's closely watched CSeries program, which takes a company best known for business jets and turboprop planes into the competitive commercial jet market. The program has been plagued by delays and rising costs, worrying investors.
Bombardier said it had cash and equivalents of $1.9 billion at Sept. 30, down from $3.4 billion a year earlier. RBC Capital Markets analyst Walter Spracklin said the company's liquidity position was "healthy."
The aerospace division received 76 orders during the quarter, up from 26 in the same period a year earlier, boosted by Macquarie AirFinance's firm order for 40 CSeries jets.
The order came after Bombardier resumed CSeries test flights in September, alleviating some uncertainty about the program. Flights had been halted in May after an engine failed during a stationary test. The CSeries is set to go into service in the second half of 2015.
Deutsche Lufthansa AG, one of Bombardier's big-name customers, said on Thursday its Swiss International unit would not be the launch operator for the CSeries jet.
Bombardier said in September it was in talks with an unidentified airline that could become the first operator of the CSeries jet. Swiss had been the first customer to place an order for CSeries jets, in 2009.
Swiss has ordered 30 of the new jets and is planning to take delivery in the second half of 2015. It has decided to lease four Embraer 190 planes from partner Helvetic Airways because of the delays to the CSeries.
Revenue at Bombardier's transportation business rose 13 percent to $2.33 billion. That helped total revenue jump nearly 21 percent to $4.91 billion, beating the average analyst estimate of $4.81 billion, according to Thomson Reuters I/B/E/S.
Quarterly profit dropped nearly 50 percent as the company took a $120 million charge related to job cuts announced in July. Net income fell to $74 million, or 3 cents per share, from $147 million, or 8 cents per share, a year earlier.
The charges were related to job cuts of 2,000 in its aerospace operations and 900 in its transportation operations.
Excluding one-time charges, profit was 12 cents per share, topping the average analyst estimate of 9 cents a share.
Up to Wednesday's close of C$3.87, the Montreal-based company's stock had fallen more than 27 percent in the last 12 months on the Toronto Stock Exchange. (Reporting by Allison Martell in Toronto and Anannya Pramanick in Bangalore; Additional reporting by Victoria Bryan in Berlin; Editing by Savio D'Souza and Jeffrey Benkoe)