BofA Resolves Mortgage-Bond Probes in Record $16.65B Settlement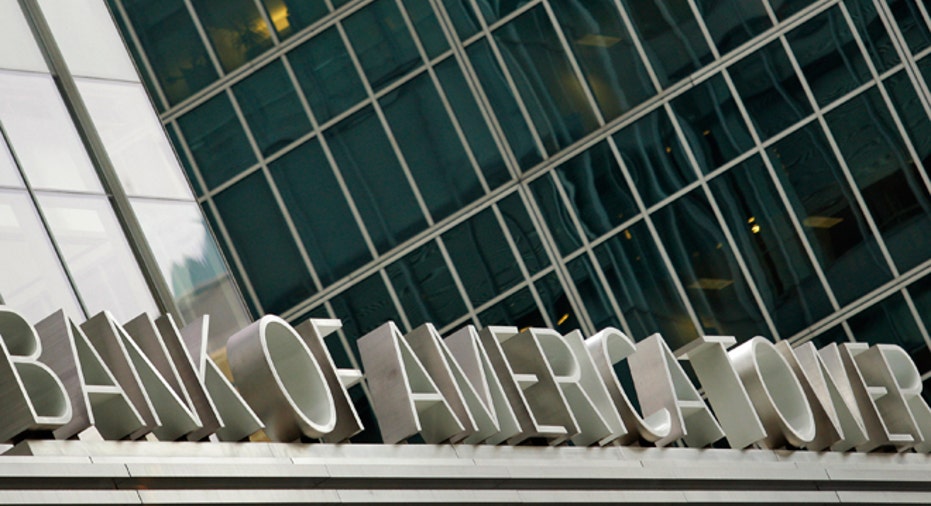 Bank of America (NYSE:BAC) became the latest U.S. bank to craft a settlement with the U.S. government over allegations it tricked investors into buying risky mortgage-backed securities before the financial crisis.
The No. 2 U.S. bank by assets will pay a whopping $9.65 billion fine, and $7 billion in so-called "consumer relief," in exchange for settling investigations by a slew of regulatory bodies. The cash portion includes a $5.02 billion civil monetary penalty and $4.63 billion in compensatory remediation payments.
In effect, BofA -- and all of the big banks that have settled similar allegations -- was charged with packaging and selling securities loaded with risky loans that the banks misled investors into believing were sound. When borrowers began to default on those risky mortgage loans the securities that held them tanked in value, starting a domino-effect that led to the financial crisis.
Regulators participating in the settlement included the U.S. Justice Department, state attorneys general in Delaware, Illinois, Kentucky, Maryland and New York, the Securities and Exchange Commission, the Federal Deposit Insurance Corporation and the Federal Housing Administration.
"We believe this settlement, which resolves significant remaining mortgage-related exposures, is in the best interests of our shareholders, and allows us to continue to focus on the future," said BofA's Chief Executive Officer Brian Moynihan, in a statement.
U.S. Attorney General Eric Holder said in prepared remarks that the settlement "goes far beyond 'the cost of doing business,'" a nod toward criticism that huge fines levied on big banks don't serve as deterrents to future acts of fraud. At a press conference in Washington, D.C., Associate U.S. AG Tony West also noted "that no institution is either too big or too powerful to escape appropriate enforcement action by the Department of Justice."
BofA said the fine is expected to reduce current-quarter pre-tax profits by $5.3 billion, or 43 cents a share, after tax.
The Charlotte, NC-based bank has paid more than $75 billion from legal cases stemming from the worst financial crisis since the Great Depression – more than any other bank. And it's possible more penalties could be on the way. Indeed, the bank said the pact doesn't  "cover potential criminal claims; potential claims against individuals; and certain purported whistleblower actions."
JPMorgan Chase (NYSE:JPM), the biggest U.S. bank, has paid $27.1 billion in fines, while Citigroup (NYSE:C), the third-largest American bank, has paid $12.1 billion, according to an analysis by the Wall Street Journal. Both have already settled their own probes into mortgage-backed securities – the instruments that crumbled in value as the housing bubble burst in 2007.
BofA found itself in a particularly precarious position at the center of the housing mess, having scooped up embattled mortgage lender Countrywide for $4 billion in 2008. The decision by Kenneth Lewis, the chief executive at the time, made the bank the biggest U.S. mortgage lender at what was the worst possible moment.
Later in 2008, the bank bought Wall Street investment bank Merrill Lynch in a fire sale crafted in about 48 hours, as the nearly 100-year old Merrill teetered on the brink of collapse. Both purchases came with the liabilities both firms accumulated in subprime mortgages, mortgage-backed securities, and other toxic holdings … something that still haunts BofA.
Some in the banking sector and elsewhere have criticized the U.S. government for pushing the biggest banks at the height of the financial crisis to save systemically-crucial investment banks in a move that very well could have averted a much deeper crisis and then turning around and slamming those same banks with massive fines years later.
BofA is a prime example of that dynamic since many of the charges BofA is now settling stem from actions taken by firms BofA acquired during the crisis.
Banks big and small did, however, receive significant rescues from the federal government, the Federal Reserve and other entities at the height of the crisis. Those bodies are now trying to reduce something called moral hazard – a situation in which perceived bailouts against massive losses entices firms and people to take on big risks.
Thomas Hoenig, vice chairman of the FDIC, which will receive $1 billion under the government's agreement with BofA, would not talk specifically about the settlement. But he said that "harm was done" by some firms and "there is a certain degree of accountability that is being looked for."
He added that he believed that despite such settlements, the return on investment for larger firms that acquired smaller ones during the financial crisis "in many cases have been very good."
"When these larger institutions acquired (the smaller ones) -- I have no idea of pressure or what was around it -- but they did make a business decision, given the risk/return on those, and they did purchase them--and they purchased the assets and the liabilities," Hoenig told FOX Business in an interview. "They were at the table, they made a decision, they made a choice, and in most cases, it's worked out, I think, pretty well for them."
Asked how long these kinds of cases against banks might continue, he said, "I don't know. That's the Justice Department's area, not ours alone...They lead this effort. But I think, in many cases, everyone wants to get this behind us. They do, we do."
Perhaps in the latest sign of Wall Street putting the troublesome crisis years behind it, BofA's stock rallied by 64 cents, or 4.1%, to $16.16, tilting the shares into the green by 3.8% for the year. The big bank's shares have made a breathtaking recovery since bottoming at $2.53 in February 2009.
FOX Business Senior Washington Correspondent contributed reporting from Jackson Hole, Wyoming.