BofA Plans to Slash 30,000 Jobs; Targets $5B in Annual Savings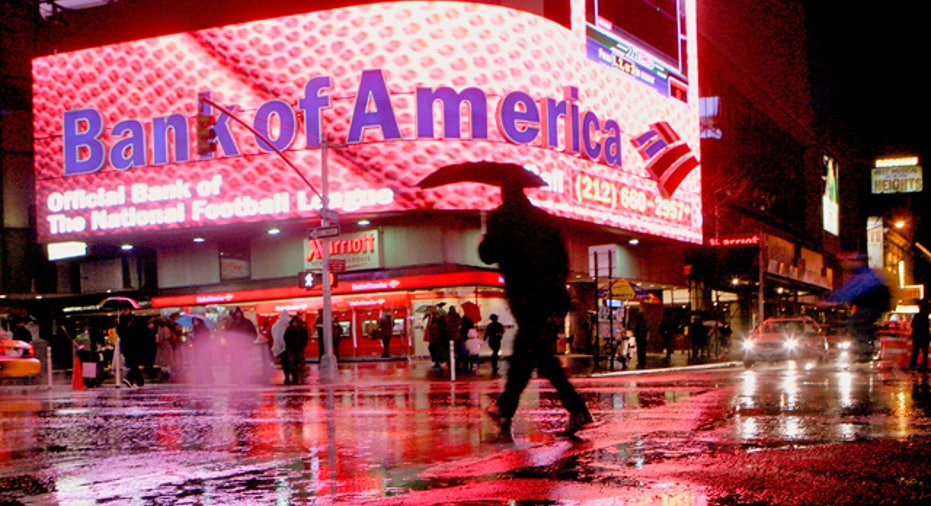 Bank of America (NYSE:BAC) disclosed plans on Monday to axe 30,000 jobs in an effort to slash spending at the nations largest bank amid increased economic and market turmoil.
The job cuts mark one of the largest mass layoffs in the U.S. in recent years and come as a slew of financial-services companies attempt to reduce expenses.
Charlotte-based BofA said it expects to eliminate 30,000 jobs over the next few years. Much of that reduction will come through attrition and the elimination of appropriate unfilled roles.
BofA said it believes the moves will slash $5 billion annually from its expenses by 2014.
While still on a massive scale, the job cut announcement was below what some had expected. Last week The Wall Street Journal reported BofA officials had narrowed the range of cuts to 40,000 to 45,000.
BofA, which already axed 6,000 jobs earlier this year, is the largest U.S. bank by assets and employed 288,000 workers as of June 30.
The restructuring is part of the companys Project New BAC, an allusion to its stock ticker symbol. BofA said the project is key to the companys strategy of focusing all of its resources on serving individuals, companies and institutional investors.
The first result of the strategy was an executive shuffle announced last week that aimed to streamline its consumer businesses.
BofA said it is nearing completion of the first phase of a comprehensive review of its consumer business.
As the company implements the thousands of decisions from Project New BAC over time, BofA said in a statement, it intends to become a more focused, leaner, and more efficient company, providing all of its customers and clients with the best financial services, generating strong revenues, carefully managing expenses and risks, and delivering long-term value for shareholders.
BofA said its goal is not a given number of job cuts, but implementation of the New BAC decisions. As those decisions are made, the company said employment levels in certain areas under review are expected to be reduced.
The bank has announced a slew of moves in recent weeks aimed at dealing with the slowing economy and huge mortgage liabilities. Those moves include landing a $5 billion investment from billionaire investor Warren Buffett, selling half of its China Construction Bank investment for $8.3 billion and ousting consumer bank head Sally Krawcheck.
BofA CEO Brian Moynihan has struggled to turn things around at the bank, which has reeled from poorly-timed acquisitions of Merrill Lynch and Countrywide Financial during the financial crisis.
A number of other financial services companies have announced job cuts in recent months, including Barclays (NYSE:BCS), Goldman Sachs (NYSE:GS) and HSBC (NYSE:HBC).
Shares of BofA were up 1.29% to $7.07 Monday morning, outperforming a 0.6% decline on the S&P 500.