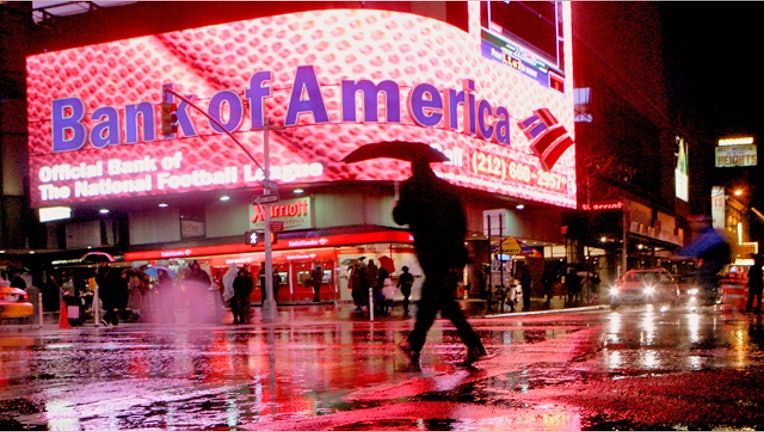 Bank of America (NYSE:BAC) swung back into the black on Wednesday with a stronger-than-expected second-quarter profit, but the banking giant's strong revenue growth failed to meet forecasts.
After initially rallying, shares of the No. 2 U.S. bank by assets flatlined in early action.
Charlotte-based BofA said it earned $2.46 billion last quarter, compared with a huge loss of $8.83 billion a year ago. On a per-share basis, the company posted earnings of 19 cents a share, bouncing back from a loss of 90 cents a share last year when it was hit by $18.2 billion in mortgage-related charges. Analysts had been calling for EPS of 14 cents.
Revenue soared 66% to $21.97 billion, but that trailed the Street's view of $22.87 billion.
"In a challenging global economy, we still see opportunities to do more with our customers and clients," CEO Brian Moynihan said in a statement.
Continuing its cost-reduction efforts, BofA said noninterest expenses fell to $17 billion last quarter from $22.9 billion the year before. Headcount fell by 12,624 year-over-year to 275,460 at the end of the second quarter.
BofA said it anticipates a total of $8 billion in annualized cost savings by mid-2015.
In a sign of improving credit conditions, BofA said its provision for credit losses tumbled by 46% to the lowest level since the first quarter of 2007 -- months before the Great Recession began.
"Consumer credit is in the best shape in years," said Moynihan.
BofA continues to improve its capital position ahead of looming regulations. The company said its Tier 1 common capital ratio under Basel III stood at 8.1% as of the end of the second quarter, surpassing its earlier forecasts for capital building.
Acknowledging the turmoil in the eurozone, BofA said its total exposure to Greece, Italy, Ireland, Portugal and Spain, including net credit default protection, dipped to $9.6 billion. That compares with $9.8 billion at the end of the first quarter and $16.7 billion a year ago.
The bar had been set somewhat high for BofA's results as its shares have surged more than 40% so far this year. Shares of the big bank rose 0.32% to $7.94 in recent premarket action.