BofA 1Q Net Misses Expectations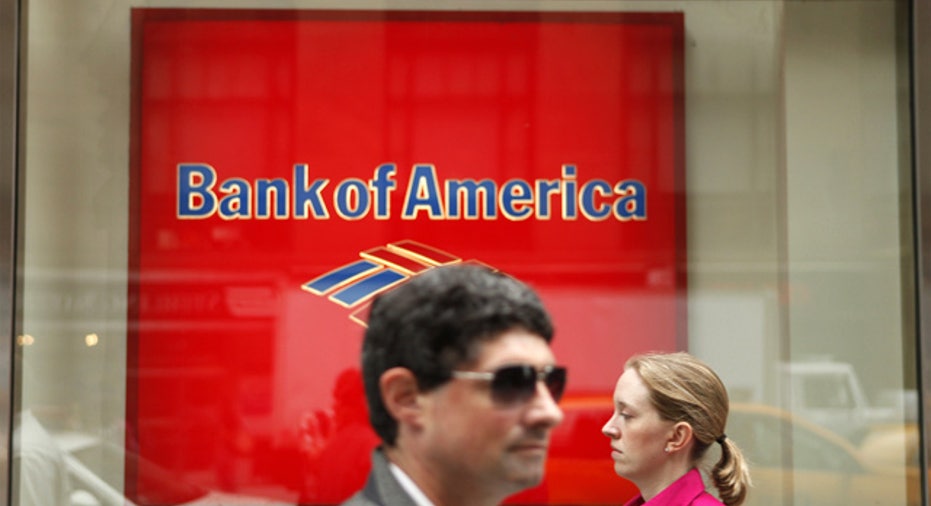 Bank of America (NYSE:BAC) disclosed on Friday a steeper-than-expected 36% drop-off in first-quarter profits as the largest U.S. bank struggles to bounce back from the mortgage mess.
Charlotte-based BofA also announced a shuffle in its executive team, tapping Bruce Thompson to become its new chief financial officer.
Reporting days after JPMorgan Chase (NYSE:JPM) successfully kicked off earnings season for the financial sector, BofA said it earned $2.05 billion, or 17 cents a share, last quarter. The profit marked its first since the second quarter of 2010. A year earlier the bank earned $3.18 billion, or 28 cents a share.
Revenue slumped 16% to $26.88 billion.
Wall Street had been anticipating stronger earnings of 27 cents a share on slightly lighter revenue of $26.69 billion.
"Strong growth in deposit balances and positive contributions from five of our six businesses reflect the steady improvement in the broader economy," CEO Brian Moynihan said in a statement. "While still soft, the economy is healing; we see retail spending up versus the year-ago period and continued declines in bankruptcy filings and delinquency rates."
Underscoring improvements in the economy, BofA's credit-loss provisions declined to $3.81 billion last quarter from $9.81 billion the year before and $5.13 billion the previous quarter.The bank's net charge-off rate came in at 2.61%, well off 4.44% a year earlier.
On the other hand, BofA's home loan business posted a loss of $2.39 billion, compared with a loss of $2.07 billion the year before.
BofA, which has about 68 million small business and consumer relationships in the U.S., said Thompson will succeed Chuck Noski as CFO and stay on as chief risk officer.
Noski is set to become BofA's vice chairman, while Gary Lynch has been tapped to take the newly-created position of global chief of legal, compliance and regulatory relations. Ed O'Keefe, BofA's general counsel, will report to Lynch.
Shares of BofA rose 1.14% to $13.28 in Friday's premarkets, but have still declined more than 30% from a year ago.