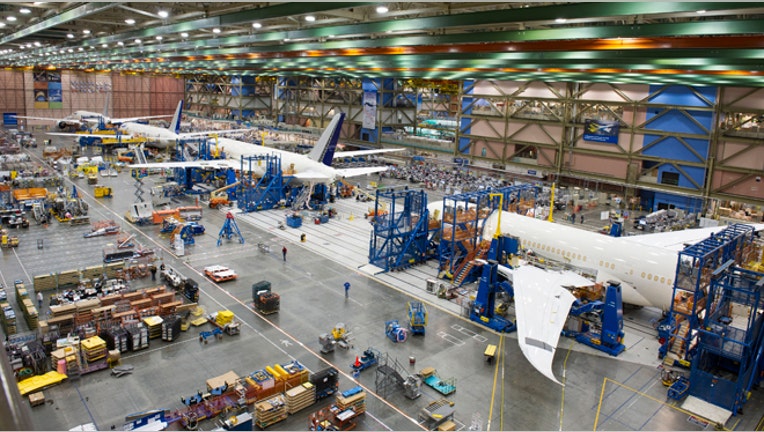 With the constant media swirl around Boeing's (NYSE:BA) new 787 Dreamliner, it's no wonder a series of recent hiccups including a fire and fuel leak prompted an uproar and garnered worldwide attention -- but perhaps it's all been a bit overblown.
In just five days, there was a fire in a grounded Dreamliner's auxiliary battery pack, several fuel leaks and a crack in a cockpit window, all mounting on a two-year production delay following lofty delivery promises by Boeing and a series of setbacks that have plagued the 787 since its commercial introduction in 2011.
Yet, it appears more a PR black-eye than anything. While critics say the issues are serious and must be immediately addressed, supporters are trying to suffocate what they believe is a massive overreaction.
"What we're seeing are issues of bringing any new technologically-advanced product into service," said FAA Administrator Michael Huerta.
The Dreamliner undergoes some 150 flights daily and has flown more than one million passengers since 2011. During the FAA approval process, it logged more than 200,000 flight hours. At the same time, last Monday's fire has been traced to lithium-ion batteries that only operate when the jet is shut down.
The flying public nevertheless has become stuck in the middle of what seems like a nasty divorce between the media and Dreamliner. The media, at times idolizing the jumbo jet's fuel efficiency and modern design, has fueled a firestorm against Boeing in the wake of the fire.
The Federal Aviation Administration launched a "comprehensive" probe on Friday into the 787's critical systems, but still seemed broadly supportive of the world's first carbon-composite aircraft.
Stifel Nicolaus analysts said they believed the FAA decision was "driven by the media focus," to reassure fliers, and Oppenheimer earlier in the week said it was "growing convinced" that the issues were just teething problems, possibly even "pedestrian operational hitches," that were "merely being magnified by the 787's media glow."
The A380's "Scary" First Few Months
All new jets suffer early in-service issues and the 787 is no different. Just take a look at the Airbus A380, the world's largest passenger jet.
The super jumbo jet, which made its first flight in 2005 and began commercial service to much fanfare in October 2007 with Singapore Airlines, faced a slew of serious, at times scary, hiccups in its first few years.
The jet, designed to challenge Boeing's hold on the market, quickly became one of the most impressive commercial aircraft of all time after its first few test runs ran perfectly. However, problems began shortly after with production delays.
In 2010, an A380 operated by Qantas experienced an uncontained engine failure when its Rolls-Royce engine exploded, forcing the Australian carrier to make an emergency landing in Singapore.
On inspection, cracks were discovered in fittings within the wings, which led the European Aviation Safety Agency in January 2012 to issue an airworthiness directive affecting 20 A380s that together accumulated more than 1,300 flights.
In November 2012, another A380, this one operated by Emirates Airline, made an emergency landing in Sydney after suffering an engine fault shortly after takeoff.
"Scary things happened in first seven months," Bob Herbst of AirlineFinancials.com said of the A380.
In fact, major adverse events occur every day in the airline industry, most people are just usually unaware due in part to today's highly-trained pilots and meticulous back-up systems.
The Dreamliner just so happens to be the aviation sector's version of a celebrity, which makes its every move – good or bad – newsworthy.
The Media Glow's Impact
That's not to say wide reporting of the 787's missteps is not warranted. When a jet catches fire the way it did last Monday, passengers want and should know about it, hiccup or not.
A report by BB&T Capital markets on Tuesday raised some of the flying public's obvious concerns: If a fire can spark on the ground, what's stopping the same thing from happening in the air? If an engine can leak 40 gallons of fuel on its away to take off, how is one to know that won't occur mid-flight?
"Anything that causes a fire, no matter how small, is an issue," Stifel Nicolaus analysts said in a note.
However, the aerospace sector seems to think the recent mishaps wouldn't have served as a major danger to passengers. They also believe there is a potentially easy, near-term fix.
"In our opinion, the [FAA's] focus is appropriate as other issues reported in the news are minor and occur regularly on many aircraft types in the global fleet," said Stifel Nicolaus, which reiterated its "buy" rating on Boeing on Friday.
Boeing's shares, which have only fallen about 3% over the last five trading days despite all the negative publicity, closed up 1.85% to $76.55 on Monday.
Herbst said the negative publicity was "over blown" but blamed much of the bad press on Boeing for making false promises about the Dreamliner's delivery timetable.  He expressed optimism that the jet's many amenities will "far outweigh any of the negative."
"The 787 is a fantastic airliner and will create a measurable positive to the airline industry," Herbst said. "I'd hate to see too much [negative] media destroy that anticipation and excitement people should have."
It's worth mentioning that while the 787 problems have raised broader flight safety concerns, aircraft safety continues to improve and there hasn't been a commercial airline fatality in the U.S. since 2009.
It's unclear whether the recent problems will give pause to carriers. United Airlines (NYSE:UAL) said it's "continuing to work closely with Boeing." Attempts to reach Delta (NYSE:DAL) were unsuccessful.