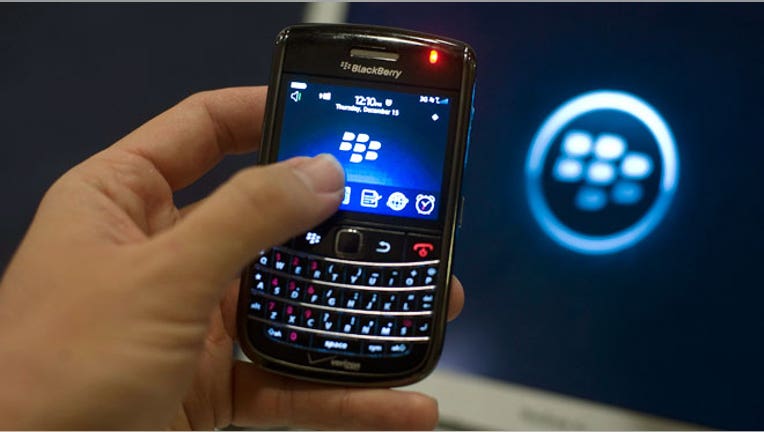 After nose diving 17% late last week, shares of embattled BlackBerry (NASDAQ:BBRY) lost another 6% on Monday as Wall Street expresses alarm about the scale of the smartphone maker's projected losses and its dwindling cash position.
The struggling Canadian company's profit warning late Friday prompted a slew of analysts to cut their price targets and ratings on its beaten-down shares.
"It's a race against time for BlackBerry and preserving cash may be of utmost importance as the pace of business deterioration accelerates," Mark Sue, an analyst at RBC Capital Markets (NYSE:RY), wrote in a note.
Sue downgraded BlackBerry to "underperform" from "sector perform" and axed his price target to $5 from $15.
"Narrowing focus and recreating itself as a secure mobile solutions provider are possible, but asset sales at distressed prices may be necessary to fund future operations," he wrote.
BlackBerry shocked investors on Friday by projecting a second-quarter loss of almost $1 billion due to a massive inventory charge. The company said it would generate only half the revenue that Wall Street had been expecting and also announced plans to axe a whopping 40% of its workforce.
"BlackBerry's dramatic miss highlights the company's precarious position," Goldman Sachs (NYSE:GS) analyst Simona Jankowski wrote in a note cutting the firm's price target to $10 from $12.
Goldman noted that BlackBerry's cash and investments are now set to dip to $2.6 billion from $3.1 billion.
RBC estimates BlackBerry may run out of cash in 12 to 24 months unless it undertakes another major round of layoffs. The firm said BlackBerry may need to cut another 2,000 to 3,000 jobs, in addition to the 4,500 of layoffs announced last week.
"The rapid erosion in BlackBerry's business increases the urgency of finding a strategic alternative," Jankowski wrote.
BlackBerry has been scrambling to find a buyer and several private-equity firms have reportedly expressed interest in breaking up the company.
Prem Watsa, the billionaire known as Canada's Warren Buffett and BlackBerry's largest shareholder, is seen as a leading contender to land the company.
While BlackBerry does own lucrative patents, RBC said after Google's (NASDAQ:GOOG) acquisition of Motorola and Microsoft's (NASDAQ:MSFT) takeover of Nokia's (NYSE:NOK) phone business, there isn't an "urgent need for potential patent buyers to amass" intellectual property.
Shares of Waterloo, Ontario-based BlackBerry slid 5.79% to $8.22 in recent action on Monday, leaving them down 31% so far this year. The latest selloff means BlackBerry has plunged 22% since last Thursday, the day before the profit warning.