BlackBerry's Chen Offers In-depth Look at the Company's New Direction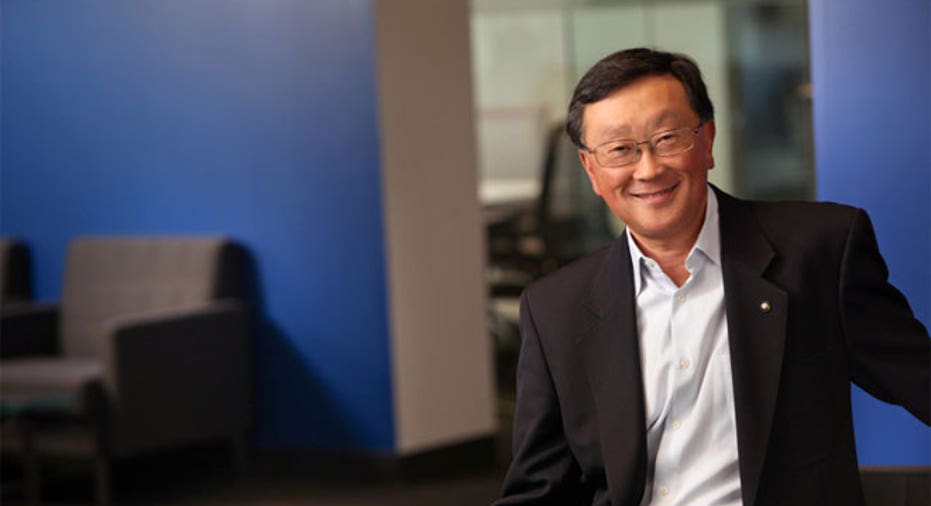 An early leader in the smartphone business, BlackBerry (NASDAQ:BBRY) was once a darling of Wall Street investors. The Canada-based technology company, formerly known as Research in Motion, saw its stock price reach a record $147 in 2008.
The company had a market cap of $83 billion.
But competition from Apple's (NASDAQ:AAPL) iPhone and Google's (NASDAQ:GOOG) Android phones posed a threat to BlackBerry's handset market share. Today BlackBerry shares are trading below $10, after a low point of $6 late last year.
The company's market cap is currently less than $5 billion.
After months of speculation that the company would be taken private BlackBerry  introduced a different solution; former Sybase CEO John Chen was named BlackBerry's interim CEO in November, officially becoming the company's permanent CEO last month.
FOX Business spoke to Chen about his plans to improve BlackBerry's financial position, and he explained why he's committed to keeping BlackBerry public, what market share the company is targeting, and how it plans to remain globally competitive through its enterprise business.
FBN: You took the helm at BlackBerry in November 2013. The stock is up 40% since then.How are you going to continue to reassure investors that BlackBerry is headed in the right direction?
CHEN: BlackBerry will continue to focus on several key areas to capitalize on our traditional strengths in security and enterprise while we also leverage our machine-to-machine communications technologies to drive growth opportunities for the Internet of Things. This approach, over time, will allow each of our teams to innovate as well as be more accountable for performance.  FBN: Before you started, there was talk that BlackBerry could go private. Is that out of the question now? How committed are you to keeping the company public?
CHEN: Make no mistake, today, we are keeping the company whole and remaining a public company. I am working with my team to make necessary and immediate changes to bring BlackBerry back to a strong financial position, which will enable us to drive the company forward. I can't rule any options in the future should they be in the best interest of BlackBerry, our shareholders and customers, but for now I believe we are in the best position financially to remain public and keep the company whole.FBN: BlackBerry has traditionally been popular with U.S. business professionals. How are you going to retain their business and what other demographics are you going after?
CHEN: Professionals who love their BlackBerry smartphones have always valued that their device allows them to get things done in a secure and productive manner. Our security capabilities combined with our global network infrastructure and trusted server platform, also creates a sweet spot for us with regulated customers while extending our reach into industries where "good enough" security is not an option. We own this space and we intend to maintain the leadership position.FBN: BlackBerry has just 2% of the global market share for smartphone operating systems. Is that enough to stay in business? How are you going to lure customers from Android and iPhone?
CHEN: BlackBerry will continue to be the No. 1 player for customers who care about enterprise mobility, and for individuals who want to get the most out of their smartphones to maximize their productivity, communications and collaboration. People who love their BlackBerry devices have always appreciated that their device allows them to get things done. And central to our productivity focus is our keyboard. BlackBerry has invested years of research and development to create the world's best mobile keyboard, and that will continue to be a central, differentiating focus for us.From a mobile enterprise perspective, BlackBerry is synonymous with security and  privacy—it is built into everything we do, and we have been doing it longer and better than anyone else in the industry. As more confidential data is taken beyond the walls of organizations with mobile devices, it is vital to ensure that mobile communications and the devices on enterprise platforms are not compromised. For example, you may have recently seen that some enterprises in regulated industries have mandated that their employees discontinue the use of unsecure, unauditable messaging platforms. Our BBM messaging platform offers compliance features, which are especially important for customers in regulated industries including government and finance. IT managers can place controls on BBM usage, like the ability to log and archive messages, or the ability to restrict BBM usage to within the company. BBM is also the world's first private social network, offering users greater control over personal data. The PIN infrastructure we use allows users to add contacts without sharing personal information and more importantly, our contact authentication process also requires that contacts both agree to be added. This is just one of many examples of how BlackBerry offers enterprise customers the most reliable end-to-end secure communication platform, from the device, through the network and into the server level.FBN: BlackBerry is headquartered in Waterloo, Ontario. Does this make it more difficult to attract key talent? Which regions will see a BlackBerry expansion?
CHEN: It hasn't so far. In fact, I've handpicked a world-class team of executives to support and drive the new direction for BlackBerry. Talented executives see this as a great challenge. I've actually gotten a few calls recently from contacts telling me they want to be part of what we're doing here. For the next 18 months, you will see us put a strong focus on our enterprise customers, including finding new ways to be closer to our most critical customer segments to better understand their pain points. For example, later this year we will open a Security Innovation Center in the Washington DC area that will be a hub for collaboration with our government customers.FBN: The app market has become a big part of the smartphone experience. BlackBerry has more than 130,000 apps, but iOS has one million. What can you do to encourage app developers to make BlackBerry a priority?
CHEN: The most important thing we can offer a developer is opportunity. With increased Android compatibility, one of the easiest ways for a developer to quickly expand his or her market to millions of additional customers is to repackage an existing app. This greatly expands the app selection offering for our customers on BlackBerry. In BlackBerry World, developers have a less saturated storefront and a number of marketing opportunities that will help an app get noticed when it could otherwise get lost. We also know that the volume of apps isn't always the most relevant measure. In fact, it is a very small percentage of apps that drive the vast majority of downloads.  We also know that there is more than just one market for apps. Like any other product, there are target markets for applications and developers understand this. 
There is tremendous opportunity in building applications for enterprise. There are countless in-house, corporate applications and BlackBerry offers the best platform for those apps to run in a secure environment.FBN: You've mentioned that BlackBerry has more than 40,000 patents. Five years from now, where do you see BlackBerry? Will your core business still be smartphones and tablets?
CHEN: BlackBerry has a lot to offer, and patents are part of our broad portfolio of mobile communications technologies. However, when I took on this role, I quickly realized that we could not be everything to everyone. Therefore, I've made the decision to pivot the company to our core strengths in enterprise and security. I also made the decision to focus on future growth opportunities in machine-to-machine communications, which I believe is the computing model of the next decade and a segment that we are well-positioned to lead.