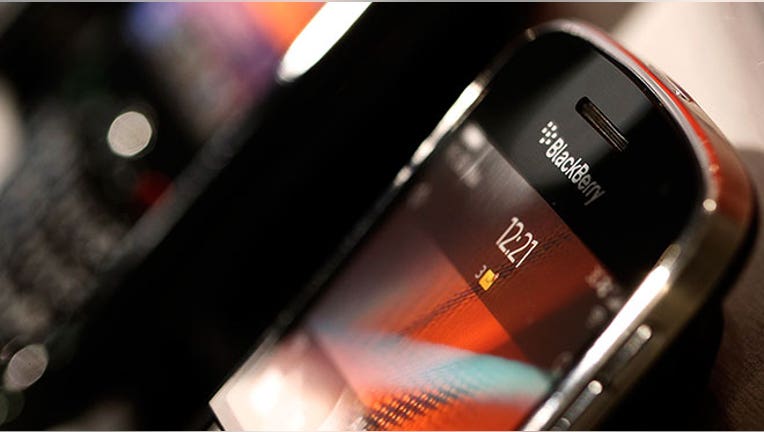 BlackBerry (NASDAQ:BBRY) abandoned plans to sell itself to Canadian investor Prem Watsa for $4.7 billion on Monday, sending the slumping smartphone maker's shares plummeting 17% to levels unseen since 2003.
The failure to reach a definitive deal with either Watsa or another suitor highlights the alarming deterioration of BlackBerry, which pioneered the smartphone market but today is struggling just to survive in it.
The decision by Watsa's Fairfax Financial to scrap the tentative acquisition it announced in September comes after reports indicated the firm struggled to line up financing.
"These could be the last days of BlackBerry."
In addition to announcing the end of its strategic review, BlackBerry revealed the exit of its CEO Thorsten Heins and said Fairfax agreed to invest $1 billion through convertible shares.
"The BlackBerry board conducted a thorough review of strategic alternatives and pursued the course of action that it concluded is in the best interests of BlackBerry and its constituents, including its shareholders," BlackBerry outgoing chairman Barbara Stymiest said in a statement. "This financing provides an immediate cash injection on terms favorable to BlackBerry, enhancing our substantial cash position."
Ten-Year Lows
According to Bloomberg News, BlackBerry will continue to pursue a sale and is now more open to breaking itself up. BlackBerry declined to comment.
"These could be the last days of BlackBerry," said Anthony Michael Sabino, a professor at St. John's University. "While the $ 1 billion investment certainly helps, it's like putting a Band-Aid on a knife wound; by itself, it's not going to stop the bleeding."
Shares of BlackBerry plunged as much as 17% at the open and were recently off 12.61% to $6.79, leaving them down 42.7% on the year. The last time BlackBerry traded below $7 was October 2003, a full year before President George W. Bush beat John Kerry to win a second term in the White House.
Sabino said he believes BlackBerry is likely to be broken up, with its more valuable patents and technologies being sold off.
BlackBerry announced John Chen, former CEO of enterprise data management firm Sybase, would take over as interim CEO until a permanent replacement can be found.  The company said Chen will also serve as executive chairman.
Watsa, who resigned from the BlackBerry board when the sale process was announced in August, agreed to return to as a director. The billionaire investor will become lead director and chair of the company's compensation, nomination and governance committee.
"Fairfax is a long-time supporter, investor and partner to BlackBerry and, with this investment, reinforces its deep commitment to the future success of this company," Watsa said.
Lengthy Turnaround Seen
In an interview with Reuters, Chen said he believes it will take BlackBerry about six quarters to complete its turnaround. That represents a long time lag considering investors had been hoping for an exit strategy to emerge by this month.
BlackBerry has "enough ingredients to build a long-term sustainable business. I've done this before and seen the same movie before," Chen told Reuters.
The interim CEO said he has no interest in shutting down BlackBerry's handset business and declined to comment on whether the company would explore a licensing deal with Dell. Watsa also told Reuters a leveraged buyout, the route that Dell recently took, is not appropriate for BlackBerry.
The $1 billion private placement of convertible debentures values BlackBerry at $10 per share, a 28.7% premium to its closing price of $7.77 on Friday. The debentures have a term of seven years and if all $1 billion were convertible, they would represent about 16% of BlackBerry's outstanding shares.
The closing of the deal is subject to customary conditions as well as approval by the Toronto Stock Exchange. The transaction also gives Fairfax the option to acquire another $250 million of debentures within 30 days following closing.
$81 Billion Market Cap Vanishes
BlackBerry had announced Fairfax agreed to acquire it for $4.7 billion, but the tentative deal was subject to a six-week due diligence period and apparently ran into financing issues.
But even that transaction underscored just how far BlackBerry has fallen due to fierce competition from the likes of Apple (NADAQ:AAPL), Google (NASDAQ:GOOG) and even Microsoft (NASDAQ:MSFT).
As recently as April 2011, BlackBerry had been valued at more than $50 a share. The Waterloo, Ontario company's market capitalization topped out at $81.62 billion in June 2008, which was just months before the financial crisis and a few quarters before Apple rolled out its iPhone.
Recent reports indicated BlackBerry co-founders Mike Lazaridis and Doug Fregin were close to joining private-equity firm Cerberus Capital Management for a joint bid for BlackBerry. Chip maker Qualcomm (NASDAQ:QCOM) was also reportedly involved in talks about a deal.
Last month, reports swirled indicating a pack of tech firms were exploring a strategic bid for BlackBerry, including Google, German software maker SAP (NYSE:SAP), networking giant Cisco Systems (NASDAQ:CSO), chip leader Intel (NASDAQ:INTC) and Asian electronic makers LG and Samsung.