BlackBerry Unveils $4.7B Buyout Bid From Canada's Warren Buffett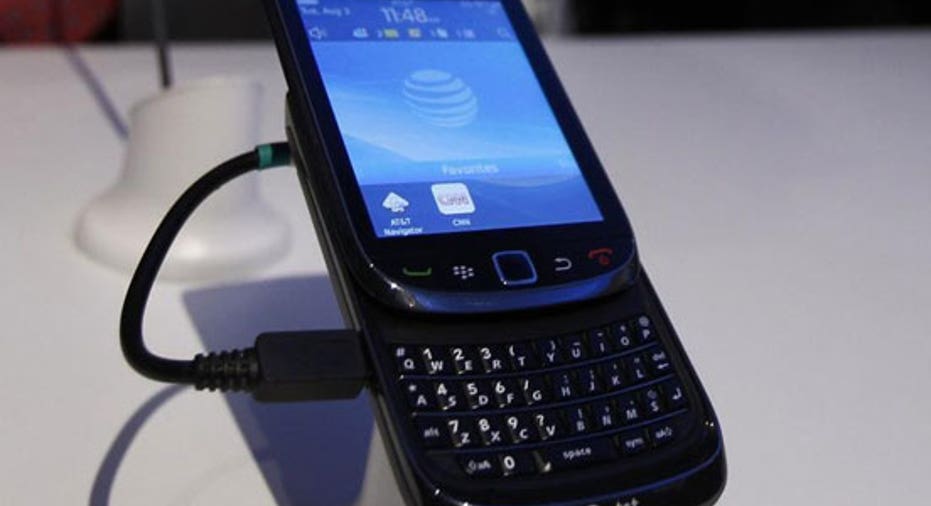 Struggling BlackBerry (NASDAQ:BBRY) unveiled a $4.7 billion preliminary deal on Monday afternoon to be acquired by a consortium led by billionaire Prem Watsa's Fairfax Financial.
The proposed transaction, which is subject to a six-week period of due diligence, values the embattled smartphone maker at $9 a share.
During the due diligence window, BlackBerry will have the opportunity to shop around for alternative bids, subject to a termination fee.
"We believe this transaction will open an exciting new private chapter for BlackBerry, its customers, carriers and employees," Watsa said in a statement.
Toronto-based Fairfax, which is BlackBerry's largest shareholder with a 10% stake, had been rumored to be the front-runner to acquire the company. Fairfax said it plans to contribute the shares it currently owns into the transaction.
After being halted for the buyout news, shares of Waterloo, Ontario-based BlackBerry resumed trading up about 4% at $9.20, which is 12% above the day's lows. BlackBerry had been deeply in the red as analysts reacted negatively to the company's dire profit warning on Friday.
The $4.7 billion price tag highlights just how far BlackBerry has fallen in the smartphone world that it helped create due to enormous competitive pressure from devices powered by Apple (NASDAQ:AAPL), Google (NASDAQ:GOOG) and even Microsoft (NASDAQ:MSFT).
As recently as April 2011 BlackBerry, then known as Research in Motion, had been valued north of $50 a share. BlackBerry's market cap topped out at a lofty $81.62 billion in June 2008, just months ahead of the financial crisis and a few quarters after Apple entered the fray.
But BlackBerry's plunging sales -- it projected a third-quarter loss of nearly $1 billion -- is eating up the company's cash position and forcing it to scramble for a buyer.
"It's a race against time for BlackBerry and preserving cash may be of utmost importance as the pace of business deterioration accelerates," Mark Sue, an analyst at RBC Capital Markets (NYSE:RY), wrote in a note on Monday morning that warned the company could run out of cash in the next 12 to 24 months.
Watsa, who is known as Canada's Warren Buffett, resigned as a BlackBerry director in August when the company announced plans to explore a possible sale. Watsa cited "potential conflicts that may arise during the process."
According to FOX Business's Charlie Gasparino, associates of Watsa said he's a long-term player looking to save BlackBerry, as opposed to breaking it apart.
"We can deliver immediate value to shareholders, while we continue the execution of a long-term strategy in a private company with a focus on delivering superior and secure enterprise solutions to BlackBerry customers around the world," Watsa said.
BlackBerry said the diligence period is expected to be completed by November 4.
Brian Colello, an equity analyst at Morningstar, told FOX Business it's possible another bidder emerges for BlackBerry.
"From a private-equity perspective, anything you can do to turn the business around would be a positive," Colello said.
The buying group is seeking financing for the deal from Bank of America Merrill Lynch (NYSE:BAC) and BMO Capital Markets (NYSE:BMO).
"The special committee is seeking the best available outcome for the company's constituents, including for shareholders," said Barbara Stymiest, chairman of BlackBerry's board. "Importantly, the go-shop process provides an opportunity to determine if there are alternatives superior to the present proposal from the Fairfax consortium."
A spokesperson for Canadian Industry Minister James Moore declined to comment on the buyout news on Monday. Last week, Moore expressed concern about BlackBerry's plans to axe 40% of its workforce.
BlackBerry was recently trading up 1.20% to $8.83.
BofA Merrill, BMO and BDT & Co. are serving as financial advisors in the transaction, while JPMorgan Chase (NYSE:JPM) and Perella Weinberg advised BlackBerry's special committee.
FOX Business reporter Matthew Rocco contributed to this report.