BlackBerry Maker's Shares Hit 7-Year Low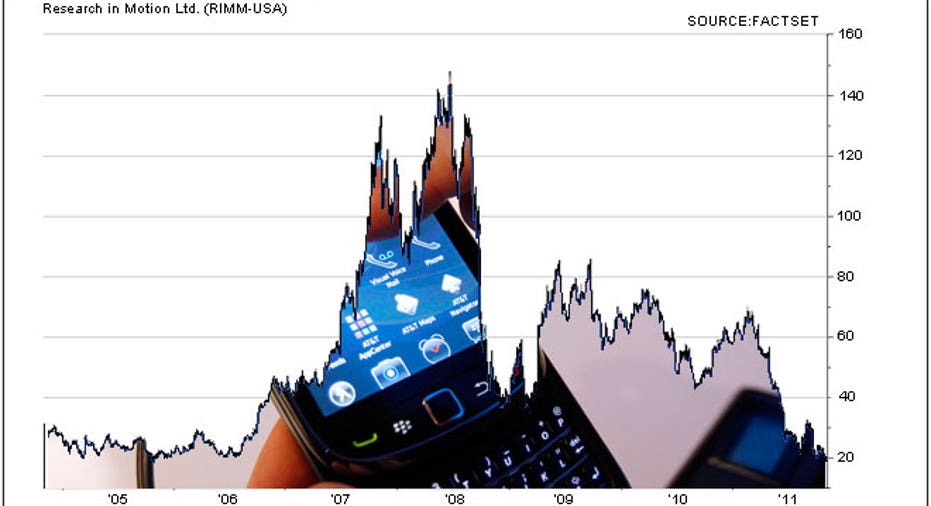 Research In Motion (NASDAQ:RIMM) shares fell to a seven-year low in Toronto on Wednesday as the market digested further evidence of the smartphone maker's declining share of the lucrative U.S. market.
RIM's slice of the lucrative U.S. smartphone market fell to 9 percent in the third quarter, down from 24 percent a year earlier, research firm Canalys said in a report this week.
Globally, the report placed RIM in fifth place among competitors, with 10 percent market share, compared to 15 percent a year earlier. It was the latest in a string of data points tracing RIM's dwindling global market share.
"There's no disputing that RIM are in a really difficult place at the moment," said Pete Cunningham, an analyst with Canalys.
RIM shares were down 3.2 percent to C$19.03 per share in midday trade on Wednesday, after falling more than 4 percent earlier in the day to as low as C$18.77. That was the lowest since March 24, 2004, when shares dropped as low as C$18.55.
RIM's stock has been battered over the last year as the company struggles to adapt its devices to a new operating platform known as QNX that is still months away from being available on its smartphones.
"RIM has a couple of difficult quarters ahead of it," said Cunningham. "But if it can get to QNX and execute on that and deliver a handset maybe toward Q1, certainly the beginning of Q2, it gives itself an opportunity of being able to compete again."
The stock fell 2.7 percent to $18.77 on the Nasdaq, a six-year low.