BlackBerry Launches Square-Screen Passport in Turnaround Push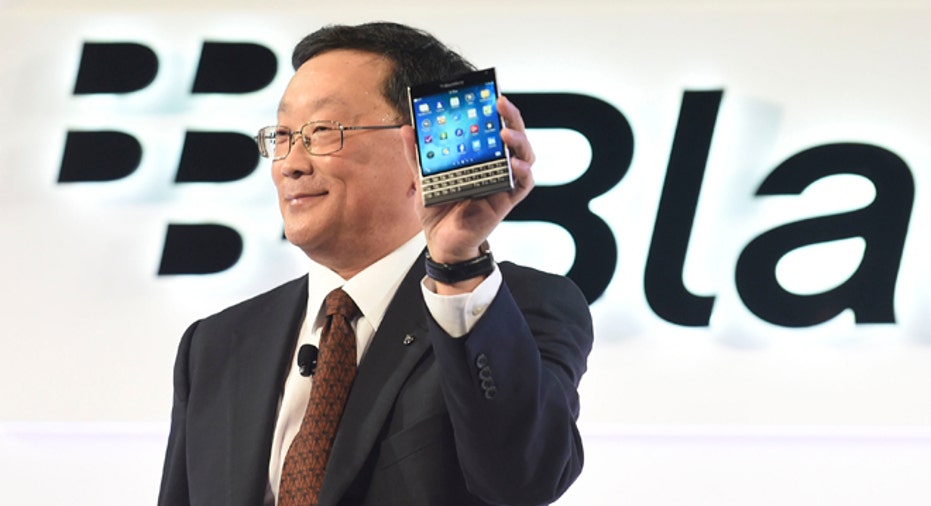 BlackBerry (NASDAQ:BBRY) launched an unconventional new smartphone dubbed the Passport on Wednesday as it embarked on what may be the most critical phase of its long turnaround push.
At simultaneous events in Toronto, London and Dubai, BlackBerry showed off the device, which is the size and shape of a closed passport, with a large square touchscreen as well as a keyboard. The Passport comes to market as the phones of BlackBerry's rivals converge on a single profile, with tall, rectangular screens and smooth corners.
Users can type on the Passport's keyboard to enter text, or swipe lightly across it to navigate through the phone.
BlackBerry recently concluded a three-year restructuring process, and it is now up to Chief Executive John Chen to prove that the company's new devices and services are capable of generating sustainable new streams of revenue and returning it to profit.
"BlackBerry is still fighting for survival. They still need to turn around and develop a viable ongoing business model," said Morningstar analyst Brian Colello.
"Their products are certainly pointing toward that and the new strategy makes sense, but there is still a lot of execution risk at this point in a very competitive market."
At the Toronto event, Chen brought out retired National Hockey League star Wayne Gretzky to talk up the Passport's features.
The device is set to go on sale in some markets on Wednesday, with a suggested introductory retail price of C$699 ($629) in Canada and $599 in the United States.
BlackBerry said it expects the price on contract to be about $249, depending on the carrier, and that the phone should be available in more than 30 countries by the end of the year. It will be carried by AT&T in the United States.
Passport users will be able to download apps from Amazon's app store, previously only available for Android-based phones. BlackBerry announced the deal that cleared the way for its customers to access Amazon's store in June.
The launch kicks off a busy period for Waterloo, Ontario-based BlackBerry. The company is set to report its second-quarter results on Friday and within a couple of months it is also expected to launch the long-awaited BlackBerry Classic, which bears similarities to its once wildly popular Bold smartphone.
"BlackBerry just needs one hit phone for now," Colello said. "It doesn't quite matter whether it is the Passport, the Classic or anything else, but they do need one device to jump-start the hardware business again."
The company hopes the Classic and the launch of its new mobile device management system - BlackBerry Enterprise Service 12 (BES12) - will help it claw back ground ceded to rivals in both the hardware and services market.
The BES 12 platform will allow IT managers at large companies and government agencies to not only manage and secure BlackBerry devices, but also manage Windows-based devices, and more easily administer Android and iOS devices.
Chen, a well-regarded turnaround expert in the tech sector, wants BlackBerry to remain a competitor in the smartphone arena, but he is focused on reshaping the company to build on its core strengths in areas such as mobile data security and mobile device management.
BlackBerry is betting that the enhanced security features on its BES 12 platform, coupled with a range of value-added services, will help revive revenue growth and stem its slide.
BlackBerry's shares rose 2.9 percent to $10.87 in early trading on Nasdaq on Wednesday.
($1=$1.1105 Canadian)
(By Euan Rocha; Additional reporting by Allison Martell and Alastair Sharp; Editing by Stephen Coates, Jeffrey Hodgson and Peter Galloway)