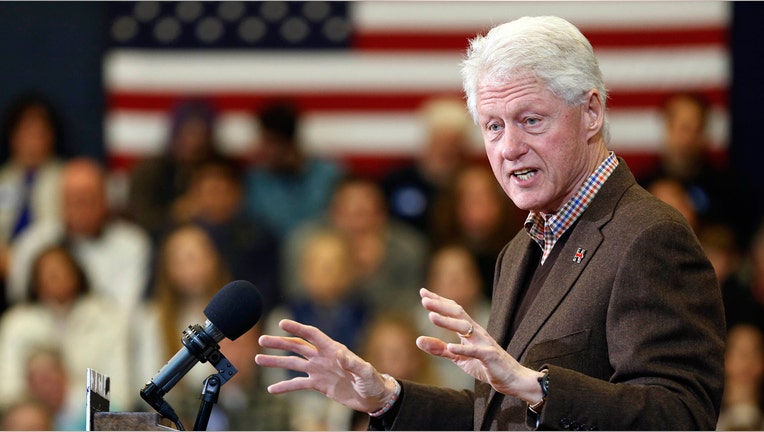 With the New Hampshire primary just over a month away, Bill Clinton officially hit the campaign trail Monday for his wife and Democratic presidential hopeful Hillary Clinton.
At a rally in Nashua, New Hampshire, the former president spoke about Clinton's background and highlighted her personal success in his first solo appearance of the 2016 presidential race.
"I do not believe in my lifetime, anybody has run for this job at a moment of greater importance who was better qualified by knowledge, experience and temperament to do what needs to be done now," he said.
Clinton reminisced about how he met the former Secretary of State 45 years ago, telling the crowd, "I thought she was the most amazing person."
He did not, however, reference his own tenure in the Oval Office or respond to attacks from GOP frontrunner Donald Trump. In recent weeks, Trump slammed Clinton's sexual past, including the scandal with former White House intern Monica Lewinsky. The billionaire businessman suggested Bill Clinton demonstrated a "penchant for sexism," and also called him "one of the great abusers of the world."
Trump is not the only one taking aim at the Clintons; on Sunday, a heckler disrupted one of Hillary's town halls in the Granite State. Republican State Rep. Katherine Prudhomme O'Brien interrupted Clinton several times while shouting questions about her husband's past sexual transgressions.
Clinton responded in a stern tone: "You are very rude and I'm not ever gonna call on you."
James Demers, an adviser to Hillary Clinton's campaign in New Hampshire, says Trump's attacks are not surprising since he has taken low blows at every 2016 presidential candidate thus far.
"It's an old story Donald Trump is putting out there, people here in New Hampshire only really care about where these candidates stand on the issues. Not the stuff that Trump is talking about," said Demers.
While Bill Clinton's past is far from pristine, a majority of Americans still find him likeable. A 2015 NBC/Wall Street Journal survey found the 42nd U.S. president's approval numbers remain strong with 56%. And, according to a Gallup poll conducted in 2012, Clinton hit a 66% approval rating the same year he stumped for President Obama during his re-election campaign.
"Bill Clinton is very popular in New Hampshire and he is a big plus to have on the campaign trail," said Demers.
Demers says back in 2012, Clinton rallied voters during the final days of the general election and helped "President Obama seal the deal in New Hampshire."
"A lot of people in New Hampshire remember the really good economic times under President Clinton, he is very positive about his wife's candidacy and I think he is the best surrogate the campaign has got," said Demers.
According to Demers, when it comes to paving her own path to the White House, Hillary Clinton's campaign has made it clear that this would not be Bill's third term.
"They are a couple that have worked together for many years and Bill's advice could be sought from time to time, but Hillary has her vision for America and she will be the one running the country."
A career politician, Bill Clinton knows how to connect with voters with his "passion and enjoyment for politics." Demers says now Hillary is beginning to take cues and mirror the same sentiment in her presidential run.
"Bill Clinton is the explainer-in-chief; he is able to discuss issues in a way that people really understand, so I think that role is important for him to be playing," said Demers. "I think if Hillary continues to demonstrate that she is the most knowledgeable, experienced and capable, then she will win the nomination and the entire presidency just like Bill won it."