Best Credit Cards for Job Seekers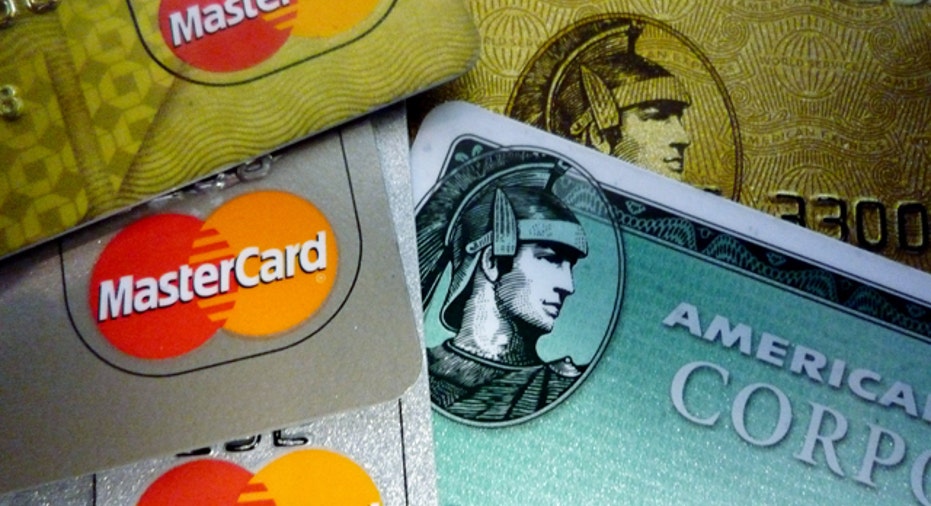 Even as economists debate whether the U.S. could experience a double-dip recession, unemployed and underemployed Americans agree on one thing: looking for work can get expensive. Fortunately, the best credit cards offer ways that you can actually save money during your job hunt, as long as you use them responsibly.
Best credit card for the all-important interview outfit
In a recent interview, New York style adviser Allison Berlin told CBS News that few job seekers need to spend more than $500 on their core interview outfit. For women, a simple sheath dress and a sharp pair of shoes will fit the bill. Men should invest in a classic wool suit.
According to experts at Virginia Tech's Career Services Center, your interview suit's designer doesn't matter nearly as much as how well it fits. Investing just $50 in custom alterations can make even an inexpensive suit or dress help you look corner-office ready.
Blue Cash Everyday Card from American Express offers special department store bonuses to help you save money on your job-hunting togs. This top-rated credit card gives you 2 percent cash back on regular department store purchases. AmEx has also partnered with online retailers to save you even more money on select sales events. There's no annual fee, and you can even qualify for up to 12 months at zero interest.
If you make the first cut and are called back for a second interview, personal finance expert Barbara Friedberg suggests scanning department stores for clearance-priced accessories. Jazz up your basic suit or dress with a pop of color from a sharp tie or an accent pin. If you feel overdressed during your first interview, hit the sale racks for a blazer and matching slacks or skirt.
Best credit card for basic job-hunting expenses
Chase Freedom Visa has been rotating through a series of attractive cash-back offers all year. Right now, they're offering a $200 cash rebate if you use your new card consistently for six months. Get $100 back after spending your first $500 before month three, and get another $100 back when you spend another $1,000 before the half-year mark. This means that Chase could end up picking up half the tab for your basic interview wardrobe.
You'll also get 1 percent cash back on all your purchases, giving you something back on related expenses such as online job-search services, networking power breakfasts, resume preparation, interview coaching, and so on.
Best credit card to keep the gas tank full
A government survey estimates that most Americans spend just under a half-hour commuting to work every day. When researchers from Gallup excluded telecommuters from a similar poll, they bumped their best guess to a 45-minute round trip to the office. Your first commute, of course, is to the job interview.
Booking multiple interviews could force you to drive in opposite directions throughout the week, so you could easily spend a chunk of your savings on gasoline. Gas rewards cards shave some of those costs, letting you earn back some of your gas money as rebates or bonus merchandise.
PenFed Platinum Cash Back Rewards can keep you moving through the job market with an unusual combination of bonus rebates and low finance charges. New cardholders can earn 5 percent cash back when they pay at the pump, paying back $1.50 on every $30 tank of gas. There is no annual fee, and its current 13.99 percent APR is among the lowest available.
Of course, PenFed reserves its best rewards credit card for applicants with excellent credit. According to the credit union's website, unemployment doesn't necessarily block you from contention, as long as your credit profile shows that you've worked hard to pay your existing bills on time.
Best credit card for out-of-town job offers
Today's job market forces us to make hard decisions. Sometimes, the right opportunity just isn't in our own backyard. According to government statistics, about one in eight Americans told census takers that job opportunities prompted their most recent move.
And about three in 10 of us moved to stay close to family members, including spouses who had to relocate for work. Not every employer foots the bill for candidates to interview in person, making a flexible travel card essential if you intend to take your job hunt on the road.
VentureOne Rewards from Capital One offers the benefits of an airline credit card with the earnings potential of a traditional cash rebate credit card. With no annual fee, this Capital One credit card plugs cardholders into an innovative way to earn free travel.
You'll get "miles" for every dollar you spend on the card, which you can trade for flights on any airline. Use your leftover miles for hotel stays and car rental fees, and your entire out-of-town interview could cost you nothing out of pocket.
Can I get a credit card if I'm not working now?
If you're not currently employed, applying for a new credit card while you're looking for work may sound like an exercise in futility. But as long as you've stayed current with your credit card payments, lenders still want to see your application.
Consider hanging out a consulting shingle and applying as a self-employed business owner. It's a job-hunting strategy that many professionals use, anyway. Your prospective credit card issuer really cares more about whether you're a solid risk than where you intend to work.
Just make sure you don't use a new line of credit to replace your lost income. Stay frugal and focused, using your credit card's rewards to offset the cost of finding a new job--even if you're presently employed.
The original article can be found at CardRatings.com:Best credit cards for job seekers