Best Credit Cards for Back-to-School Expenses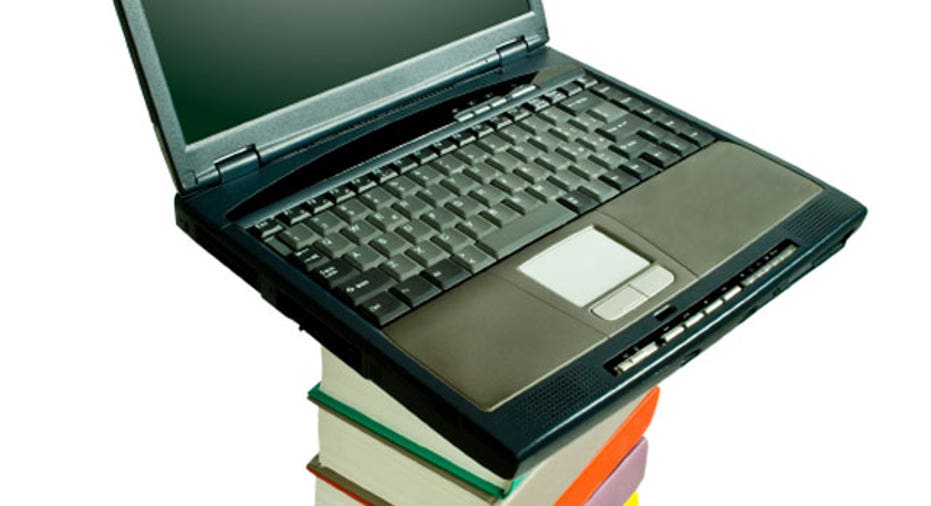 With nearly 20 million American students heading for college and another 55 million kids in K-12 schools, parents often have to scramble for the extra cash necessary to buy books, clothing, backpacks, shoes, and everything else today's students need to succeed in the classroom.
According to the U.S. Census Bureau, American shoppers spent $7.4 billion in family clothing stores to get ready for the 2010 back-to-school season. Families spent another $2.2 billion in bookstores during the same period.
What back to school really costs
American Express breaks down the real costs of going to school in the latest edition of its nationwide Spending & Saving Tracker study. Over two-thirds of parents surveyed told researchers that they planned to purchase name-brand sneakers and jeans for their children before the first school bell rings this fall. A quarter of parents said they planned to outfit students with new portable computers before sending them off to campus, while two in five respondents revealed a desire to get their kids a good haircut at the end of the summer.
In total, the average American family of four will spend about $800 to get their kids ready for a new semester, according to American Express. Today's best credit card deals can help you recapture some of that household budget for yourself, or spread out part of those costs over the next few months.
Best credit cards for back-to-school shopping
Blue Cash Everyday Card from American Express
The Blue Cash Everyday Card offers an exceptional set of year-round rebates that can help you save money during back-to-school season. If you plan on making a few road trips back and forth between home and campus, this card's 3% rebate on "pay at the pump" gasoline purchases will come in handy. You may earn even bigger savings in dollar terms by using Blue Cash Everyday for its 2% rebate in department stores.
Every purchase you make with the Blue Cash Everyday Card earns you at least 1% back in the form of Reward Dollars. While you can always redeem your Reward Dollars for cash back, you can also take advantage of American Express's network of travel and merchandise partners. Redeeming your Reward Dollars for gift cards or exclusive merchandise deals can stretch your rewards further. For example, you can save money when treating your student to a meal at one of the restaurants participating in the Blue Savings Program.
Wanna make some fast cash on back-to-school travel and lodging? This card offers cash rebates of up to 5% on eligible travel-related costs (gas, hotels and airlines) during July, August and September. Sign up for this category during the time window and you can earn up to $75 more in rewards during your campus move.
Chase has been offering a series of special sign-up bonuses to attract new cardholders. At the moment, Chase Freedom Visa offers a $200 reward for new customers who spend $500 within 90 days. That's like getting a 40% discount! This is on top of the card's everyday rebate of 1% on all purchases.
The American Express Premier Rewards Gold Card
OK, this might sound like an unconventional pick for back-to-school shopping, since it's usually the card of choice for plane-hopping business travelers. Despite its $175 annual fee, this charge card can save you money if you're sending a child off to a faraway college. When you use this AmEx Gold Card to book airline tickets, you'll earn three Membership Rewards points for every dollar in airfare.
At the moment, American Express offers new cardmembers 15,000 bonus Membership Rewards points after spending $1,000 on the card within 90 days. If you spend a total of $30,000 or more on this card in a calendar year, you'll earn an additional 15,000 American Express Membership Rewards points. You can convert your point balance to miles in your favorite frequent flier program or use your points to pay for a discount airfare through AmEx's travel rewards website. High-flying college students can rack up miles and rewards quickly, especially during semester breaks and holiday visits.
Citi Dividend World MasterCard
Got a few kids in school? Need to spread the spending hit over a few months or even the whole school year? The Citi Dividend World MasterCard can help you pay off this season's back-to-school shopping over the next 15 months with a 0% introductory offer.
New cardholders earn an extra $100 after spending $500 or more during their first 90 days with the card. Enroll in this season's special promotion, and your Citi Dividend World MasterCard will pay you back with a 5% bonus rebate on airfares, hotel bills, and car rentals through the end of September. You can also earn up to $300 in cash-back rewards with a 1% rebate offer on your first $30,000 in other purchases.
How to find the best credit card
Here are a few tips for choosing the best credit card deal:
Compare credit cards based on their annual fees, their reward structures, and their partner relationships to learn which lender has the best deal for your family.
Because opening a new credit card account can impact your FICO score, look beyond any short-term bonuses and think about how a card can get you the best long-term rewards.
Remember to consider whether issuing an extra card to your college student can help them learn to manage cash responsibly while preparing them for emergencies.
If you partner with your student to handle routine expenses through a single rewards credit card, you can maximize your rewards while eliminating late-night cash transfers.
As with all credit cards, protect your credit history by using them responsibly, reading the agreement carefully before signing up, planning your purchases to maximize any rewards and sign-up bonuses, and setting a budget and payment schedule that you can handle.
The original article can be found at CardRatings.com:Best credit cards for back-to-school expenses