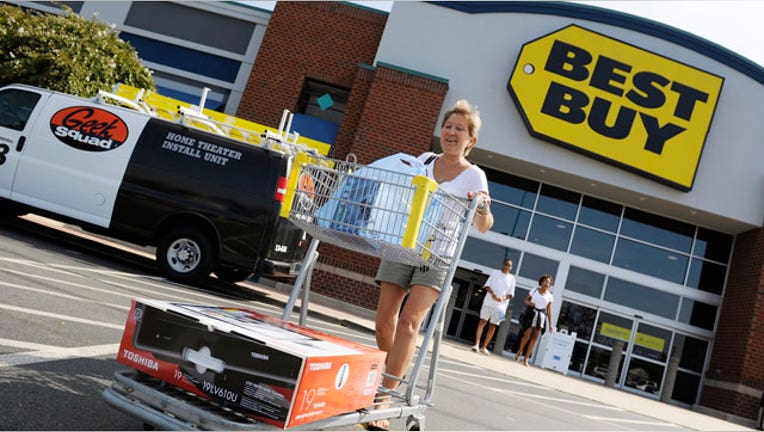 U.S. electronics chain Best Buy Co Inc named Hubert Joly, the former head of hospitality and travel company Carlson, as its new chief executive on Monday, hoping to tap the French businessman's acumen in turning around ailing businesses.
The naming of a permanent CEO ends months of uncertainty at the world's largest consumer electronics chain stemming from the abrupt departure of its prior CEO, Brian Dunn, in April.
Best Buy shares, which had fallen 11 percent since Dunn's exit, fell a further 7 percent on Monday as Joly's appointment was overshadowed by the breakdown of takeover talks with founder Richard Schulze over the weekend, leaving the future of his pursuit of the company in question.
"It is clear to us that there is quite a bit of acrimony between Mr. Schulze and the board of directors and that this distracting saga isn't close to being finished," RBC Capital Markets analyst Scot Ciccarelli said.
Best Buy said on Sunday Schulze had rejected its offer to allow him the chance to do due diligence and pursue a takeover. Schulze balked at the board's requirement that would have prevented him from publicly making a bid for the company.
Schulze said on Monday he would continue to pursue his proposal to take the company private. He also called Joly an "accomplished executive" but said the retailer needed a "leadership team with deep retail experience and knowledge of Best Buy."
Joly, who most recently was CEO of privately held Carlson in Best Buy's home state of Minnesota, has never worked in retail, but the 53-year old executive has significant experience improving businesses in the technology, media and services sector.
"He is a little bit older, a little bit more seasoned," said BB&T Capital Markets analyst Anthony Chukumba. "I think this is a home run for Best Buy."
Joly faces the tough task of fixing Best Buy, which is struggling to fend off online and discount rivals and shoppers' tendency to check out gadgets at brick and mortar stores and then buy them for less online.
The company could give clues to its turnaround plan as early as Tuesday, when it is expected to post the eighth decline in same-store sales in nine quarters.
NECESSARY TOOL SET
Joly drove the turnaround of the French business of EDS - now part of Hewlett Packard Co - from 1996 to 1999. He also led the restructuring of Vivendi's video game business - which was later combined with Activision Blizzard Inc - from 1999 to 2001. In that instance, Vivendi successfully tapped into the growth of online gaming.
Joly's experience with Vivendi "potentially provides him with the necessary tool set to begin a turnaround at Best Buy," Ciccarelli said.
At Carlson, Joly strengthened businesses in the customer service sector, including the restaurant and hotel units, which run the T.G.I. Friday's restaurants and Radisson hotels.
Joly succeeds interim CEO Mike Mikan, who took over after the abrupt departure of Brian Dunn in April during a probe that found he had engaged in an improper relationship with a female employee. The probe also found that Schulze failed to notify the board about allegations against Dunn and led to Schulze losing his chairmanship.
Joly is expected to step into his role as president and CEO in early September when his visa is secured, Best Buy said.
TALKS BREAKING DOWN
Schulze, the 71-year-old former chairman of Best Buy, informed the board earlier this month that he was interested in teaming up with private equity partners to buy the company for $24 to $26 per share.
But Schulze had said there were obstacles to him making an official bid, including his inability to access the company's financial data.
Best Buy said on Sunday that it had offered Schulze a proposal that would have provided the opportunity to do due diligence and take a buyout offer directly to shareholders.
It said "Schulze declined to participate."
For his part, Schulze said he was "shocked" by Best Buy's "abrupt termination" of their talks, adding that they had been negotiating over the weekend and expected to conclude the matter before Best Buy reported earnings this week.
"We had believed we were close to an agreement for a reasonable standstill period and are eager to resume our discussions immediately if the board is truly interested in reaching an agreement in shareholders' interests," Schulze said.
Analysts expect Best Buy to lay out a turnaround plan that will focus on building its services business and cutting costs so it can offer lower prices and protect its market share.
"A large-scale turnaround could take two to three years and may be better executed as a private company," said Jefferies analyst Daniel Binder.
Best Buy shares fell $1.56, or 7.7 percent, to $18.71 in afternoon trading on the New York Stock Exchange.