Best Buy Gets a Jolt from TVs, Smartphones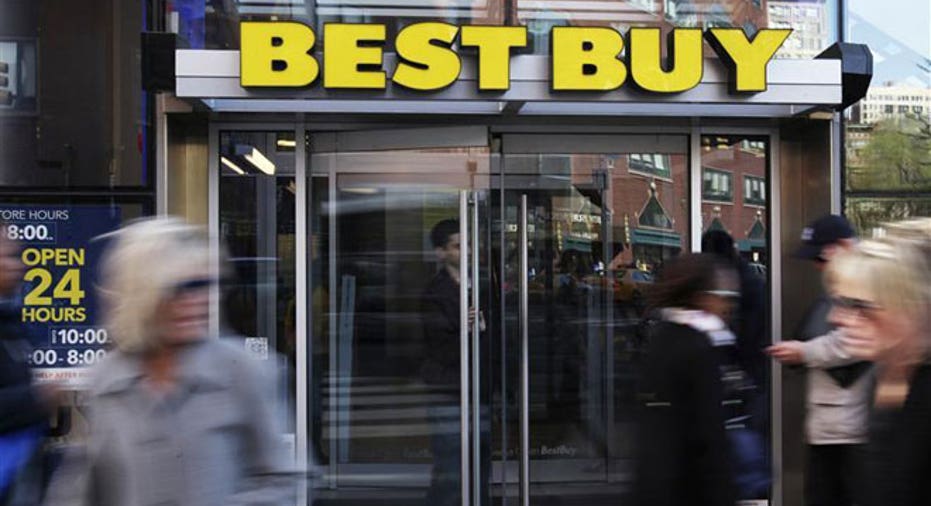 Best Buy (NYSE:BBY) shares rallied Thursday as demand for televisions, smartphones and appliances helped the electronics retailer book better-than-expected earnings in the first quarter.
The company reported a profit of $129 million, or 36 cents a share, down 72% compared to a year-ago profit of $461 million, or $1.31 a share.
The quarter included $178 million in restructuring charges and $38 million in tax-related expenses. Last year's quarter got a boost from a $278 million tax benefit.
Excluding those items, per-share earnings rose two cents to 37 cents. That topped Wall Street's consensus estimate of 29 cents a share.
Revenue ticked about 1% lower to $8.56 billion but still beat expectations for $8.46 billion.
Shares were trading 5.9% higher at $35.76 Thursday morning. Prior to the rally, Best Buy's stock was down 13.3% since the start of 2015.
Best Buy has cautioned that a promotional environment is dragging prices lower, while consumer demand would remain lukewarm through the first half of the year. In January, Best Buy ignited a sharp selloff with a forecast for flat to negative same-store sales during the first and second quarters.
The company turned to cost-cutting in hopes of offsetting sluggish sales. Best Buy announced in March that it would slash another $400 million in costs over a three-year period. It also consolidated its operations in Canada, where retailers are struggling. The chain closed 66 Future Shop stores and put the remaining 65 locations under the Best Buy brand.
Sales looked a little brighter in the first quarter ended May 2, as Best Buy saw more traffic in its stores and online.
Domestic same-store sales grew 0.6% year-over-year, although they fell 0.7% when including the impact of installment billing. Meanwhile, Best Buy's e-commerce investments appear to be paying off. Comparable online sales jumped 5.3%.
Hubert Joly, Best Buy's president and CEO, said the retailer took advantage of strong product cycles in large-screen TVs and mobile phones. He also cited continued growth in major appliances.
The Richfield, Minn.-based company also expects flat to low-single digit revenue growth in the second quarter.
International revenue took a 22% hit from currency volatility and Best Buy's consolidation in Canada.