Best Buy CEO Exits as Retailer Struggles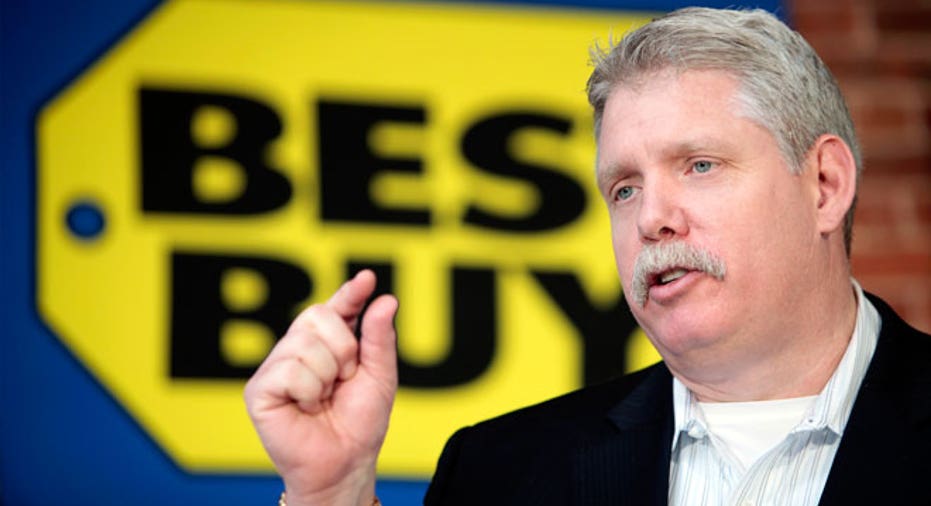 Slumping electronics retailer Best Buy (NYSE:BBY) shook up its management team on Tuesday, announcing the resignation of CEO Brian Dunn.
The surprise news comes just weeks after Best Buy revealed plans to shut down 50 U.S. big-box stores this fiscal year in an effort to save $800 million.
The world's largest electronics retailer said both sides decided to split ways.
"There were no disagreements between Mr. Dunn and the company on any matter relating to operations, financial controls, policies or procedures," Best Buy said in a statement. "There was mutual agreement that it was time for new leadership to address the challenges that face the company.
Richfield, Minn.-based Best Buy tapped G. Mike Mikan, who serves on the company's board, as interim CEO as it searches for a permanent replacement. Before joining the board in 2008, Mikan served as executive vice president and chief financial officer at UnitedHealth (NYSE:UNH).
"I want to assure our employees, customers and other key stakeholders that we will work together to achieve our company's growth and profitability goals," Mikan said.
Wall Street cheered the change in leadership, bidding Best Buy's stock as much as 4% higher. Shares of Best Buy were recently up 3.75% to $23.50, eating into their 2012 decline of 3.1%.
Best Buy's shares have been under pressure as it struggles to regain its footing. Last quarter same-store sales slumped 2.2% despite incentives and free shipping and the company swung to a quarterly loss of $1.7 billion.
Best Buy also said on Tuesday founder Richard Schulze is staying on as chairman.
"We thank Brian Dunn for his many years of service to the company and wish him well in his next endeavors," said Schulze. "As we move forward, we are very pleased to have a strong leader with Mike Mikan's credentials as interim CEO."
Best Buy said it has formed a search committee to find a successor to Dunn, who spent nearly three decades at the company.
"I have enjoyed every one of my 28 years with this company, and I leave it today in position for a strong future. I am proud of my fellow employees and I wish them the best," said Dunn.