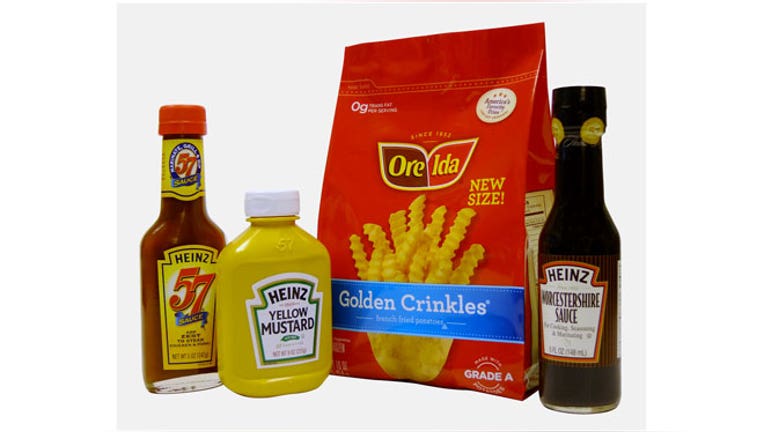 In the largest food acquisition on record, Warren Buffett's Berkshire Hathaway and 3G Capital surprised Wall Street on Thursday by shelling out $28 billion to acquire iconic ketchup maker H.J. Heinz (NYSE:HNZ).
The transaction comes amid a flurry of headline-grabbing deals of late, including the $24.4 billion leveraged buyout of struggling PC maker Dell (NASDAQ:DELL) last week and a merger between bankrupt American Airlines parent AMR Corp. and U.S. Airways (NYSE:LCC) unveiled earlier on Thursday.
The Heinz deal would bring the food company private and is valued at $72.50 a share in cash, representing a 20% premium to its close of $60.48 on Wednesday and a 19% premium to its all-time high.
"Heinz has strong, sustainable growth potential based on high quality standards, continuous innovation, excellent management and great tasting products," Buffett said in a statement. "Their global success is a testament to the power of investing behind strong brand equities and the strength of their management team and processes."
The deal will be financed through a combination of cash provided by Berkshire and affiliates of 3G Capital, rollover of existing debt and new financing from J.P. Morgan Chase (NYSE:JPM) and Wells Fargo (NYSE:WFC). Specific terms of the financing were not released.
Following the go-private deal, Heinz said it plans to remain headquartered in Pittsburgh.
The parties said they expect the deal to close in the third quarter of 2013, subject to shareholder and regulatory approval.
"Heinz is being acquired from a position of strength," Heinz CEO William Johnson said. "As a private enterprise, Heinz will have an opportunity to drive further growth and advance our commitment to providing consumers across the globe with great tasting, nutritious and wholesome products."
Shares of Heinz soared in premarket trading, eclipsing the $72.50 offer price. In recent action, Heinz was up 20.11% to $72.64, tacking onto its one-year rally of nearly 17%.
"We fully recognize Heinz's value and heritage and look forward to working together with Heinz's employees, suppliers and customers as we invest in and support the company's ongoing global growth efforts," said Alex Behring, managing partner at 3G Capital.
The $28 billion acquisition of Heinz marks the largest deal in the food space in history, eclipsing the legendary $25 billion of food and tobacco company RJR Nabisco and Kraft's (NASDAQ:KRFT) $19 billion buyout of chocolate maker Cadbury in 2010.
The Heinz deal helped drive up shares of other food companies in premarket trading, including Campbell Soup (NYSE:CPB) and J.M. Smucker (NYSE:SJM).
After a long period of dormancy, the M&A world is finally showing signs of life, with the Dell and Heinz deals blowing away 2012's largest deal: Softbank's $20 billion acquisition of a 70% stake in Sprint Nextel (NYSE:S).
Bank of America Merrill Lynch (NYSE:BAC) served as Heinz's investment bankers, while Moelis & Company advised the ketchup maker's transaction committee. Lazard (NYSE:LAZ) acted as lead financial advisor for the acquiring group.