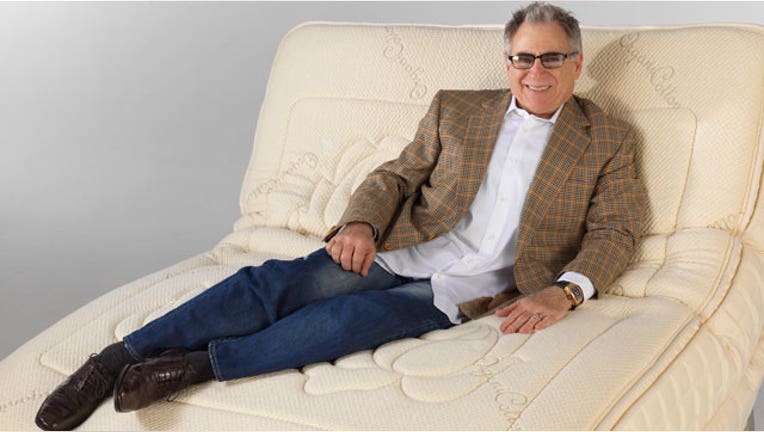 If a home in California can sell for $100 million, who's to say a mattress can't sell for $33,000?
Certainly not Earl Kluft, who has sold approximately 150 at that price over the last three years.
If your jaw just dropped, you're not alone. Unlike jewelry or houses or cars, bedding isn't the sort of thing people often spend tens of thousands of dollars on. The fact that Kluft rolled out his $33,275 Palais Royale mattress in 2008 – the year the financial crisis took hold – means he faced the added challenge of appealing to a group of people infinitely more likely to be putting cash under their mattresses than into them.
Kluft knows all of this, but it hasn't deterred him. In fact, he is currently testing a higher-priced model (which contains genuine horsehair) and says it's not out of the question that a $50,000 mattress might be on the horizon.
Before you write him off as a crazy person, realize that Kluft, a third-generation mattress designer, isn't making a killing off of his over-the-top mattresses. At the end of the day, he says he brings in a high single-digit percentage profit and is focused mainly on turning out a quality, U.S.-made product at a time when so few companies are able to.
"We do not make some gigantic 15-20% return as a company," he says. "It takes a long time to make these mattresses. We don't rush them. We don't think about profitability. We take the time to make the bed the right way. We're not going to cut any corners – and it's expensive to operate a business that way."
Kluft's business approach, for as lofty and out-of-touch as some of his price points seem, is rooted very much in the real world. His Aireloom and Kuft mattress lines aren't sold through some obscure Web site – they're sold at Bloomingdale's (yes, even the Palais Royale) and not all of them are exorbitantly pricey (some are about $5,000). He operates a 127,000-square foot factory in Rancho Cucamonga, Calif. with more than 100 employees, many of whom he pays annual salaries of $50,000 to $60,000.
And he's certainly not blind to the price of painstaking craftsmanship. It takes four workers three to four days to make just one Palais Royale, which is handcrafted from Talay latex and 20 pounds of royal cashmere, mohair and silk. One of the most expensive elements of the bed is the inner spring, which is shipped from England and costs $500 to $1,000 alone.
Needless to say, the process is significantly more time-consuming than what goes on at some of the more mainstream mattress manufacturers.
"At a normal, everyday mattress company, the entire set is made in less than two hours," Kluft says.
But Kluft isn't looking to compete with lower-end mattress makers. He likes pushing the envelope on price and says that sales of his priciest mattresses are critical to his business.
"I look at our ability to push the envelope for higher and higher prices as a means of survival. If I try to compete with these low-cost producers, I wouldn't last a minute," he says.
With commodity prices skyrocketing and inflation concerns on the rise, Kluft says he has been paying more for his materials but is waiting to see how serious the problem will become before he passes the costs along to customers.
"If we need to pass it along to maintain a healthy company, we have to do that," he says.
But a couple of extra bucks probably won't break the bank for most of Kluft's customers. One of his recent clients was a well-off couple from Calif. who purchased two Palais Royale mattresses for their environmentally-sustainable home. The mattress is composed of about 80% natural materials compared to 5% natural materials in normal mattresses.
That said, the Palais Royale isn't something that should be tossed. Kluft says it comes with a 20-year warrantee, but says it could easily last a lifetime and sees it as something to be passed down.
"I wouldn't recommend anyone ever take it to a landfill," he says.
As for the new mattress he's testing, Kluft says it is made with a very expensive jacquard fabric and contains horsehair near the coils. It's being sold through a dealer in Houston, and while one unit sold at $37,000 two weeks ago, Kluft says he is still feeling out the market.
"I'm a pretty cautious guy. We're not going to roll something out until we're sure we got it right."
It seems he needs time to sleep on it.