Bellhops Makes the Back-to-School Move Bearable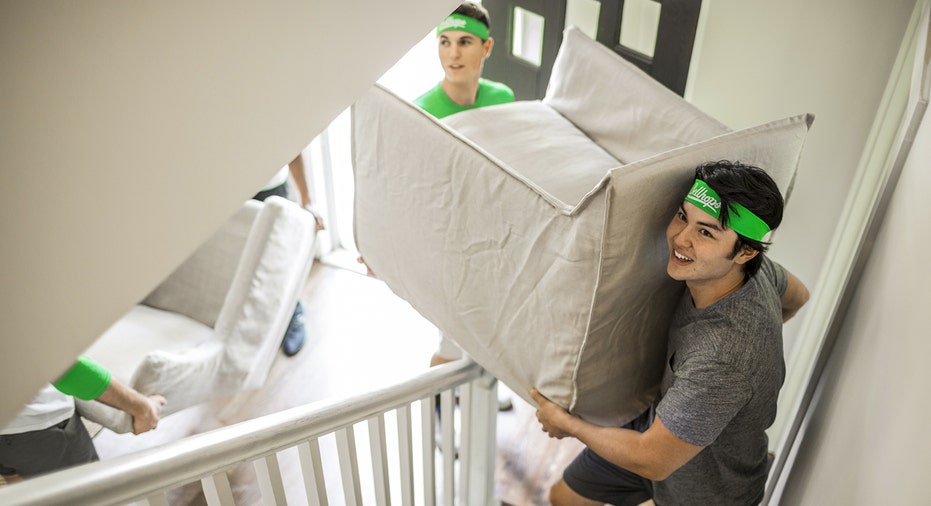 Moving your son or daughter into a college dorm can be stressful and expensive. And in general, moving is almost always a dreaded task for just about everyone.
That's why Cameron Doody and Stephen Vlahos started Bellhops in 2011.
The startup exclusively hires college students [over 8,000 to-date] to facilitate small and medium-sized residential moves in 85 cities across the U.S.
"We realized there was a huge latent workforce of broke college kids that are great at lifting things and moving things around," Doody tells FOXBusiness.com.
After participating in an orientation program, bellhops begin working in much the same way that Uber drivers do. A customer puts in a request with the exact details of their move through the company's app, and bellhops who go to school in the city where the move is taking place are "pinged" with the opportunity. After a bellhop accepts the move, the customer receives information on him or her including a picture and bio.
To become a "bellhop," applicants must be at least 18 years old, currently enrolled in college and "physically able and strong." Bellhops also recruits from campus organizations like ROTC and club sports teams.
The company hopes to see a spike in business this back-to-school season with more student moves, which currently account for less than 10% of its bookings. Doody says bellhops are particularly suited to help their peers move.
"When you think about back-to-school moving, parents are just super stressed and they've got a million things going on – it's emotional, it's hectic, it's hot – our bellhops love that feeling of responsibility. These are optimistic, educated, clean-cut kids that are eager to help. "
Doody says prices are calculated depending on the size and scope of a given move, and payments are managed through the app. If Bellhops is providing just "the muscle" for a move, the average cost is $165, while full service, which includes unpacking and set-up, is around $400.
"What makes people wary of the moving industry is non-transparency of price. Bellhops has no hidden fees and you only pay for the exact amount of time [that it takes to complete the move]. If you booked for four hours and Bellhops finishes the job in two, you only pay for two hours."
On average, bellhops make $24 an hour including tips. Doody notes that the company's business model allows the bellhops to have full autonomy; They can build their own schedules, work with friends and make some extra cash.
Bellhops has raised $22 million to-date in venture funding, and will continue to raise more as it grows. The company says it is less focused on expanding geographically but rather entrenching deeper in the markets where it currently operates by providing multiple services. Most notably, it is building a fleet of box trucks that will be used during full service moves.
"We're able to provide these full-service experiences at a price that's never been offered before because we don't need brick-and-mortar, we don't have managers, we don't need a lot of these fixed costs that the traditional moving industry is built on, and it allows us to cap those savings off to our customers," Doody adds.