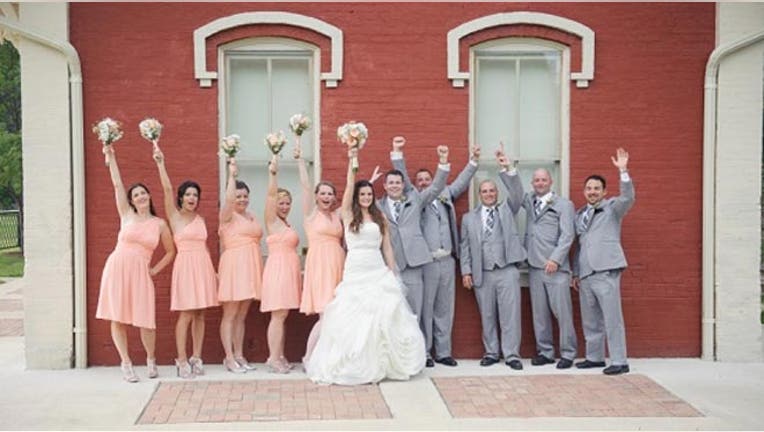 When it comes to weddings, most people are aware of the time, energy and money spent by the happy couple ahead of their nuptials – but what about the bridal party?
At first glance, the smiling women standing at the bride's attention may make the task of being a bridesmaid look effortless, but it couldn't be further from the truth. The financial obligation of sending a friend or family member into married life is often daunting, but there are ways ease the financial crunch. FOXBusiness.com got some tips from online wedding site The Knot's Deputy Editor Kristen Maxwell Cooper.Gifts galore
A friend of the bride or groom will typically spend about $79 on a wedding gift, according to The Knot. However, 46% of the items on a couple's wedding registry cost under $50. Maxwell Cooper recommends buying a wedding gift early so you have a variety of less expensive items to choose from.
She also says group gifts are a big trend; 67% of couples receive at least one group gift. So, don't be so quick to dismiss that Dyson vacuum with the eye-popping price tag on your girlfriend's registry. Rather, get a group of friends and go in on it together. The trending vacuum ranges from $389 to $454 on Amazon.com (NASDAQ:AMZN).
Partying before the wedding
Long gone are the bachelorette parties consisting of a single night out on the town. Maxwell Cooper says the biggest trend in bachelorette parties is a destination weekend. Between airfare, hotel accommodations, food and entertainment, the cost of celebrating a friend's exit from the single life could run you a pretty penny.
It is important that whoever is planning the pre-wedding festivities, usually the Maid/Matron of Honor, gages the financial willingness of the wedding party. She should "try to find a way to help alleviate some part of the cost for a bachelorette party," said Maxwell Cooper. Whether it's booking an Airbnb rental instead of hotel rooms or finding an all-inclusive deal, there are plenty of ways to cut costs.
The big day
Even though you may never wear that bridesmaid's dress again be prepared to pay up. The average cost of a bridesmaid dress is $142. The price of looking how the bride wants you to on her big day doesn't stop there, though. Alterations, shoes, accessories, hair and makeup are other expenses to consider. If the bride requires hair and makeup to be done by a professional, Maxwell Cooper says she should be footing at least some of the bill.
Around 24% of couples have a destination wedding. It's a good idea to book a room in the hotel bloc the couple has reserved as soon as possible in order to get the best rate. Another option is to rent accommodations with friends through Airbnb, Home Away (NASDAQ:AWAY) or another online platform. Some websites also offer group flight rates.
A few parting words before "I do"
When the vows are said and the wedding is done, a bridesmaid will likely have spent well over $1,000. Maxwell Cooper says it is important for the bride to "be up front about what you expect your bridesmaids to do and make sure they are on board…No one wants to be disappointed halfway through the wedding process."
If you live out of town, are on a tight budget, or find yourself in a potentially restrictive circumstance, make sure you express that to the bride from the start. Let her know that you may only be able to attend one event leading up to the wedding. Ask if there is another way you can be involved in the wedding planning process that won't be a financial strain, such as writing a thoughtful speech to read on the big day.
Most importantly, the dialogue between the bride and her bridesmaids has to be constant and open. While it is often assumed that the bridal party should be making the bride happy, she too should make the experience enjoyable for her bridesmaids.