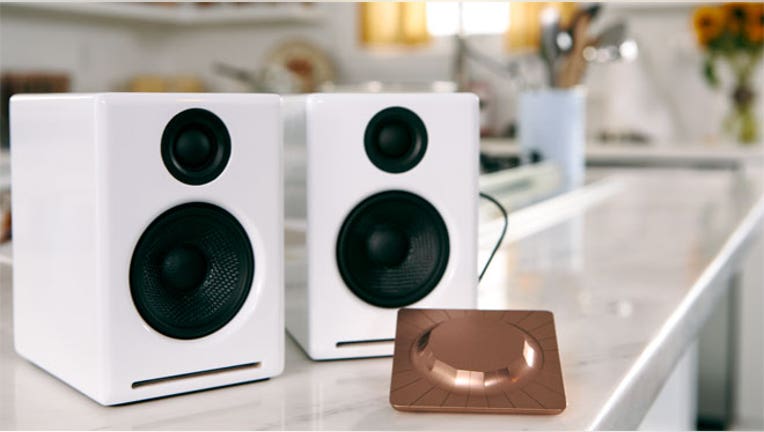 San Francisco-based Beep is trying to set the tone in the battle to wirelessly connect your favorite tunes with the sound system of your choice.
The startup is run by intrepid entrepreneurs with solid state pedigrees in technology (Google) and audio (Dolby Labs) whose goal is nothing less than rejuvenating hi-fi via Wi-Fi.
The Consumer Electronics Association reports sales of home audio components peaked in the mid-1990s, but have increased in recent years thanks to the relatively nascent digital audio market.  Beep's founders say that business is ripe for disruption and reinvigoration.
"We want to bring back the home audio experience," proclaims Daniel Conrad, Beep founder and CEO, adding, "Streaming media is a big issue."
Conrad knows the issue well from his days at Google (NASDAQ:GOOG), where he worked on the Android mobile platform and Google Play.  "I worked on transitions from the computer to the tablet and elsewhere."
Beep CEO Conrad told FOX Business exclusively that the company is now adding functionality to connect music residing on computer hard drives with speakers that listeners may already own, or most sound systems already for sale.  Beep had previously disclosed connectivity only with music residing on iOS and Android smart devices.
Now Beep must face the music, so to speak, with consumers.  The company is in pre-order mode, currently selling units on its website for $99 each.
Here's how it works.  The system is controlled by software or free apps on computer hard drives, iOS or Android devices.  It allows users to play their own digital music library via Wi-Fi seamlessly to any speakers with a nearly universal aux-in port.  The sleek Beep units plug into that port.
Beep mimics the form and function of the early iPod in some ways.  The Beep dial turns the volume up or down as you would intuitively expect, but it can also play and pause the music if you press it.
The interface is also streamlined—using a free app to select a Beep or group of Beeps to play the songs and enjoy.
There is some pretty stiff competition from the likes of Sonos and Bose, which already offer proprietary wireless connection to speakers throughout an abode.  But these companies primarily want to sell their own speakers and "walled garden" systems to consumers.
Some analysts say Beep still has to prove itself and the system can be pricey depending on what kind of components consumers bring to the party.  "For households with multiple amplifiers in different rooms, it's cheaper and an elegant system to get Beep," says Michael Inouye, senior analyst with ABI Research.  "It's a harder sale to get someone who wants to create a home network.  If you add everything together with Beep, it can be a more difficult decision because you have to buy an amplifier and speaker rather than just Sonos."
The company's hardware and software products and solutions have already resonated with some speaker manufacturers and streaming service Pandora.
Beep's CEO claims his company's app interface sets it apart from rivals such as Sonos:  "You're actually experiencing Pandora as Pandora wants you to instead of rebuilding it with a different interface on top of Pandora."
Consumers will ultimately make the call as to which interface works better.
In the meantime, Beep's Conrad plays up the firm's technology allowing for choice of speakers:  "You can choose any speakers you want and not be constrained by a company's speakers.  Speakers are really personal, some people like big speakers, towers, others like small white ones that blend into the wall.  It's a personal choice.  All speakers should be connected and you shouldn't be constrained by one brand's style."
That is not only a sales pitch for music lovers looking to connect a home without rewiring the place; it's also an overture for speaker manufacturers.  Beep seeks to ultimately grow by leveraging its Wi-Fi platform literally into a new generation of speakers.  "We are effectively selling a module, a small PC board with everything you need on it," explains Beep's Conrad.  "It's a little computer on a 1 X 2 inch circuit board soldered into your speaker.  We're basically selling that.  The hardware component is inexpensive and then we have the software component which is where we get our licensing fee.  That's how we make money."
Will Beep's technology strike a chord with the home audio market?  Conrad says they are working to perfect the technology with a few speaker manufacturers before branching out but are not ready to make any announcements.
There is definitely interest among some speaker makers.  Matthew Paprocki, co-founder of Goodhatch and creative director of Soundfreaq is one.  While he stopped short of endorsing Beep and would not confirm whether the Wi-Fi technology will soon end up in Soundfreaq speakers, Paprocki did say Beep is a possible wireless solution:  "Ultimately, someone like Beep becoming a (wireless) standard is ideal.  When most people sit down with Bluetooth systems they say RDIO is awesome and Soundfreaq is awesome.  But the glue that holds it together is Bluetooth.  The future improvements for speakers and services—can someone else become that glue?  That potential for Beep to do that makes them appealing for a speaker manufacturer."
Paprocki, who has been in product development for 15 years as an engineer and designer, also says most audio companies don't have the bandwidth or interest to expand their core business.  "The beauty of (Beep) is having speakers that can play music from the source.  The proposition of becoming a software development company and tracking what different services are and APIs, and having to write and rewrite my software to make some useable form of interface.  To do that is a daunting proposition for a speaker maker," Paprocki expounds, adding, "If you tell most speaker makers you can swap out Bluetooth for Wi-Fi and you don't have to update an app anymore, most speaker makers will say, 'Yes, I'll keep doing this and not become a network company'."
ABI Research data show the portable, dock, sound bar, and network audio system market rang up $1.8 billion in sales during 2012.  That's a market Beep is looking to tap into and grow.  ABI's analyst Inouye says Beep is off to a good start, but there's still a long way to go, "There's lots of room for improvement.  It's a competitive market.  I'm interested to see how the company further differentiates itself, adds other services, to create a network of devices that are Beep enabled."
In short, Beep is trying to build on a movement that seeks to return music from the personal experience it has become in the digital age on headphones and computers back to a real live social music experience, not one shared via social media.
And that is music to the ears of folks such as Sean Murphy, senior manager of industry analysis with the Consumer Electronics Association.  "There was an inevitable bounce back from all things digital.  The growth in the headphones market was equal parts fashion and function," Murphy says, adding, "Sound is now more of story than it was five years ago.  People were more concerned with how things looked; now they want things to sound better."