Beauty and the Beasts: Critics Don't Get Lolo's Marketability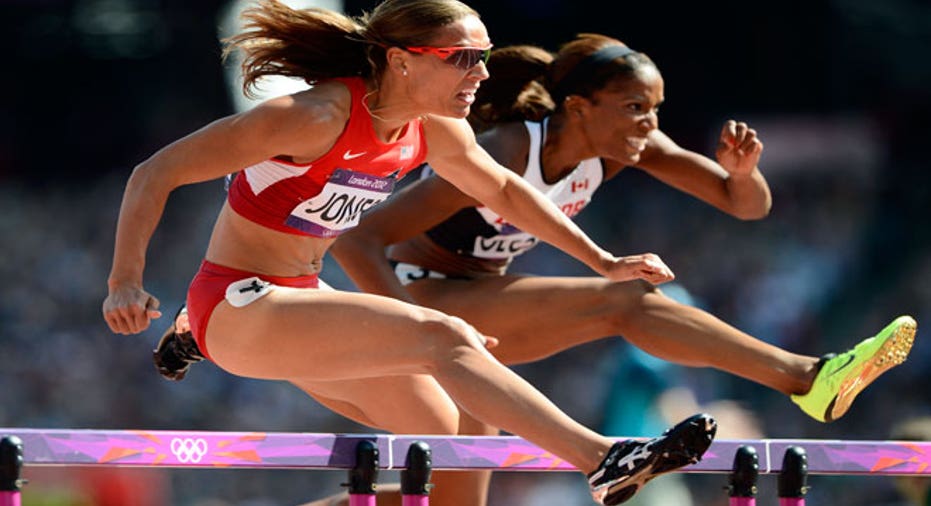 In his scathing profile of Lolo Jones this Saturday, New York Times sportswriter Jere Longman said the Olympic hurdler is receiving more media coverage than other track and field athletes because of her ability to be so many things at once—"vixen, virgin, victim." But branding experts say Jones' story transcends the sport, and her shape-shifting persona is exactly what makes her so marketable.
We've all heard the story by now—Jones is a 30-year-old virgin who has posed in racy magazine spreads, shamelessly promoted herself across social media outlets and failed to medal in both the Beijing and London Games. She is also the reigning world champion and record holder in indoor track, and has overcome extreme poverty and countless injuries.
Oh, and she just happens to be gorgeous.
Even her teammates are coming out swinging against Jones, claiming their stories were "just as good," and that the more deserving athletes would be on the podium receiving their medals.
Cliff Courtney, SVP of Zimmerman Advertising, said Jones' story isn't over in London until the closing ceremonies take place. She is smart to capitalize on the attention she is receiving, because opportunities for track and field stars in the greater media realm outside of the Games are few and far between.
"These people go to the brightest of spotlights every four years," Courtney said. "If they don't take advantage of these marketing [opportunities] they might as well be invisible."
Jones has more sponsors than her teammates, Dawn Harper and Kellie Wells, who spoke out publicly against her to NBC's Michelle Beadle. Courtney said being beautiful is the sharpest double-edged sword there is for Jones.
"For every moment she spent on T.V. talking about her personal hurdles, she probably spent 100 hours on the track overcoming real ones," he said. "She is a two-time Olympian, two-time world champion, and the fourth best hurdler out of the 3.5 billion women on this planet. So calling her a virgin or vixen is best left to the tabloids, not the New York Times."
Joseph LePla, principle at Parker LePla branding consultants and co-author alongside Wolfgang Giehl of the new book, "Create a Brand That Inspires: How to Sell, Organize and Sustain Internal Branding," said Jones has the potential to inspire and define herself on her own terms in a way few other women athletes have done in the past.
"She pulls people beyond sports," LePla said. "But her staying power is up to her. She is obviously a great track star, but she can also become a broader brand. Those nude cover shots and articles were about her as a person."
As for her sponsors, many seem to be waiting on the sidelines to see how the backlash and media cycle will continue to further the story.
FOXBusiness.com reached out to Jones' sponsors including Asics, McDonalds, BP, Oakley, Red Bull, P&G and D.I.S.C. Spinal Surgeons, to inquire about the terms of their contract with Jones and their reaction to her performance in the Olympics. Only Kemin's FloraGLO Lutein and TwinLab responded.
"We admire Lolo's dedication to track and field and we are proud to stand behind her and her performance in the London Olympic Games. Every athlete competing in the Olympic Games makes incredible sacrifices and works tirelessly to compete on behalf of their country. Lolo has overcome much to get to where she is today and we hope her courageous example will inspire others," Heather Richardson, FloraGLO Lutein product manager, said in an email statement. The company declined to comment on Jones' contract.
"In the wake of the recent uninformed criticism of Lolo's relevance in the games this week, all of us at Twinlab recognize that within the human psyche, inspiration is often found away from the podium, and with much of the media today obsessed with medal counts, we chose to sign on as a sponsor for Lolo after her fall in Beijing, not for the gold....but for the person," the company said in an email statement. "At Twinlab we say 'it's what's inside,' and Lolo Jones has shown the world what drives over 10,000 athletes to gather in London to compete, most of which will never see the podium.   It was the absolute correct decision 4 years ago, and stands as the absolute correct decision today. " TwinLab also declined to comment further on the specifics of Jones' contract.
Courtney said despite her lack of Olympic hardware, Jones is a marketing goldmine. Her sponsors will likely stand behind her, as they did Charles Barkley, another great marketer who was debatably less talented than other NBA players. Sometimes marketability just trumps talent.
"If Misty May Trainer and Kerry Walsh looked like Kate Upton and Adriana Lima, they would be marketing gold too," he said. "Coming out of this Olympics, they are second only to Michael Phelps. Their story is epic, yet their marketing value is diminished because they look like ordinary women."