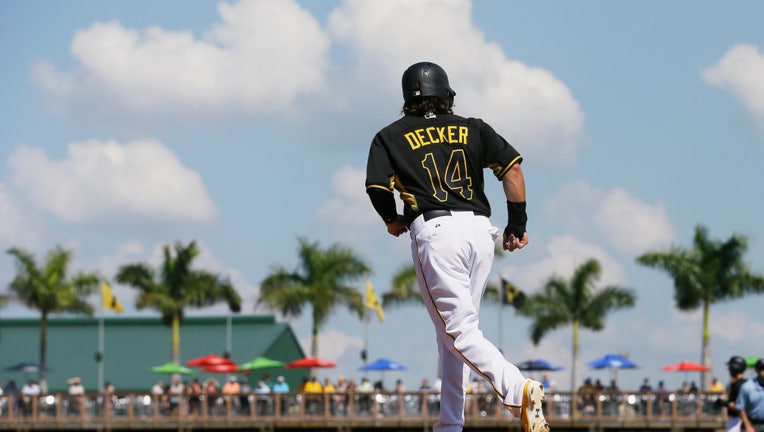 Some heavy hitters in the baseball world are backing a crowdfunding effort for "Scouting for Diamonds," a new film about scouts and the players they discovered.
"Scouting for Diamonds" has generated a wave of support on social media and in baseball circles. Pittsburgh Pirates manager Clint Hurdle started a "selfless selfie" campaign, pledging money in honor of his scout and urging others to do the same. Legendary actor Bill Murray, a noted Chicago Cubs fan, has also thrown his support behind "Scouting for Diamonds." Murray agreed to be the narrator if the documentary reaches its funding goal.
The funding drive on Indiegogo.com raised $30,000 as of Tuesday afternoon, short of the $85,000 goal with 36 hours until the deadline. Molly Secours, an independent filmmaker and the director/producer of "Scouting for Diamonds," is in search of enough funds to travel to spring training for a month. So far, only six days at spring training have been booked.
"We showed the trailer at the Winter Meetings. When they heard we weren't fully funded, they said to do a campaign and we'll support you," Secours told FOXBusiness.com.
An angel investor has provided financial support for over a year, and more than 400 people have donated as part of the crowdfunding campaign. As word continues to spread, other investors have expressed interest. "We have no doubt that somebody will step up at some point, but time is running out," Secours said.
The project started when Secours made plans to interview longtime MLB scout George Digby, who signed Hall of Famer Wade Boggs and more than four dozen other big leaguers. But Digby passed away at the age of 96 in May 2014, before Secours could meet with him. After interviewing Boggs, Secours realized there was a bigger story to be told about the relationships between baseball players and scouts.
"All of this is happening because of Wade Boggs' involvement," Secours said. Boggs is listed as a co-producer of the film.
With teams leaning more heavily on statistical analysis, many MLB franchises have pared down their scouting staffs. The transition has left even veteran scouts looking for work. The Professional Baseball Scouts Foundation received 20 applications for financial assistance just in October, after the 2015 regular season ended, according to a recent report from USA Today.
"There's a shift happening, and we're taking a look at what that means for scouts, fans and baseball," Secours said.
The film also looks at the difficult life for scouts.
"It is like being in the Foreign Legion," Dick Groch, special assistant with the Milwaukee Brewers and the scout who signed Derek Jeter, said in a trailer for the documentary.
Stars like Boggs, Willie Mays and George Brett, another Hall of Famer, spoke with admiration for the scouts who signed them.
"I know they put in more time, more effort, driven more miles in their car, stayed in crappier hotels, got paid less to, what, enable us the greatest thrill of a lifetime?" said Brett.
Time is running out before Opening Day with pitchers and catchers reporting for spring training this week. Bottom of the Ninth Films is living up to its name, but Secours remains confident that "Scouting for Diamonds" will keep the rally going and get to spring training.
"Every time we seem to be at a crossroads, we seem to make it," Secours said. "In a year and a half, I've almost given up 10 times."
Secours hopes to complete "Scouting for Diamonds" in time for the film to make its debut a week before Opening Day 2017. The goal is to get "Scouting for Diamonds" playing in every city with a big league club. According to Secours, several teams have already expressed interest in playing the film inside their ballparks.