Barnes & Noble Poised to Close Chapter--Ahead of the Tape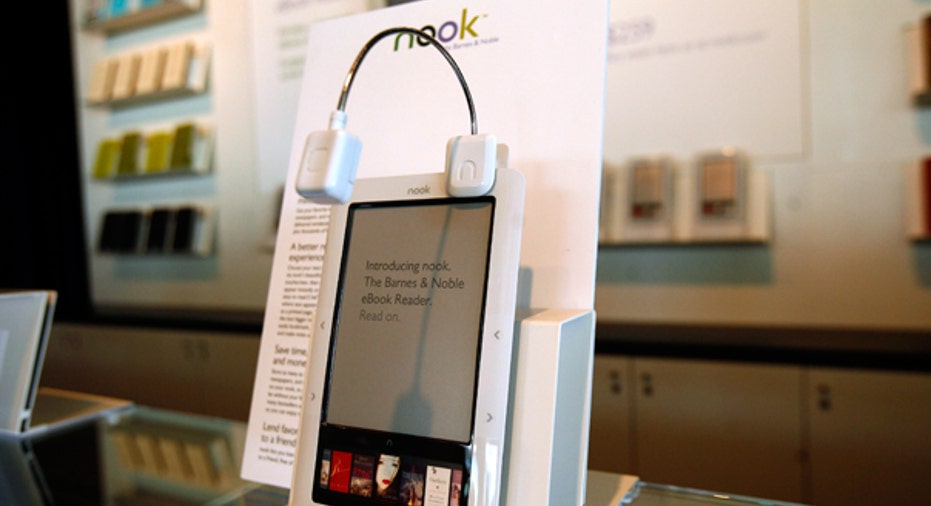 The Barnes & Noble Inc. (NYSE:BKS) story is slowly becoming an easier read.
The bookseller has successfully stemmed losses at its Nook division thanks to an agreement with Samsung Electronics to manufacture its tablets. Meanwhile, same-store sales at Barnes & Noble's retail business seem to be flattening after a long period of decline. Execution risks still abound. But as the bleeding slows, the company looks better positioned to follow through on a plan to split itself in two or even attract a buyer for the whole enterprise.
Barnes & Noble, which reports fiscal second-quarter results Thursday, is expected to post earnings of 31 cents a share on revenue of $1.7 billion, more than double its per-share profit on roughly the same revenue a year ago.
Improvement at Nook should play a major role. In the fiscal quarter ended in October, the division's loss should narrow to $14 million from $45 million a year ago, estimates John Tinker, an analyst with Maxim Group. That said, Nook is hardly a success story. Its sales, which include e-books and devices, fell by half in the fiscal first quarter. Mr. Tinker expects them to have fallen 24% in the second. That could make it tough for Barnes & Noble to sell the one million devices it has committed to purchasing from Samsung over a 15-month period.
Indeed, given those sales declines, Nook will be less significant to the overall company by the time Barnes & Noble goes ahead with plans to split Nook Media from its retail bookstores. Nook Media also includes the college-bookstore segment. The split, announced in June, is expected by March. Any update Thursday on its timing or signs of progress toward restructuring Nook Media's agreements with minority owners Microsoft Corp. and Pearson PLC will be positive points for the stock.
One potential concern: Barnes & Noble's college segment is in the midst of a $30 million investment in a digital distribution platform known as Yuzu. That is a worry considering Barnes & Noble's dismal digital track record.
With its stock up nearly 50% since the start of the year, Barnes & Noble trades at a not-cheap 26 times fiscal 2015 earnings estimates. But further unwinding of the company's complicated plotlines should keep investors turning the pages.