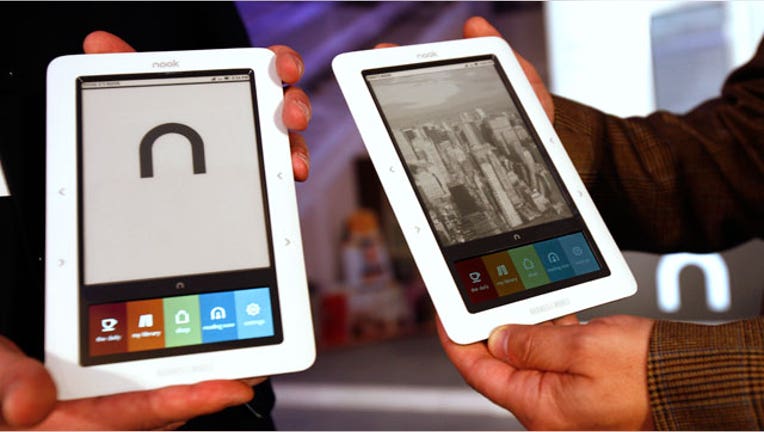 Leading bookseller Barnes & Noble (NYSE:BKS) said Thursday it is considering a sale of its Nook electronic reader business after cutting its full-year forecast, citing a shortfall in sales.
Shares of Barnes & Noble fell more than 30% to $9.68 on the news to $9.68.
The company, which directly competes with Amazon's (NASDAQ:AMZN) Kindle, said it now sees fiscal 2012 sales between $7 billion and $7.2 billion, which is lower than its earlier outlook and below average estimates of $7.32, according to a Thomson Reuters poll.
Barnes & Noble cited weaker-than-expected sales of its simple touch Nook, as well as additional investments in growing the Nook business such as advertising costs and international expansion.
Full-year losses are expected to be in a range of $1.40 to $1.10 a share, which is worse than an expected loss of 63 cents a share.
While the company said it plans to continue marketing the Nook for "years to come," it acknowledged that it "over-anticipated the growth in consumer demand for single purpose black-and-white reading devices this holiday."
Total sales combined from all of its Nook devices, including the Nook Color and tablet, rose 70% during the holiday period ended Dec. 31 from the year-earlier period. The simplest device lagged behind its peers, which Barnes & Noble said signals customers prefer color devices.
The company says it is exploring splitting off the e-reader business to capitalize on its rapid growth and favorable leadership position. It is in discussions with strategic partners, including publishers, retailers and technology companies in international markets that may be able to expand the Nook business abroad.
"We see substantial value in what we've built with our NOOK business in only two years, and we believe it's the right time to investigate our options to unlock that value," said Barnes & Noble CEO William Lynch.
The company says it will not comment further until a decision is made.
As for its retail business, sales climbed 2.5% over the year-earlier period to $1.2 billion, led by a 3.4% increase in comparable sales. The bookseller said it also benefited from both electronic and physical book sales, helped by the closure of Borders, as well as its newer toys and games segment.
Barnes and Noble expects to see higher sales in fiscal 2012 resulting from the Borders bankruptcy.
Meanwhile, sales on its web site grew 43% year-over-year to $327 million, with comparable sales up 52% on top of a 78% growth last year. The company attributed the web gains to its Nook business, offset by a decline in physical book sales.