Bargain Shoppers' New Best Friend: Their Smartphone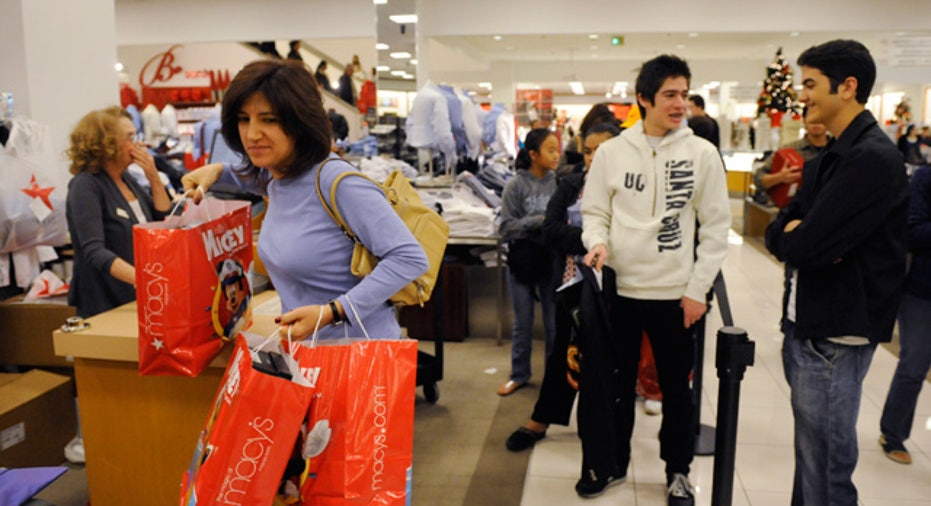 With Black Friday just around the corner, the year-end maelstrom of holiday shopping madness is about to kick off. The latest Spending and Saving Tracker survey by American Express indicates shoppers are still smarting from the housing bust and recession (which we've been told is "officially" over, but try to convince the 14 million Americans looking for work). None the less, this shopping season could mark a watershed moment: Instead of heading to the mall with a family member or best friend, more of us will be taking along a potentially more useful companion, our smartphone.
This year's holiday shopper can perhaps best be described as cyber savvy and determined to not over pay. The survey shows
While 13% of respondents say they'll turn to it to search for gift ideas, roughly 20% intend to use a smartphone to scan bar codes, download coupons, compare prices and find out where they might get a better deal. This is especially true of what American Express calls "Young Professionals", college-educated consumers under age 30 and earn at least $50,000 annually. Sixty-three percent of those who fall into this category- three times more than the general population- will use their phone to shop this year.
For equipped phones, the comparison shopping may work like this: You simply download one of several free barcode scanning applications, and when you're standing in front of the item you're interested in, take a picture of the barcode with your smartphone. You'll find out within seconds what other retailers (online and brick and mortar) carry the itam and at what price.
"For example," says American Express spokeswoman Melanie Backs, "If you're in Bed, Bath & Beyond, [you might learn that] that at Amazon.com you can get it 15% cheaper and they're offering free shipping."
Although young professionals are the alpha dogs when it come to using technology, half of us plan to let our fingers do the walking [1]– and shopping- through cyberspace. Smartphones are just the newest weapon in the bargain hunter's arsenal. Online purchases continue to explode and evolve. According to American Express, the second-largest group that will use the internet for holiday shopping are "Affluents"- those with a household income of $100,000 or more.
Americans love a bargain. And we're prepared to forsake family and sleep to score one. If you thought the mall was packed last year during the weekend after Thanksgiving, brace yourself: Turnout at brick-and-mortar stores is expected to be a third higher this year. According to Bank, 42% of holiday shoppers will to hit the mall on Black Friday. What's more, 2 out 5 plan to start between midnight and 4 a.m.!
But even devoted mall rats have been won over by the ease of both researching and purchasing items online. More than 60% of consumers expect to split their purchases 50-50 between brick-and-mortar and online retailers, according to the Amex survey. Those who say all purchases will be made in person are now the minority (34%).
For those of you holding out for "Cyber Monday" deals, be prepared for patience. The forecast calls for a 75% increase in internet traffic compared to last year. Don't be surprised if processing at popular websites slows noticeably.
The good news for retailers this holiday season is that although consumers are extremely cost conscious, we're expecting to spend slightly more. "Holiday budgets got a 17% bump," says Backs. On average, the American Express survey found that Americans plan to dish out $831 for presents, a $121 increase of what we spent last year. We're most likely to use this to buy: 1) gift cards (58%), 2) clothing and accessories (48%), and 3) toys and games (43%).
Still, the survey shows that, as Backs puts it, "strategic spending is here to stay." We're not abandoning the money-saving habits we've adopted in recent years. More than a third of us say we have set a budget and half plan to stick to it no matter what. The survey shows that if, for budget reasons, someone has to get cut from the holiday gift list, it's more likely to be a distant relative than a friend.
"Second cousins, watch out," warns Backs.
1. If you relate to this phrase I know how old you are!
Ms. Buckner is a Retirement and Financial Planning Specialist and an instructor in Franklin Templeton Investments' global Academy. The views expressed in this article are only those of Ms. Buckner or the individual commentator identified therein, and are not necessarily the views of Franklin Templeton Investments, which has not reviewed, and is not responsible for, the content. 
If you have a question for Gail Buckner and the Your $ Matters column, send them to: yourmoneymatters@gmail.com, along with your name and phone number.