Barclays' Ex-CEO Loses Out on $30M Payout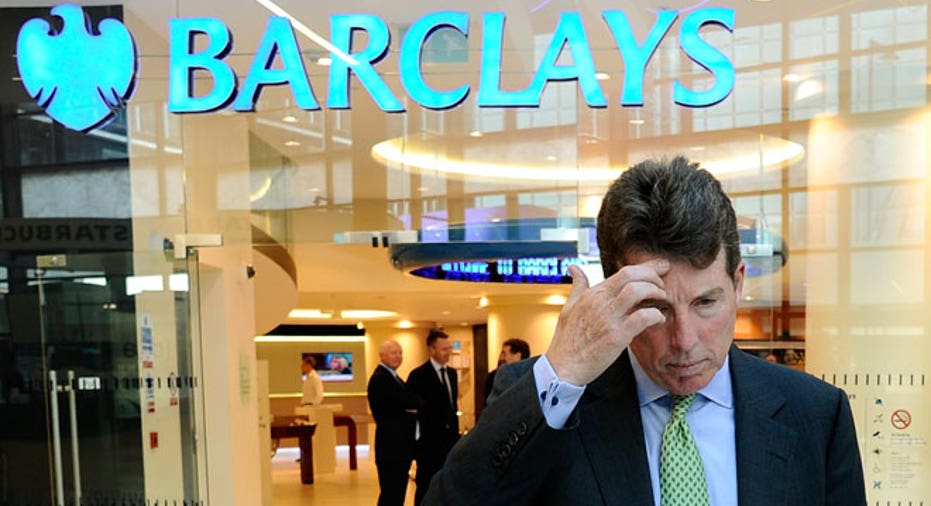 Bob Diamond, the former chief executive of Barclays, has given up bonuses worth up to 20 million pounds ($30 million) following his resignation over an interest rate-rigging scandal, the bank's chairman told a parliamentary inquiry on Tuesday.
Marcus Agius, the man at the top of Barclays when its traders manipulated a global benchmark interest rate, appeared before a hostile panel of lawmakers as part of its investigation into a row that has caused widespread public anger and which threatens to draw in a dozen more global banks.
Agius was the first Barclays executive to quit when the scandal erupted last week but that was not enough to protect Diamond, who was forced out a day later. Agius has had to stay on to find a successor to Diamond.
"Bob Diamond has voluntarily decided to forgo any deferred consideration and deferred bonuses to which he otherwise would have been entitled to," Agius, 65, told the panel.
"The maximum amount would be 20 million pounds."
Diamond, 60, would however receive a year's pay and a cash payment instead of a pension, together worth two million pounds ($3 million), Agius said.
Barclays confirmed the payoff arrangement in a separate statement which quoted Diamond as saying he hoped his decision would help the bank move on.
"The wrongful actions of a relative few should not detract from the outstanding work that Barclays employees carry out each day on behalf of clients and customers around the world," he said.
"It is my hope that my decision to step down and today's agreement on my remuneration will help close this chapter and allow Barclays to move forward and prosper."
Prime Minister David Cameron welcomed Diamond's decision to forgo his bonus.
Barclays has been fined more than $450 million for its part in manipulating the London Interbank Offered Rate, or Libor, the interest rate that underpins transactions worth hundreds of trillions of dollars.
Agius said Diamond had to resign because he lost the support of financial regulators after the scandal emerged last week, adding that the American former chief executive was "utterly depressed" after he was informed of the decision.
"We concluded that we had no choice but to call for his resignation," Agius said.
"We went to see him (the Bank of England governor) and we had a conversation ... at which it was made very plain to us that Bob Diamond no longer enjoyed the support of his regulators," he said.
Agius described his bank's relationship with financial regulators as strained, acknowledged however the scandal had dealt a devastating blow to Barclays' reputation.
Diamond last week admitted Barclays' traders had behaved reprehensibly in rigging rates.
"The solution we devised was that the four senior executive officers who were on the deck when these matters occurred should recognise their responsibilities by forgoing their bonuses," Agius said.
"We hoped obviously that would be deemed proportionate. Evidently we were wrong because the public outcry afterwards was extraordinarily great."
OUTRAGE
Barclays is among more than a dozen global banks under investigation by authorities in North America, Europe and Japan and the only one so far to admit wrongdoing.
Barclays says a group of its traders tried to manipulate Libor for profit as far back as 2005, and says it wrongly lowered estimates of the interest it paid other banks at the height of the crisis in 2008 to make its financial position appear better.
Suggestions that senior British officials may have known about or even condoned the 2008 manipulation have turned the case into a political storm, with Cameron ordering the parliamentary inquiry to quell public outrage.
The European Union says it will propose new rules to criminalise the manipulation of indexes such as Libor.
In testimony on Monday, Bank of England deputy governor Tucker denied suggestions there had been pressure from officials or ministers in the rigging of Libor, saying he was not aware of moves to rig the rate at the time.
"This was a cesspit," he said of the Libor manipulation.
Libor, or the London interbank offered rate, is compiled from estimates by large international banks of how much they believe they have to pay to borrow from each other. It is used for $550 trillion of interest rate derivatives contracts and influences rates on mortgages, student loans and credit cards.
The rates submitted by banks are compiled by Thomson Reuters , parent company of Reuters, on behalf of the British Bankers' Association.