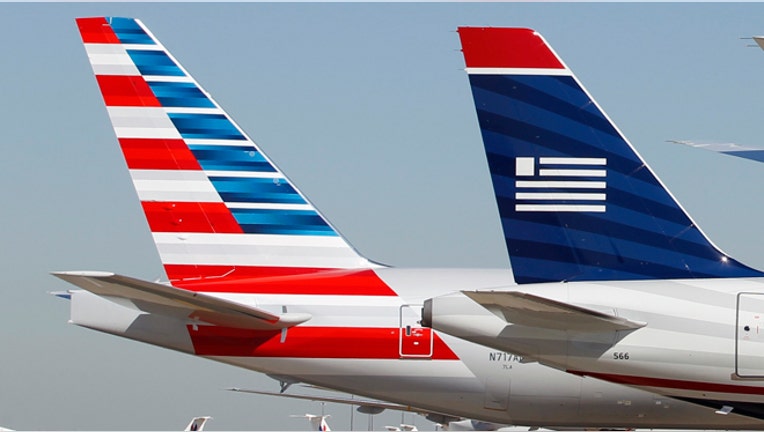 A federal bankruptcy court on Friday approved an agreement reached earlier this month between American Airlines and anti-trust regulators, paving the way for the creation of the world's largest airline.
A judge with the U.S. Bankruptcy Court for the Southern District of New York signed off on the pact that will allow American Airlines' parent company, AMR Corp., to exit bankruptcy and merge with US Airways Group (NYSE. LLC) in a deal worth $17.2 billion.
On Nov. 12 the U.S. Justice Department dropped its anti-trust suit seeking to block the merger after the two airlines agreed to give up some airline slots at busy airports.
The judge also ruled Friday that the merger could go forward despite an ongoing private anti-trust lawsuit filed by a group of businesses who claim the merger will harm consumers.
American Airlines has been counting on the merger with US Airways to help it stay afloat after filing for bankruptcy two years ago.
"Today's rulings by the Court are another important step in our path toward emerging from restructuring and closing our planned merger with US Airways. The new American will compete on a global scale with a network that benefits our people, our customers and the communities we serve," American said in a statement released after the judge's ruling.
The airline said the ruling will allow the merger to close on Dec. 9.
The bankruptcy judge had approved a reorganization plan for American in September, but delayed implementation of the plan until the anti-trust suit was settled.
The Justice Department filed its antitrust lawsuit in August, alleging the deal would weaken competition in the industry, raising prices for consumers.
The settlement reached earlier this month calls for both airlines to divest certain slots in major cities, including Boston, New York, Chicago, Dallas, Miami and Los Angeles.
AMR declared bankruptcy in November 2011, beset with debt from huge labor costs and other expenses. It was the last of the major U.S. carriers to go through a restructuring.