Bank of America Posts Loss on Litigation Charges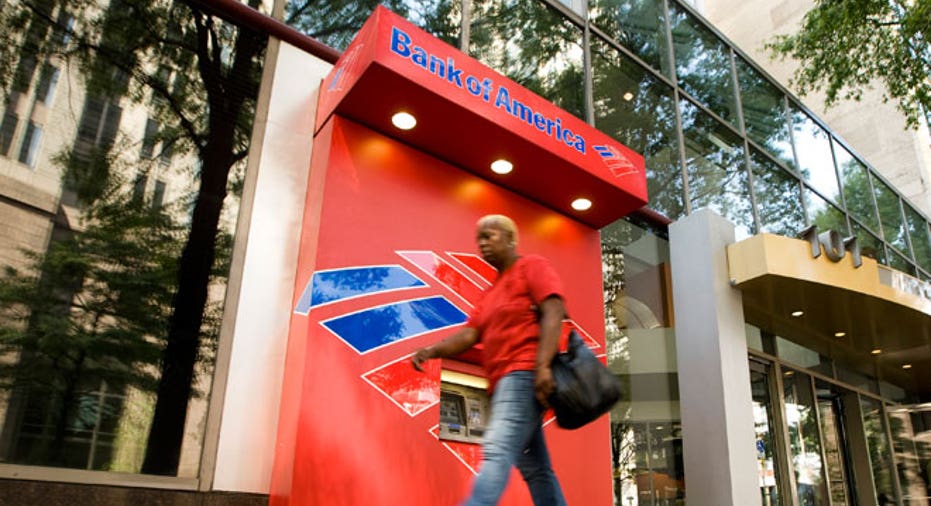 Bank of America (NYSE:BAC) swung to a loss in the first quarter, as a $6 billion litigation charge weighed on the bank's earnings.
The company said Wednesday it booked a loss of $276 million, or five cents a share, versus a year-ago profit of $1.48 billion, or 10 cents a share. The latest period included a charge of 21 cents a share related to Bank of America's settlement over mortgage-backed securities, plus 19 cents in charges tied to legacy mortgage issues.
Excluding all one-time items except the settlement charge, Bank of America reported a per-share profit of 14 cents. Analysts were looking for earnings of five cents a share.
Revenue slipped 2.7% to $22.57 billion, topping a consensus estimate of $22.33 billion.
Charlotte, N.C.-based Bank of America, which achieved its best annual profit last year since 2007, has been working to slash costs and resolve issues dating back to the financial crisis.
Late in March, the nation's second-largest bank by assets agreed to a $9.5 billion settlement with the Federal Housing Finance Authority, resolving all mortgage-backed securities litigation with the regulator. On Wednesday, the bank announced new settlements of up to $950 million with the Financial Guaranty Insurance Co. and The Bank of New York Mellon (NYSE:BK).
In the first quarter, litigation expenses soared to $6 billion from $2.2 billion a year earlier and $2.3 billion in the fourth quarter.
"The cost of resolving more of our mortgage issues hurt our earnings this quarter," CEO Brian Moynihan said in a statement.
Like its rivals, Bank of America struggled with a slumping mortgage business in the first quarter amid higher interest rates and slow refinancing activity. Mortgage originations dropped 65%, while the consumer real estate segment's loss grew to $5 billion from $2.16 billion last year.
Revenue from the company's fixed-income, currency and commodities business fell 2% to $3 billion. Stock trading remained level at $1.2 billion.
Provisions set aside for bad loans rose to $1 billion from $336 million in the fourth quarter. In the same period a year earlier, credit-loss provisions totaled $1.7 billion.
Consumer and business banking logged a profit of $1.66 billion, a 15% improvement year-over-year.
Bank of America shares were down 1.3% at $16.18 in pre-market trading. The stock is up 5.3% so far this year.