Back-to-School Lesson: Retailers Dial-Back Discounts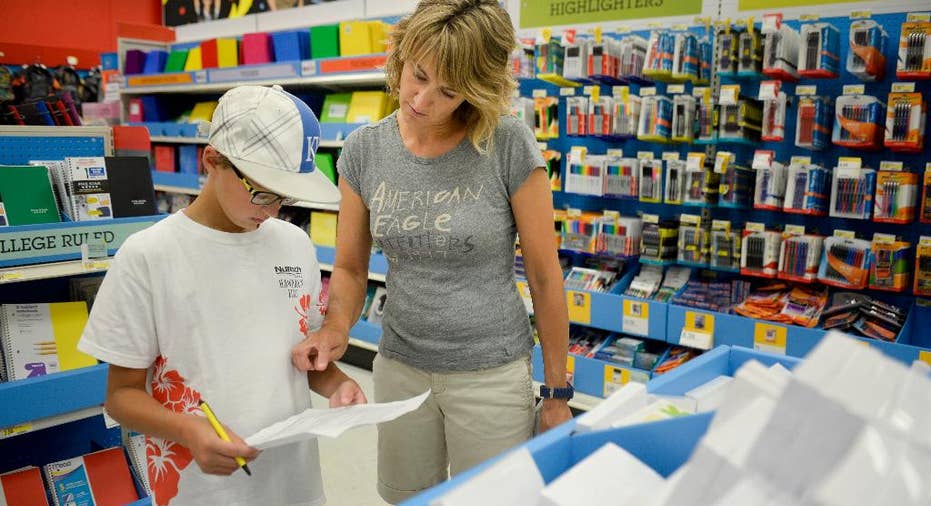 Shoppers may notice something different this back-to-school shopping season:  smaller discounts and a bigger bill.   Consumers are expected to spend an average of $674 per household this back-to-school season, up nearly seven percent from last year according to the National Retail Federation.  For those shoppers who are looking for huge back-to-school discounts, expect to be disappointed.
"The discounting is not as dramatic as you saw last year, " according to Chris Christopher, Director of Global Consumer Economics at IHS Markit.  He says after getting burned during the holiday shopping season, many retailers are looking to boost profit margins by better managing promotions and inventory.  "Retailers don't have excess inventory and that is not putting pressure on them to discount," he says.
Digital savings site RetailMeNot says its Promotions Index shows retail discounts have moderated over the past year.  The index, which tracks average retail promotions from the nation's top 500 retailers as well as other key metrics, shows marketdowns have averaged around 31 percent this year compared to 34 percent at the same time last year.  Computers and electronics are offering the biggest discounts this back-to-school season but the markdowns are not as big.  The average markdown is about 29 percent off this back-to-school season versus more than 35 percent last year.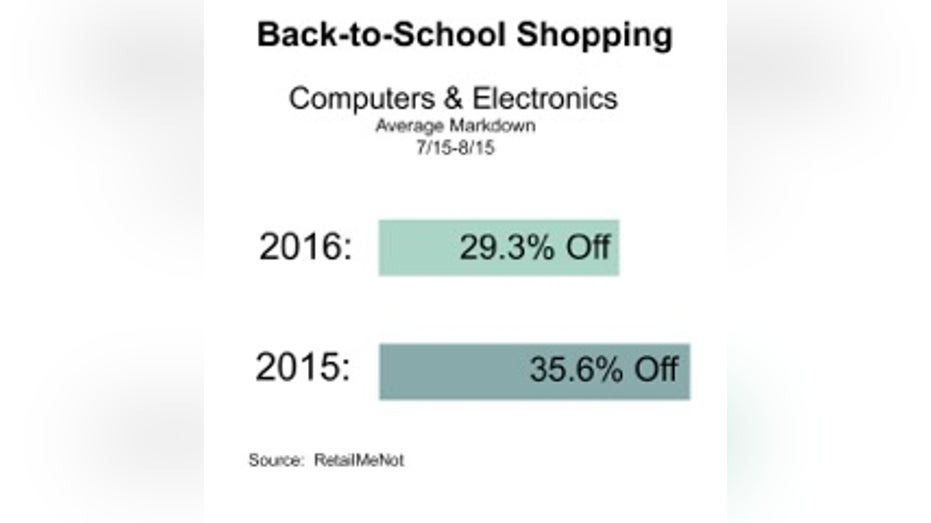 While discounts may be smaller than a year ago, RetailMeNot says deals are being extended for a longer time and consumers are still spending.   "You're seeing slightly different ways of promoting instead of higher discount levels but from what I can see in these categories consumer engagement is maintaining," says Marissa Tarleton, Chief Marketing Officer at RetailMeNot. 
Selective Promotions
Tarleton says retailers this year are being more selective when it comes to promotions.  "We're seeing merchants offering a higher mix of different offers.  Instead of just dollars off or percent off, which has historically been the lion's share of their promotion trend, free shipping, free gift with purchase and even gift cards with purchase are coming into play more prominently," she says.
Target, for example, is offering a free $5 gift card when shoppers spend $30 on school supplies and backpacks.  Apple is giving away wireless Beats headphones with certain Mac computer purchases.  Staples is promoting a chance to meet pop singer Katy Perry as part of its back-to-school promotions.
Good News for Consumers
The good news for consumers is that promotions are starting to pick up in certain categories, Tarleton says.  RetailMeNot has seen bigger promotions over the last few weeks for computers and electronics as well as shoes.  This could be an indicator that shoppers can expect lower prices in the near-term.
Consumers could also see bigger deals for electronics and clothing toward the end of the back-to-school shopping season.  RetailMeNot says the popular shopping day to watch for these items is September 17th.
Holiday Shopping Clues
Back-to-school is the second biggest shopping period for retailers outside of the holiday shopping season.  Christopher says back-to-school sales will help give clues about how the holiday shopping season might fare.  From what he has witnessed so far, he expects holiday sales will be significantly better than last year as the employment picture improves and the election uncertainty subsides.
As for the big discounts shoppers saw last holiday season, Christopher says the discounts may not be as widespread if economic conditions remain stable.  He says expect the kind of promotions this back-to-school season to carry into the holiday shopping season.