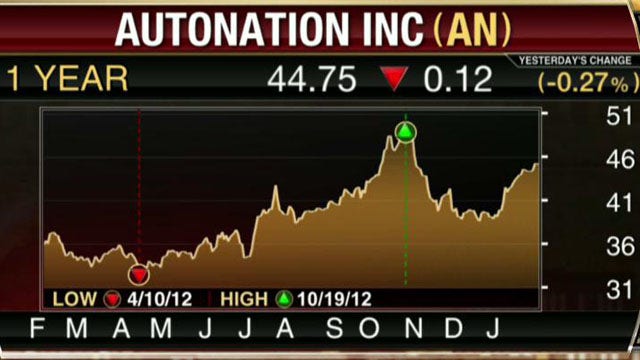 AutoNation (NYSE:AN), the largest auto dealership chain in the U.S., posted a 20% jump in fourth-quarter earnings amid strong growth in new vehicle sales.
The Fort Lauderdale, Fla.-based company also said it will brand its 210 U.S. domestic and import dealers as AutoNation stores starting February, as those dealers currently have local names. Meanwhile, dealers selling premium luxury brands will keep their current names.
"The launch of the AutoNation brand unifies us under one flag, AutoNation, rather than as local market brands," Mike Jackson, chairman and CEO, said in a statement. "This is an incredibly important moment for us as a company and has the full support of our manufacturer partners who approved the change to the AutoNation brand."
Demand for new and used vehicles continued to drive revenue higher, with fourth-quarter revenue up 13% to $4.17 billion. New vehicle sales revenue rose 19%, and volume grew 18%. Used vehicle revenue edged up 3.4%.
Profit was $83.2 million, or 67 cents a share, up from $69.4 million and 49 cents a share a year ago, although the year-earlier period included a charge related to debt extinguishment.
The results beat Wall Street estimates, as analysts had forecasted per-share earnings of 64 cents on revenue of $4.01 billion.
Shares of AutoNation jumped $2.20, or 4.92%, to $46.95 a share on Thursday morning's news. The stock has risen more than 31% over the last 12 months.