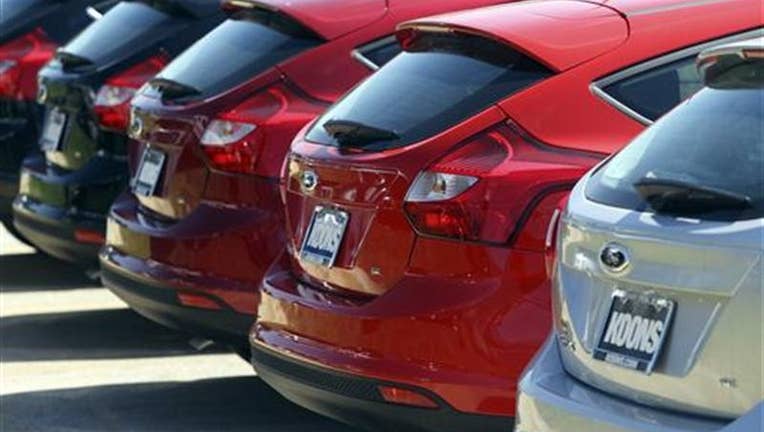 U.S. consumer demand for new vehicles began to thaw in March, especially for luxury cars and big trucks, but not every carmaker participated in the uptick.
New-vehicle sales rose 0.6 percent from a year ago, to 1,545,802 vehicles, industry consultant Autodata Corp said. Automakers had one fewer day and one fewer weekend in which to sell than during the year-ago month.
Among the strong performers were Toyota Motor Corp <7203.T>, Hyundai Motor Co <005380.KS>, Kia Motors Corp <000270.KS> and Audi <VOWG_p.DE>.
While dealership traffic began to pick up last month, "the second quarter looks to be even more favorable" because of pent-up demand after a harsh winter, according to Eric Lyman, vice president of industry insights for research firm TrueCar Inc <TRUE.O>.
The annualized sales rate rebounded sharply in March, to 17.15 million vehicles, from 16.2 million in February.
Last month's sales were driven in part by German and Japanese luxury brands, as well as by a strong appetite for big trucks and SUVs from Detroit manufacturers.
Results varied by company, with only three of the top six automakers beating analysts' expectations and only two exceeding their year-earlier sales.
Only Toyota managed to do both. Its sales rose 4.9 percent, to 225,959 vehicles. Analysts had expected 223,280.
March was a strong month, said Bob Carter, senior vice president of automotive operations at Toyota's U.S. sales arm. Demand for trucks and SUVs is driving the market, he said. "Every one of our light trucks ... is supply-restricted."
Fiat Chrysler Automobiles <FCHA.MI> <FCAU.N> said sales were up 1.7 percent, to 197,261, in line with expectations.
Ford Motor Co <F.N> and Nissan Motor Co <7201.T> beat expectations, but their sales fell from a year ago. Ford was down 3.4 percent, to 235,929, while Nissan dropped 2.7 percent to 145,085.
General Motors Co <GM.N> and Honda Motor Co <7267.T> missed expectations, as sales dipped at both companies. GM was down 2.4 percent, to 249,875, and Honda fell 5.3 percent to 126,293.
Domestic luxury vehicle sales were soft in March, with the notable exception of the full-size Lincoln Navigator and Cadillac Escalade sport utility vehicles.
Most foreign luxury brands saw year-to-year gains of 1 to 20 percent in March.
Ford and Chevrolet amped up the stakes in full-size pickups, with dealers offering discounts of up to $9,000 on 2015 models and $12,000 or more on leftover 2014 models.
Despite the hefty price rollbacks, sales of Ford's best-selling F-Series pickup dropped nearly 5 percent in March. At GM, Chevrolet Silverado sales were up 7 percent.
Analysts said rising consumer sentiment in March was reflected in higher vehicle transaction prices. TrueCar estimated the average price of a new vehicle in March rose to $32,201, up 2.1 percent from a year earlier.
(By Paul Lienert; Additional reporting by Bernie Woodall and Ben Klayman in Detroit and Joe White in New York; editing by Lisa Von Ahn, Meredith Mazzilli and Matthew Lewis)